Batter Up! Not Your Ordinary Hot Dog on a Stick
There are no tables.  There are no chairs.  There isn't even a door.  There is just a window…and Patrick Lee.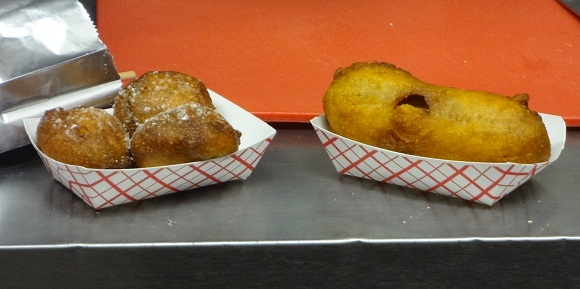 Lee opened Batter Up, located on Geneva at Mission, just six months ago.  His inspiration was from a simple love for hot links.  "I loved hot links…and I thought 'wouldn't it be cool to make a corn dog with a hot link?'"  But the spicy sausage isn't the only thing Lee puts on a stick and fries up.  Just take a look at the menu: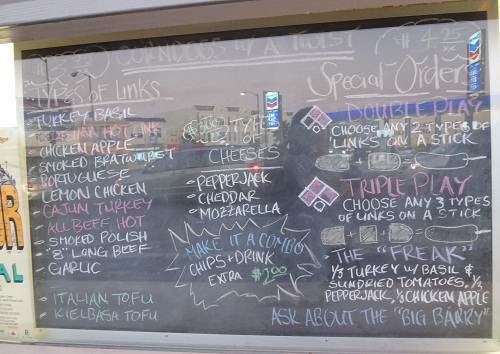 You have several links and cheeses to choose from.  Sure, if you're a purist you can get one type fried, or you can go for the "double play" with your choice of any 2 links/cheese chunks or the "triple play" with your choice of 3 links/cheese.  You have to love a place that pays homage to our beloved San Francisco Giants!  Though The "Freak" sounded tempting, we did ask about the "Big Barry."  We learned that it was Louisiana hot link, smoked bratwurst, and cheddar.  Sold.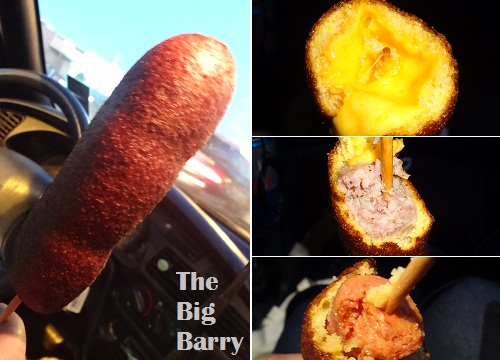 We watched him as he cut chunks of the sausages, pierced them with the skewer and put them in the oil for a preliminary frying.  When questioned about this, Lee responded, "It makes the casing easier to bite into."  After a few seconds in the oil, Lee adds the cheese at the top of the skewer than dips the trifecta into his batter and fries it.  Winner.  We neglected to ask which "Barry" this was referring to, whether Bonds or Zito, but either way, it was delicious from the melted creamy cheese, to the  savory brat, to the zesty hot link.  Perfect "eat in the car" food, btw!
Now we mustn't forget dessert!  Fried Oreos hit the spot.  Once you get through the warm crispy batter, you sink your teeth into the chocolate cookie which has softened and merged with the creamy center.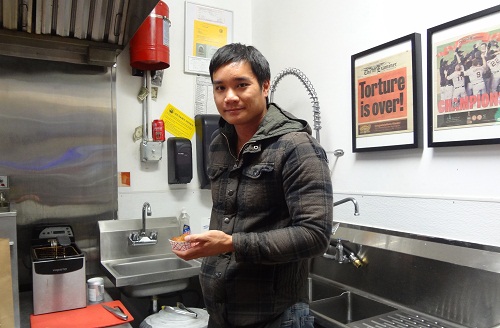 A reason why we came to talk to Lee was because of this rumor:  if you bring him something to fry, he would batter it up and cook it for you on the spot.  Sorry kids, that is just an urban legend.  "No, I don't do that.  It's a safety issue.  What the customer brings might contaminate everything and it becomes a liability."  Understood.  No one wants any contamination to happen.  Besides the cheese and sausage combinations are endless!  Pepper jack/smoked polish.  Garlic sausage/mozzarella.  Go ahead, take your pick!
888 Geneva at Mission Street, SF
(415) 205-6032