Halloween season is upon us once again. With tons of events and parties to choose from, there's no excuse to show up in a cheesy half-assed costume. San Francisco has no shortage of costuming resources.
Here are some ideas to get you started.
Masks for Mystique
A skillfully crafted mask can make up for a lackluster costume or perfect an intricate outfit. Tom Banwell of Penn Valley, California, creates incredibly detailed and alluring leather masks that must be seen, even if just for inspiration. The unicorn masks feature hollow-resin spiral horns (wondrous, not cheesy) with large leather eyelashes ($49) and is available in black, gold and white, to name a few colors. A vast range of lacy leather masks add mystique to any costume (starting at $32). His plague doctor masks (you know, the creepy beaked numbers) are pricy ($285) but you certainly get what you pay for.
Cuddly Animal Ensembles and More
Stay warm and cute with jammies from Bunnywarez. Sure, you could rent a bunny costume, but why do that when you can purchase one that doesn't involve an unbearably stuffy head you have to keep taking off to sneak a breath or a smooch? Available in bat, brown bear, white bunny, fox,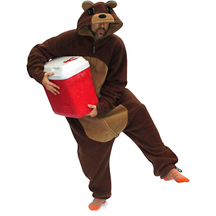 raccoon and shark incarnations, Bunnywarez jammies ($115) are oversized and zip from the neck down to the belly like a really comfy onesie. The animal "head" is an attached lined hood and jammies also feature deep pockets, some with thumbholes and appendages with sewn-in squeakers for extra fun.
If you prefer to rent, Fantasy Clothing Co. in SoMa has a huge collection of costumes available year-round. A browse of the A-Z Costume Rental page on the company's website yields hundreds of different costumes from period getups to animals, to fruits and vegetables, superheroes, nursery rhyme characters, famous historical figures and more. It may be prudent to call ahead for rentals.
The main floor of Fantasy Clothing Co. houses new, vintage and hand-built costumes for sale, as well as any accessory you might want to tie everything together. While the price of vintage wares may seem pricey compared to thrift stores around town, everything at Fantasy is impeccably organized and clean. You don't have to worry about leaving here looking like you got your costume from one of those Spirit Halloween store pop-ups.
50s Glamor
Mad Men started it, and new fall shows The Playboy Club and Pan Am are continuing the trend of bringing back old glamor. If you're thinking of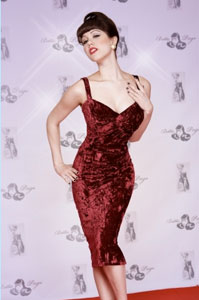 going the pinup sexpot route, look no further than Bettie Page in Upper Haight. Specializing in fashions from the 50s, you'll find curve-hugging dresses, classy-yet-saucy pencil skirts and sexy secretary blouses that would make Joan Holloway proud. While the prices aren't cheap, the dresses, skirts and blouses here can (and should!) be worn any day of the year.
Following the Mad Men vein, the Mad Men Party on a Stick Kit ($57) from seller LittleRetreats on etsy is a fun way to jazz up a Halloween party. It consists of 17 "Photobooth Party Props" — eight pairs of vintage styled glasses, five mustaches, three pairs of voluptuous red lips, and one bow tie — all cut from sturdy card stock and affixed to wooden sticks. Of course, if you had the outfit the props would just kick you up a notch. LittleRetreats also offers tons of other party packs for other themed photo props.
Wigs
Some costumes simply can't be completed without the proper hair. If your ensemble falls into this category, try Trendy Hair Gallery & Beauty Supply, just a few block from Fantasy Clothing Co. You can try on a large selection of wigs made of human or synthetic hair in every color of the rainbow, and the prices are economical to boot. There are no misshapen or falsely advertised catastrophes marketed as Halloween wigs here! You may also find some very affordable eyelashes here if that's the finishing touch needed.
Cheap, One-Stop Shop
If convenience and low price are most important to you, make sure to stop by SF Party. You'll find a variety of full costumes for under $30 including life-size ketchup or mustard and Alpine Yodeler. Dress up like a member of Sgt. Pepper's Lonely Hearts Club band with the military-esque long coat for $32.99 but don't forget the moustache. Sure, some of these costumes you could piece together yourself, but this is the place to go if you don't have time or energy to create something yourself. You'll also find all the necessary accessories (ghoulish makeup, wigs, eyelashes, wings, etc.) here as well.
If you happen to be throwing a Halloween party, you can rent all manner of concession food and drink machines here. If you're the host/hostess with the mostest and baking themed goodies, there's cupcake wrappers (not necessarily Halloween-themed, but hey, one-stop shopping). You'll also find plenty of decorations, piñatas and disposable bar supplies with stylish cocktail picks and mini forks for your hors d'oeuvres.