Filipino Dining Guide: Celebrate Fil-Am Heritage Month with Food
October is here and that means it is Filipino-American Heritage Month. Filipinos love to celebrate through song, dance, and most of all food. Never had Filipino food before?
Here is a list of Filipino restaurants of all types from SF down to the Peninsula that will help take care of that.
Irma's Pampanga Restaurant is a "turo turo" or steam table restaurant where you go to the counter, point at what you want, and watch them serve up bowls of hot mungo (mung bean stew), pork sinigang (tamarind soup), and dinuguan (pork blood stew).  Or if you are on the go, grab a stick of Filipino chicken or pork bar-be-que basted in Irma's sticky savory sweet sauce (pictured).  This no non-sense restaurant presents traditional Filipino food that would remind many of their childhoods – 2901 16th Street at South Van Ness, San Francisco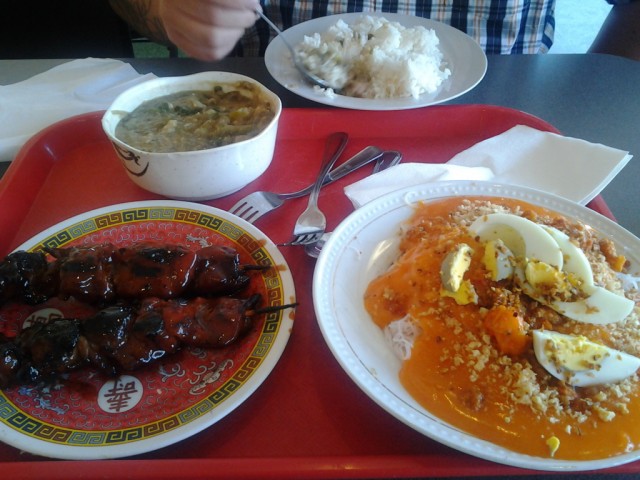 Mercury Lounge in SOMA coins itself as a "Global Asian" restaurant, but look out for their weekend brunch which features traditional Filipino breakfasts called "silogs" = si – sinangag – garlic rice / log – itlog – eggs.  Take your pick of longanisa (sausages) or tocino (sweet cured pork) with your rice and eggs and wash it down with a mimosa.  For happy hour, sample Tita's Lumpiang Shanghai (mini pork eggrolls) while sipping a cold beer then transition to dinner where you can have a plate of chicken adobo fried rice accompanied with sizzle pork sisig.  How's this for dessert?  Pan de sal bread pudding (pictured)!  – 1582 Folsom at 12th Street, SF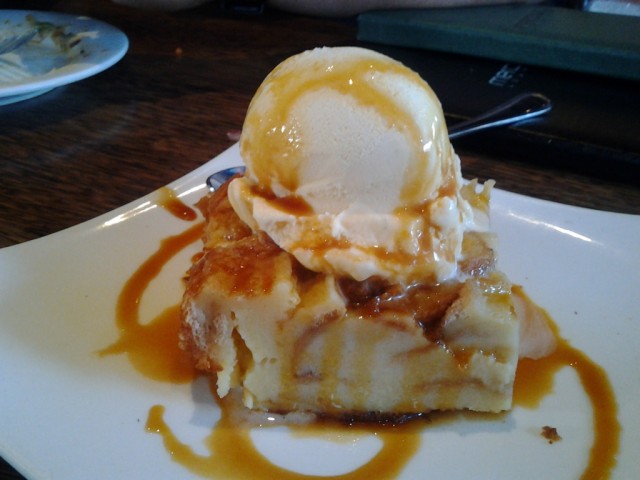 Tselogs in Daly City is another favorite for Filipino-style breakfast, though they can be enjoyed any time of the day.  Nothing on the menu is over $7 making it very wallet-friendly.  Tselogs' chicken sisig-silog is out of this world – chopped chicken combined with onions and lemon are is served in a little cast iron skillet creating a lovely golden crust underneath.  Try the Parañaque-style tapa (pictured) – soy-marinated beef that is so tender you don't need a knife to cut it.  Perfect to start your day or even after a good night of drinking! – 6055 Mission Street, Daly City, CA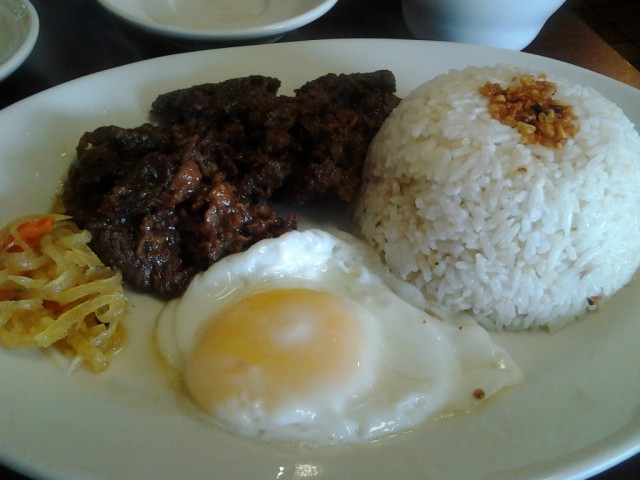 House of Sisig also in Daly City is a unique experience considering it is the only place close to San Francisco where you can eat the "kamayan" way – with the hands.  Prepare yourselves while the restaurant team spread out banana leaves on your table then on top dump fresh onion, tomato, and mango, place ramekins of soy sauce, bagoong (shrimp paste), and vinegar, and lay on delectable meats such as fried catfish, lechon kawali (fried pork belly), and grilled squid.  Your job?  Just dig in with your hands! – 2408 Junipero Serra Blvd, Daly City, CA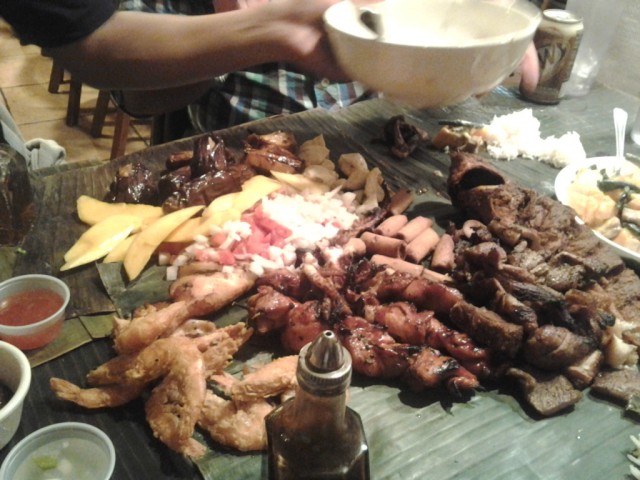 Intramuros Restaurant in South San Francisco is truly for one who looks for the sophistication in Filipino cuisine.  Chef Cocoy Ventura uses his training to create classic dishes with an upscale twist.  For example, the Spanish-influenced paella with shrimp, boiled eggs, and chicken is both gorgeous and delicious.  Old-time favorites such as kare kare (oxtail and peanut butter stew), bangus sisig (milkfish sisig), and crispy binagoongan pork (cooked in shrimp paste – pictured) are solid.  End your night with their bibingka souffle – a light and airy take on the well-known rice cake with white cheese and salted egg. – 101 Brentwood Drive, South San Francisco, CA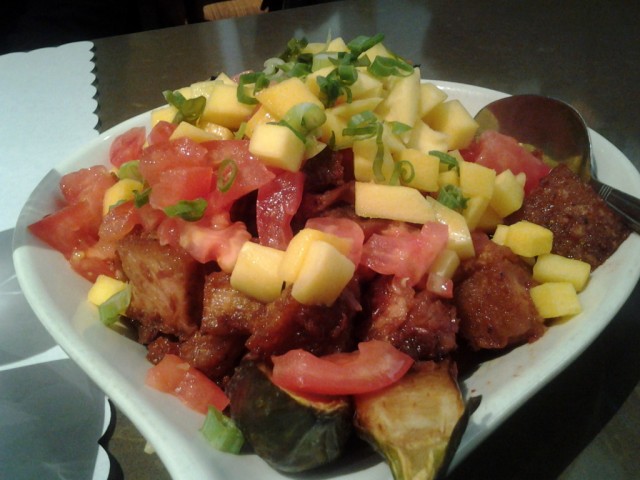 Okay, here is a bonus if you are on your way to San Jose…literally
Attic in San Mateo is a casual elegant restaurant where you can sip a cocktail, munch on Chef Luym's famous Chicken Adobo Wing Lollipops, then bob your head to the DJ's beats later in the evening.  The menu presents familiar flavors but reintroduces them with a modern twist – start out with the sweet potato fries served with their spicy housemade banana ketchup (pictured) then move on to the Beef and Bone "Bulalo" an homage to the comforting soup complete with toasts to spread buttery marrow over.  Its an ideal place to unwind after a day's work. – 234 B Street, San Mateo, CA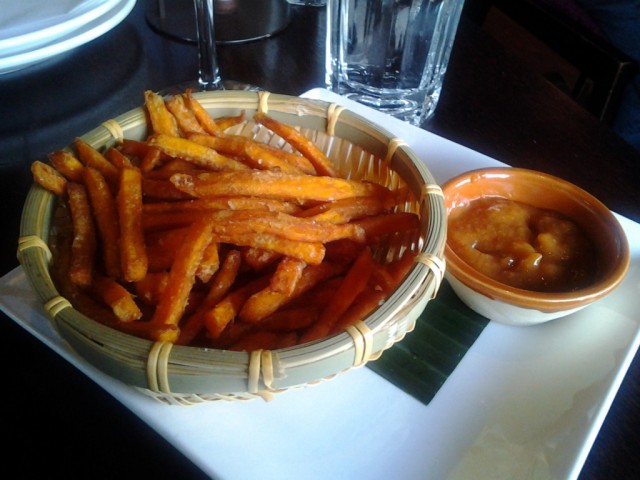 The beauty of all these restaurants is that they are not all the same.  Each has its own personality, but all Filipino in flavor.  Enjoy and happy October!
All pictures taken by Joanne Boston
Featured picture:  Adobo and Sisig from J.A.C. Juan dela Cruz Asian Cuisine in the Fairmont Center, Pacifica, CA
More Favorites:  Patio Filipino, San Bruno, CA / Tribu, San Bruno, CA / Isla, San Bruno, CA