A young newcomer to the Electro scene, DallasK is making huge moves to the top of the charts with his popular mainstream-style productions while also DJing dancefloors across the country. He hits the Bay Area for the first time at Noble on September 30 in what will surely be the start of something big.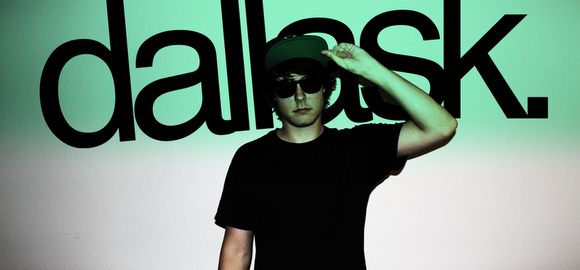 We chatted with the 20 year old about his intense work ethic, soaring popularity, and got a look into the life of someone who will easily become a regular dancefloor name in the near future.
Well, it's really hard to tell because I don't necessarily have a professionally set up studio in Orlando. I just kind of work anytime I'm free. I'll dedicate four or five hours a day to actually working on music but even when I'm doing other things, I'm always working on music as well.
You started out producing hip hop beats, where did things shift to more electronic and house?
I was always kinda into dance music, I remember my mom listening to stuff like the cheesy Night at the Roxbury back in the 90s or whatever. I was into hip hop when I was younger but in about 2007 when I heard things like MSTRKRFT, I realized I wanted to get back into making more music in that style.
A lot of people focus on one of the other more, do you enjoy DJing as much as producing?
Yeah, I do like DJing just as much. It's cool to see the song you produced from it's infancy where it was just a drum loop to an entire song and now you're able to play it in front of people and get great responses. They kind of go hand in hand for me.
When you're working on a song, when do you know when the song is finished and ready to go?
Well it kinda differs with every song. With "Jupiter" I had it done for 4 or 5 months before it came out, continuously tweaking it. But sometimes it takes four or five hours and you know it's ready. It's definitely a song by song basis.
I like to think that my pop influence and catchy melodies are my thing. I just kind of bring something to relate to people, rather than sounds just mashed together and the hardest thing you can make. I've worked to create my own style that hasn't been done before.
You have huge popularity among the blogs, Beatport charts, and a big fan base. How did you start building all of that as such a young artist in Orlando? When was the moment you knew something big was happening and what you were doing was really taking off?
It was kind of just shot in the dark emails and building relationships with bloggers and stuff like that and just making sure that my Facebook link was always there – being accessible to people.
There were a lot of big moments but I don't think there was really one defining thing. I did a bootleg remix of Nero's "Guilt" and a lot of people really liked it, then I heard Sander van Doorn play it at a huge festival in Germany and realized the gravity of what was happening.
You're on the Beatport charts with names like Zedd's Dead, Afrojack, Deadmau5, and more big artists. Do you think they're aware of the influence you're having in the dance music industry?
A couple people have given me some support, Sander van Doorn, DJ Skeet Skeet, BT played one of my songs on a radio show on XM, and Bad Boy Bill, it's slowly happening. I also just did an official remix for a new LMFAO song so that was exciting.
How does it feel to not be old enough to get into the club but still dominate the dancefloor spinning your music?
It's really cool and sometimes I really forget that I'm only 20 and can't get into the clubs. It only becomes an issue when I'm going out when I'm not DJing. You get to be blessed with the success being so young because it gives me this opportunity to use my years wisely.
BLAP Productions & RYM present DallasK at Noble on Friday, September 30. More info.
Ellen Lovelidge is a writer and DJ, for more on her check out djlilelle.com or follow on Twitter at @djlilelle.