Album Review: Neon Indian, "Era Extraña"
Chillwave artist Alan Palomo, known to fans as Neon Indian, is back on the scene with a brilliant sophomore album, Era Extraña.
With a mix of synthesizers, psychedelic beats and video game sounds from our childhood days, Era Extraña is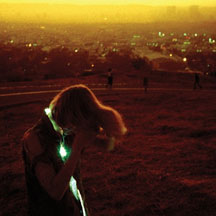 well-thought out and more serious than 2009's Psychic Chasms.
The album begins with "Heart: Attack," and instrumental intro tune that sets the stage for the next few songs, including "Heart: Decay" and "Heart: Release." These three actions ­– attack, decay and release – guide us through the emotionally charged, ever changing flow of the album.
Within the attack portion, "Polish girl" stands out as a poppy, psychedelic jam that feels instrumentally aggressive but lyrically soft. As the Era Extraña moves into the decay stage, the sounds get darker and more distorted with songs like "Fallout" and "Future Sick." And finally, the sounds resurrect themselves and become more gleeful and heavenly with "Suns Irrupt" and "Arcade Blues."
Overall, Era Extraña is fun to listen to for it's emotional and intellectual qualities.
Ashley Smith is a writer and music lover from San Francisco. You can check out what she is grooving to at www.thegrooveisontheloose.com.