Report: Bill Neukom Out as Giants' CEO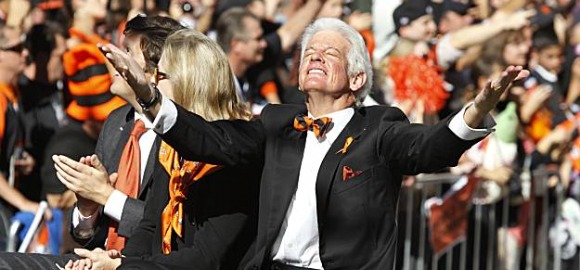 Many experts thought that a tough second half of the season for the San Francisco Giants would mean a shakeup for the roster. But that shakeup may start at the top of the organization.
Citing multiple baseball sources, the San Jose Mercury News is reporting that Giants' managing general partner and chief executive officer Bill Neukom will not return in that role next season.
The newspaper said "Neukom has been asked to step aside by the Executive Committee of the Giants' ownership group… believed to be from a series of disagreements with the committee during (his) three-year stewardship of the team."
The sources said that Larry Baer, currently the team's president and chief operating officer, will take over CEO duties.
It is still uncertain exactly when Neukom will step down.
The baseball sources said the falling out "began over how to spend the additional millions following the World Series championship" and continued to deteriorate from there.
Photo Credit: www.chick101footballforgirls.com