Brass Knuckle Food Truck Delivers Tasty Punch
At first glance Brass Knuckle's menu looks like an iTunes playlist featuring the best of 80s glam metal and early 90s hip-hop, however this food truck offers up menu choices that are deliciously quirky in name and taste.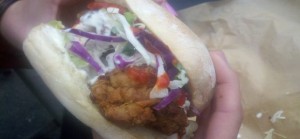 The Fryin Maiden features a large piece of buttermilk-fried chicken topped off with buttermilk aioli jalapeno slaw. The chicken is fried to a thin crisp on the outside with a juicy tender middle. The buttermilk flavor in the chicken and the slaw is prominent without ever being overbearing while the creamy slaw compliments the flavor of the chicken with the jalepeno aioli giving a light kick to every bite. It is perfectly proportioned in nearly every way and a pleasure to feast on.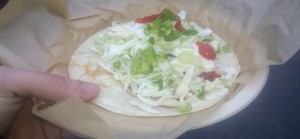 If you're in the mood for tacos Brass Knuckle serves up the Prawns & Roses which consists of a fried prawn with a large helping of crema cabbage piled high on a corn tortilla. I took chef Shellie's recommendation and added some of their Sriracha ketchup for what was a mouthwatering bite.
If the two choices above don't tap into your adventurous side then for you I recommend the MC Hammer– a pulled pork sandwich soaked in sauce with a scoop of deep fried macaroni and cheese on a roll.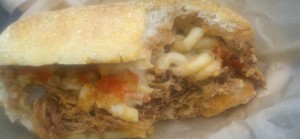 Brass Knuckle is a busy truck these days cites chef Shellie Kitchen who is always thinking of new ways to combine her love of music and food together.  To find out where Brass Knuckle will be next check out their website here.