Beatmaster Aaraabmuzik may be best known for his work with Cam'ron and The Diplomats throughout the 2000s, but after his recent album Electronic Dream, he's redefined and owning the world of electro-meets-hip hop. We talked to the producer on the eve of his cross country tour, which stops in the Bay Area this Friday.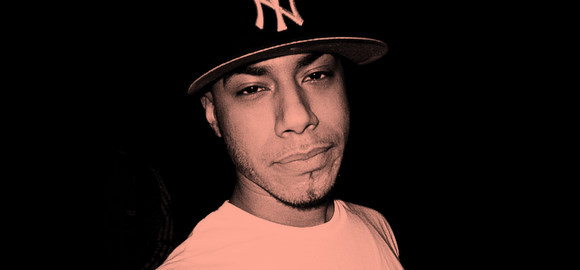 An artform that not many have seen live, beatmaking on an MPC drum machine is both technical and entertaining, at some times even mesmerizing. For a taste of what Araabmuzik does, check out this video.
So, are you working in the studio today?
Yeah I'm just stepping out right now, time to get ready for the show.
Are you in there pretty much every day?
Maybe 3 times a week since I live like 2 hours away. I'm from Rhode Island and I like to stay up there to chill out. When they need me to do recordings or meetings I come out here to [New York].
I'm also gonna be on the road a lot next month, I start my tour and am going to be doing a lot of traveling. Hitting up a lot of cities and states.
What artists have you been working with lately, any new ones? Anyone you'd really like to work with?
I've been working a lot with 50 Cent, Busta Rhymes, and some others.
I'd really like to work with the whole Young Money crew, especially Drake and Lil' Wayne. Eminem, Young Jeezy, those kind of guys.
Why did you choose to make your album Electronic Dream all instrumental with no rappers on it? Will there be more of that style in the future?
My management wanted me to put something out as an instrumental tape, showcasing what I do myself. I have a variety of styles, techno side beats and stuff, and they were really liking how I transition techno and electro music with hip hop.
I'm dropping Electronic Dream 2 soon, that will have even more new stuff on it and more variety of electro and dance music. Working with Universal has helped me a lot and it's really great for placement. Also, Swizz Beatz and Alchemist definitely helped me get where I am.
[audio:/wp-content/uploads/2011/09/02-Streetz-Tonight.mp3]
Araabmuzik "Streets Tonight" off of Electronic Dream
When did you make the transition from hip hop to more electronic music?
In about 2008 I got introduced to that style. I'm always looking for new things so that got my attention and made me focus my music on it. I do it all but for right now, the electro scene is big. I'm pretty much in my own lane right now with the combo.
Did anyone in particular influence you to go in that direction? Do you have plans to collaborate with electronic artists in the future?
I really just would hear random stuff. Certain groups and artists like Deadmau5, I always forget the names, there's too many.
I'm definitely going to collaborate with more people, that's already in the works. I'm linking up with Wolfgang Gartner, Skrillex, Diplo, a whole bunch of people. I'm definitely trying to collaborate with them since Electronic Dream has a big buzz and it's their kind of style.
How do you choose the samples you use in your songs or while cutting beats on the MPC? What's one of the craziest samples or records you've chopped up?
I do both, I play the keys to make original work and also sample. I always do a mixture of both. I just look around, I go through thousands of songs a day.
I like to get stuff that's really rare, not anything that someone could point out where it's from. It makes me and the beats stand out more since it's something you've never heard. That signature sound.
I like a lot of different types of stuff and showcase what I can do with those samples and stuff. The greatest ones are the electronic ones, they're just epic and I can go in and kill the stage.
What's your favorite performance so far?
Camp Bisco in Albany, upstate New York was a really great show for me. I had to do a 58 minute set straight with no breaks, both MPCs, the longest I ever performed for. There was also Audiotistic out in LA, EDC in Vegas, Voyeur in San Diego, 103 Harriet in San Francisco – they were all big shows.
How many times have you replaced the pads on your MPC?
Maybe 12 times. I have two MPCs and I actually have custom made pads that are twice as thick so they last a lot longer. But before those came out I had to switch them every 3 or 4 months. The way I bang out on MPCs, I definitely put them through a lot of work – sort of like a drummer always replacing drum sticks if you're really going hard.
Any great memories from the Dipset years?
Well, I only really worked with Cam'ron and Hell Rell, not really the rest of the guys. It was fun working on the Gangsta Grillz mixtape and albums, just fooling around in the studio and regular good times. We went to Six Flags once but other than that it was all about working on music and business.
Araabmuzik will be perform at Lights Down Low at SOM on September 9 with DJ Funk and resident DJs. More info.
Ellen Lovelidge is a writer and DJ, for more on her check out djlilelle.com or follow on Twitter at @djlilelle.