Review: Kreayshawn Homecoming Show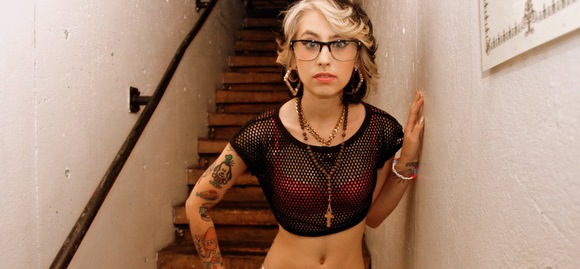 At the end of May, Kreayshawn and her White Girl Mob performed live in San Francisco for the first time in what was clearly the start of something huge. Less than three months later, the girls have refined their swagger with a coordinated performance and true stage presence.
The sold out yet never fully packed homecoming show for Kreayshawn at Slim's in SoMa last night felt the opposite of her May show. There was no crazy line outside, there was no sense of wonder in the air, and there were girls dressed as her, wanting to be her. We all knew what to expect and weren't eagerly awaiting a mystery performance.
The show started with a handful of hip hop performances from local talent such as Jay Ant, Erk da Jerk, and Roach Gigz. Moe Green, who opened the show, was a clear standout and kept the early crowd live the entire time he was on stage. His Beastie Boys' sampled "Style Is Wild" is a new favorite.
After rapper upon rapper, Kreayshawn finally emerged with Lil' Debbie in tow to a hyped up crowd. They flew through dubbed-out hip hop tracks in a polished fashion, well-rehearsed and with the perfect amount of overconfidence.
I thought V-Nasty was a thing of the past since she was absent most of the show but my previous views on her did a 180 when she came out blazing through a track and, I believe, dropping her close minded N-bomb policy. This chick can flow and we're gonna enjoy her future tracks possibly more than Kreayshawn's.
The girls ended their understandably brief show with a weird, possibly major label-forced poppy song followed by the favorite "Gucci Gucci." The crowd left satisfied, happy to see them progressing as artists, leaving bad habits behind, and on a path to musical success.
Photos by Derek Macario for SF Station