North Beach Shopping Guide: Grant Avenue
Despite its rich history, locals often choose to avoid the hustle and bustle of North Beach except when entertaining visitors, or yearning for Italian food, strip clubs, or crowded bars. But San Franciscans shouldn't forget the neighborhood's bohemian past, much of which still lives on in its retail shops.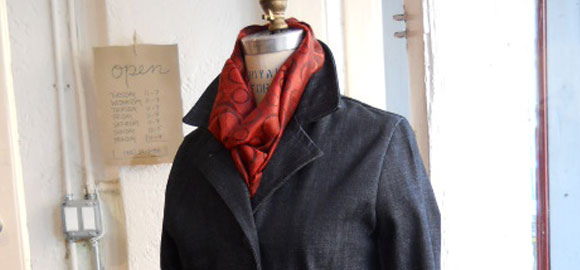 As rents drop and new bars and restaurants open, North Beach is going through a resurgence, bringing in new shops, many specializing in tailor-made clothing and one-of-a-kind accessories. Sprinkled throughout are longtime retail favorites, too. Grab some coffee at the original Café Trieste on Vallejo Street and get shopping!
Technically two spaces located around the corner from each other on Grant Street and Green Street, 101 Music is a music geek's paradise. But be prepared to be patient—every inch is packed with records, CDs, tapes, musical instruments and more. Merchandise spills out onto the sidewalk, so mining for a golden oldie takes time. But a persistent shopper will be rewarded, especially after spending some time hunting through the loads of vinyl crammed into the main store's basement.
The window displays of Al's Attire, featuring mannequins decked out in early 20th century-inspired attire, are enough to stop shoppers in their tracks. Step into the store, and be prepared to drool over custom coats, suits, hats, shoes, dresses and more. Part working shop, part showroom, the space is both artful and functional, dotted with bolts of fabric, boxes of buttons and wall hangings of custom labels in a rainbow of colors. If you've got the cash, make an appointment for the tailor-made outfit of your dreams.
At the former location of Al's Attire is 1314, the flagship store of one of the city's own brands, San Franpsycho. With San Franpsycho's roots in surf culture, the space has a laid-back beach vibe, complete with maritime-themed pieces like fishing nets and surfboards. It's a showcase space for other local design brands like SF-OG with its whimsical shirts, and Lift by Martial Yapo, who refashions airplane restraints into men's belts. The shop also features a rotation of Bay Area artists like Ernie Evangelista.
True to its name, Old Vogue carries vintage clothes that are still very much in style. Old Vogue mainly sells gently worn menswear and accessories such as used Levi's 501 jeans, Hawaiian shirts, cashmere coats and hats, though there is a small selection of women's wear like sweaters and dresses.
Combine a community support center for new and expectant parents with a retail shop and you get Carmel Blue. Mother-daughter team Sharone Mendes Nassi and Nili Mendes channel their combined years of experience in doula services, yoga instruction, and physical therapy into a place where new parents can find the resources and support for their childbirth and childrearing needs. The store carries books, blocks, baby cleansers, etc., but there are also weekly, monthly and quarterly classes and events, such as mommy and baby yoga, baby sign language, book fairs, and photography basics to get the best photo of your kiddo.
One of the most recent additions to the neighborhood is Park and Pond, founded by Bay Area sisters Jessica and Abbey Herman. All merchandise is produced within 100 miles of San Francisco, such as stationery from Austin Press, jewelry from Compass Rose Design, and handmade toy animals from Woolbuddy.
Owners Katherina Ernst, the knitter, and Julia Relinghaus, the leather maker, preside over Knitz & Leather from a pulpit-like workspace over the shop floor. The store carries one-of-a-kind, hand-made sweaters, leather jackets and hand bags. To accent these unique pieces are jewelry from local designers, hand-dyed silk scarves and shawls.
Most people live in their jeans, but finding the right fit is a challenge. AB Fits boasts one of the largest selection of jeans on the West Coast, with over 100 styles of jeans from a variety of designers, including locals Turk and Taylor, domestic brand Rising Sun, and points beyond, like Japan's Dope & Drakkar, France's Notify, and Denmark's S.N.S. Owner Howard Gee and his staff work with customers to determine the best pair of jeans to flatter each body type. There are also men's and women's fashions from Relwen, Left on Houston, and Serial Cultura, in addition to accessories and jewelry from Jill Planter and Lauren Ramirez.
What are your favorite Grant Avenue shops?