Alcoholic Artistry at John Colins Cocktail Lounge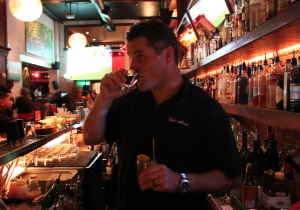 Classy cocktails and live music are the building blocks of a great evening at John Colins, tucked away in a historic section of the Financial District. With an impressive list of inventive libations–almost all of which are under 10$–this local favorite provides high-quality nightlife at an affordable price.
We came in on a busy Thursday evening to a bouncing DJ set and a healthy mixture of loquacious young professionals enjoying the cozy-yet-spacious interior of this lofty watering hole. John Colins always has several knowledgable mixologists tending the drinks so even with a sizable gathering around the bar, you'll get a labor-intensive cocktail in your hands in no time at all. On this night, co-owner John Guiffre was pouring. He started us out with a special concoction that he calls a John Daly Tea Time. This refreshing elixir of lemonade mixed with sweet tea-infused vodka is perfect for the summertime with a balanced smoothness. You can barely taste the alcohol, but believe me: this drink packs a powerful punch. It's a naughty Arnold Palmer, for grownups.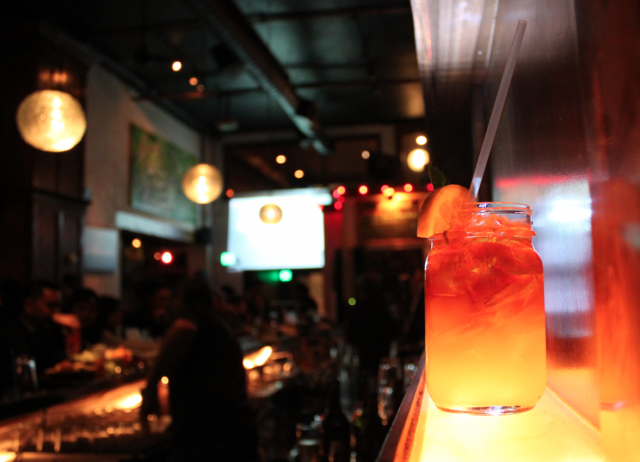 Probably my favorite drink of the night–and certainly the most unforgettable flavor–was El Beso de la Muerta, a tequila drink infused with the vigorous spice of habanero peppers. If you like it hot, this drink is a must have. The bite of the tequila is completely subdued by the power of the pepper and you are left with a heated wallop on the tongue and a solid buzz in the head. Can't wait to try this one again.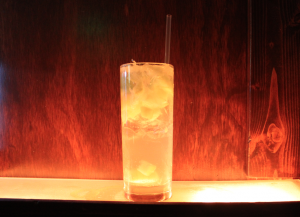 If you like things a bit more mellow, try the Cucumber Cooler. Made with muddled cucumbers and Hendrix Gin, it's easy to drink and has a soothing freshness to it.
The drink menu makes it simple to find the best cocktail for your tastes, separating the choices by way of Vodka, Gin, Whiskey, Tequila or Rum. I choose 'yes, please.' After a number of strong drinks, the timing couldn't be more perfect for an intense live gut-busting performance from an electronica-inspired band setup right next to the bar. There is something going on most nights of the week and John Colins (138 Minna Street) is always open until 2AM, so get out there and get ready for a lively evening of heady beats and head-changing cocktails.