Bernal Heights Shopping Guide
Even to longtime residents, Bernal Heights is not one of the best known neighborhoods in San Francisco, but it is one of the most loved.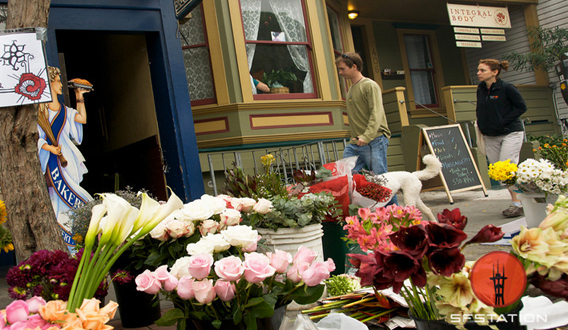 By Michelle Sieling
The small commercial strip on Cortland Avenue, running from roughly Bocana Street to Folsom Street, might not be your typical shopping destination, but combined with a meal and a walk around the neighborhood, visiting Bernal Heights is a nice way to pass the afternoon.
Red Hill Books, sister bookstore to Dog Eared Books and Phoenix Books, is one of the few remaining independent bookstores in the city. You'll find a little something for every reading interest and level, from a new version of the latest bests eller, to a lovingly used copy of a children's classic. You're welcome to browse quietly, and even take a seat in the sun on an oversized red pillow and get lost in a book.
Chloe's Closet offers some of the coolest kids' clothes for the cheapest price. The store offers stylish clothing, toys and books, all gently used, for infants and children up to ten years old. It also offers a limited selection of items for nursing or pregnant mothers. Its low prices and consignment services are an appreciated resource for families trying to keep up with gowing children. Check the shop's website for other great ways to get these goods for even cheaper. A $5 discount is just for joining the mailing list.
Bernal Beast is conveniently located just down the hill from one of the most popular dog parks in the city (Bernal Hill). Regular customers and pets are often greeted by name and there's always a bowl of dog treats by the register for visiting mutts. Bernal Beast caters mostly to cat and dog owners, but also carries items for other creatures like fish, birds and hamsters. It stocks all the basic necessities, such as food, treats, grooming supplies, toys and bedding. There's an on-site self-serve grooming station if you don't enjoy the additional chore of cleaning out your own bathtub after you've washed your dirty dog.
A tiny thrift shop, Gifts on the Hill offers a hodgepodge of used and vintage items. The clothing and assorted odds and ends are inexpensive, some as cheap as 50 cents. It's not always the prettiest selection, but with a little imagination and some patience, you can get some great deals for next to nothing. Like neighboring Chloe's Closet, it offers consignment services, too.
A gallery featuring local visual artists, Inclusions also carries a diverse selection of handcrafted jewelry. Recent trunk shows have featured artists like Owen McInerney and Suga Rocereto, both Bay Area artists whose pieces are inspired by nature. Look for discounts on jewelry during in-store trunk shows.
The beloved center of this commercial strip is Heartfelt. This bright shop carries a little bit of everything, including kids' toys, candles, perfume, flowers and more. Items range from the wacky to sweet and elegant. Once you find your gift, Heartfelt will wrap it for free.
The focus of Succulence is, of course, the plants, but according to the shops mission statement, the store strives to provide items that extract all that is "delicious, juicy and full-of-life." There are succulents of varying sizes as well as some air plants and bromeliads. You can also choose from a variety of planters, including custom-manufactured metal, modern-lined ones like those from Adam Ceramics. Even if you aren't buying, the outdoor patio in the back is a pleasant place to visit.
Not on the main drag in Bernal Heights, but close enough to the hood for a mention, on any given Sunday, Alemany Flea Market is home to a variety of undiscovered treasures. The open-air market features antiques, collectibles, vintage, and secondhand items. Some of it is junk to be sure, but early birds and patient bargain-hunters can usually find quality items.