Where to Dance this Weekend
You'd think this weekend everyone would be laying low in preparation for next week's Pride festivities but SF never stops dancing and there are plenty of options for rhythm-lovers of all types.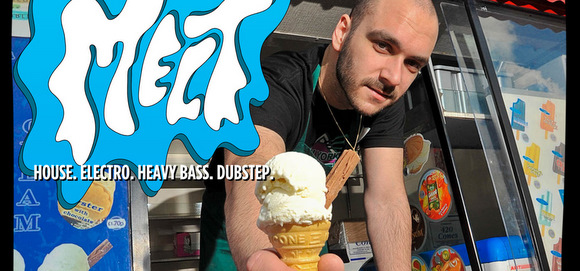 Friday, June 17
AC Slater @ Rickshaw Stop
The bass will melt your face as electro fiend AC Slater, just one talented member of NY's Trouble & Bass Record Label, rocks the premier of RedEye and GottaDanceDirty.com's new event MELT. He will be joined by local dubstep DJs such as Ultraviolet for an intense, sweaty night on the dance floor at Rickshaw Stop starting at 10pm. More info.
The Works @ Public Works
This free (with RSVP) event promises "a little bit of everything" with their stacked all-star lineup of DJs of all genres from across the country. Mark Farina, Kevin Saunderson, Paul Devro, Christian Martin, J Boogie, and more are expected to rock the decks late into the night with a hosted bar from 9-11pm. Seeing all these DJs in one night, at one venue, for the low cost of free.99 cannot be missed. More info.
Saturday, June 18
Fringe @ Madrone Art Bar
Every third Saturday this indie music video dance party fills the creative space of Madrone for dancing, singing, and an all around good night for lovers of music. Hear DJ Blondie K and subOctave spin anything from Robyn to Hot Chip to MSTRKRFT. More info.
Pink Mammoth Burning Man Fundraiser @ Mighty
With 100% of the proceeds from this event going toward Pink Mammoth's epic daytime Playa destination, it should be easy to support what you will enjoy later on this fall at Burning Man. Imagine Mighty transformed into a mini-version of Pink Mammoth's Burning Man setup and that's what you'll get: a huge pink canopy over the dancefloor, dance blocks, DJ booth in the middle of the floor, and artistic designs throughout. Outside you can check out the Pink FLAMEingo, where a Silent Disco will take place with music being sent wirelessly to 100 guests with provided headphones. The list of DJs is deep and the music will keep you jamming till the early hours of the morning. More info.
Sunday, June 19
Sharon Jones and The Dap Kings @ Stern Grove
Free admission makes this concert with the queen of soul and her funky band a clear choice for Sunday boogieing. The concert, the first for the Stern Grove Festival this summer, also features talented and swoon-worthy French pop singer Ben l'Oncle Soul. The show runs from 2-5pm, but make sure you get to the Grove early. It will fill up quickly. More info.
AC Slater, Adele, Audio, Burning Man, Christian Martin, Dap Kings, DJ Blondie K, DJ Eleven, DJ Haylow, Eve Lounge, Fringe, Good Foot, J Boogie, Kevin Saunderson, Luke Vibert, Madrone Art Bar, Mark Farina, MELT, Mighty, Paul Devro, Pink Mammoth, Public Works, Remix, Rickshaw Stop, Sake One, Sharon Jones, Silent Disco, SOM., Stern Grove, subOctave, The Works, Trouble & Bass, Tupac, Ultraviolet, Video