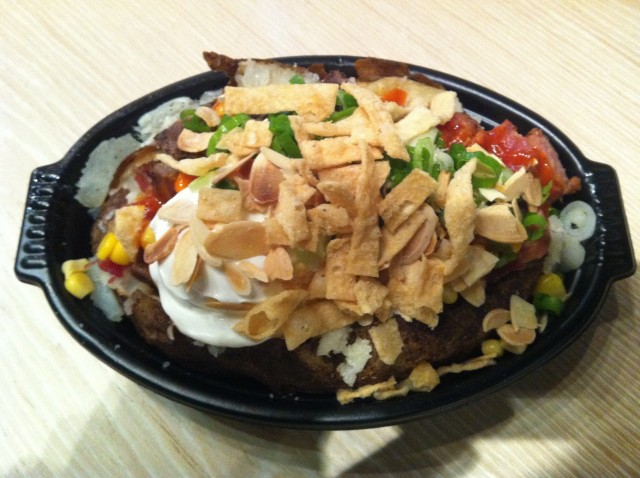 I recently made my way down to friendly-ol' Fisherman's Wharf for one of the more unique dining experiences I've had in a little while: a restaurant devoted entirely to baked potatoes!
Seems kinda crazy doesn't it? I had never been to a potato shop before, so my expectations where nil–in fact I don't know if I ever would have made it through the door of this unassuming eatery, tucked into the heart of tourist-central, if it weren't for (@SFStationRadio's own) G-Force who was adamant about trying something entirely new. To my delight Hot Spuds (2640 Mason Street) surely left me satisfied, not to mention stuffed on starch.
There are a few things that make this place worth checking out:
1.) The Price
It would be difficult to imagine spending more than 10$ on dinner here. A definite bargain for such a filling meal.
2.) Originality
You can get grilled shrimp on top of a chipotle-baked potato here. It's unique and it's also fun to watch them make your spud just the way you like it.
3.) Deliciousness
Think that having an ordinary baked potato for a meal might be a little lacking in flavor? Think again. The numerous toppings that you can choose from here, ranging from black olives to green onions, steak to sausage, even dungeness crab, would make it foolish to order something even remotely bland. Think of a higher-quality Subway or Chipotle but instead of sandwiches and tortillas, the delivery method is a delicious, pipin' hot baked potato mixed with butter, salt and cheese.
If you live in SF, you probably don't make your way down to the Wharf all that often. Hot Spuds might just be worth a special visit.
Check out their website for a complete menu/toppings list and don't forget to listen to @GForce on @SFStation Radio every Wednesday from 12 to 2PM.