Brooklyn-based DJ Jubilee is a favorite in the San Francisco and travels to DJ here every couple of months, heating up dance floors with her diverse style and hot bass lines. We spoke to Jubilee about her beginnings in electronic music, starting a record label, and love for radio.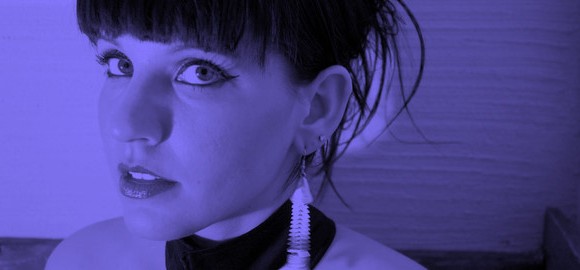 Jubilee is well known throughout the electronic music world as "Brooklyn's bass sweetheart," a homage to her home base, great taste in music, and bubbly personality. Within the industry she plays multiple roles including world-travelling DJ, club hit producer, half of the Nightshifters record label, and starting recently, weekly radio show host. Catch Jubilee DJing May 5th at Public Works along with Shawn Reynaldo and the Relax, Relate, Release crew.
You started out living in Southern Florida, how did you get from there to New York?
I moved to New York because my parents are New Yorkers, annoying accent and all. When I was little, I thought I was going to be an actress and be on Broadway. That dream dissolved but I still kept the idea of moving here.
I moved in 2003, but late 1990s to early 2000s I was raving hard, paying attention to New York big time since they were really big into drum and bass and whatever else. This was like 1996 and I was really into Dynamix2 and Anthony Rother, real electro, kinda "Planet Rock" influenced, dark shit.
Your record label Nightshifters has released almost two dozen EPs so far, how did that get started?
I was in Berlin and my friend knew [co-founder of Nightshifters] Jason Forrest, and we went to meet with him and go record shopping and whatnot. Jason and I kept in touch and eventually started Nightshifters about three years ago. Our first record was Hostage and we took it from there. Our last one was Canblaster — one of my favorite records ever — and he let me do a Florida breaks style remix of his song.
Do people contact you with their music to release on the label or do you seek out artists you enjoy and want to work with?
I think it's both. It sucks that you can't look for artists via Myspace anymore, however Soundcloud is good — it's just so much. People have sent their tunes that we have loved. Sometimes me or Jason will approach someone and ask them. I feel like we have gone every route with this label. We are really open to a lot and I feel like we have really found some good and interesting talent over the years.
You play so many roles, which role do you like the most or which parts?
I love DJing and building a vibe, playing music and making people dance, and performing without even having to speak. It's really cool knowing you are in charge of everyone's night in the whole room. I like being in charge.
You just started a new Brooklyn Radio show, Fireworks. Was that something you've always wanted to do or did it just come along and sound like a good idea?
No, I love radio. I went to school for it and interned at 95.3 and Mix 105 in Orlando. Magic Mike was on 95.3 so you know I had to get down. I also really look up to BBC Radio1, RinseFM, and Australia's Triple J. Power 96 in Miami was such a huge influence in my life. I really like exposing people to new music so I was looking for a show forever, but there's no decent underground music radio in the US. The radio here is owned by two companies that manipulate the whole thing.
I just started bringing guest mixes to Fireworks during the second half, this week is Lucid who has a record coming out on Nightshifters soon. The radio show is really helping me be a better DJ too because I have to keep up with so much new and popular stuff, I don't want to miss anything. The show was going to be biweekly but I have so many guests I want, I made it weekly. Next week SF's Shawn Reynaldo is doing a guest mix.
Shawn is also DJing with me next week in SF. I'm excited because he is one of my favorite DJs. I have also worked in the studio with Charles [McCloud] and Vin [Sol] before so it's all gonna be a good vibe. I think it will be really fun and I feel like I may play a totally different set than last time I was in SF [at Tormenta Tropical in February]. The vibe always puts me in a direction. Last time I was in Austin I played like 30 minutes of Miami classics, it was crazy because they were freaking out to every song so I just kept going. SF and Austin are my two favorite places to play.
Relax, Relate, Release presents Jubilee with Shawn Reynaldo and resident DJs Charles McCloud, Richie Panic, & Vin Sol at Public Works on Thursday, May 5 at 9PM.