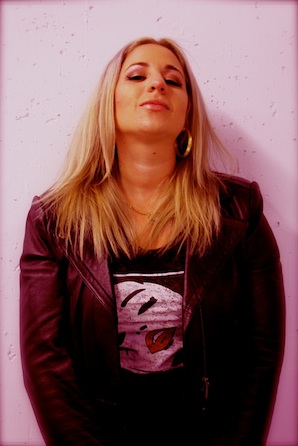 While most of us would spend car accident settlements on something ostentatious, Sweater Funk Diva DJ Mamabear bought her first Technics 1200s in 2007 with hers. Setting them up in her parent's garage, she spent hours learning the various controls and knobs so she could step out into the DJ world with confidence. Emerging two years later and with Bay Area legend Toph One as a mentor, she quickly gained valuable experience essential to her style and sound. Two years later in 2009, she joined the distinguished Sweater Funk crew. Nowadays, she spends her time spinning at her new Tuesday weekly at Otis Lounge, and as always, Sundays at Li Po Lounge with Sweater Funk. Taking some time out to speak with SF Station, we discover that she is a classy female figure with an impressive knowledge of old school beats to match.
So have you always been attracted to the funk and soul genre?
Absolutely, ever since I was a little girl. I call it Diva Funk. I grew up in Southern California listening to hip-hop and old school. I came from a super funky environment growing up with the sounds of Teena Marie and Chaka Khan. When my mom would clean the house, she would put on Kool and the Gang. From an early age, I always had an ear to that sound.
What was the incentive to move to San Francisco?
When I was 18, I came up to go to San Francisco State. I planned on majoring in Music Recording and Arts because I wanted to be a female version of Dr. Dre. I took a few classes, but they were really tough for me. I was more of a hand-on learning type of girl. When I was younger I played many instruments, so I've always had that inclination towards music.
So Mamabear is quite an interesting DJ name. May we ask where it came from?
I actually got that name in high school. I'm 6ft tall, and in high school I hung with girls that were probably 5ft nothing. I would roll up to parties and walk in with a harem of girls and bags of alcohol, and people would just look at me like I was the "mama bear" of the group. Guys would approach me and ask to date my friends, and I would say yes or no. I've always had a very motherly instinct as well. So one of my girlfriends started calling me Mamabear and it just stuck.
When it came to picking a DJ name, I wasn't going to go with something sexy like DJ Platinum or DJ Cleavage, and so when Toph One asked me and I said people call me Mamabear, and now I'm DJ Mamabear.
Hopefully there will never be a DJ Cleavage. Share with us when you linked up with the Sweater Funk crew.
The crew started out with six people, and I got my jacket at the one-year anniversary. Everyone in the crew has a windbreaker designed by Jon Blunck, founder of Sweater Funk, with our initials etched on the front.
Is there an initiation process?
The jump in is secretive, I can't reveal it! I wasn't hurt or anything, but there is an initiation. Everyone has his or her special place in the crew.
The parties are at Li Po Lounge, which can get very packed. Have you guys thought of moving it, or is there something about that place that just sticks?
No it will never be moved. Jon told me that three wrongs make a right. It's on a Sunday, it's in Chinatown, and there's no digital music played. The combination creates a very special environment for the people that want to be there. It's not watered down whatsoever. It feels like an old opium den, in a good way. If you stay upstairs you can chat and have a drink, but the downstairs basement is straight dancing. If you wear glasses, they will fog up.
A hot party in the literal sense! When I interviewed Mayer Hawthorne as DJ Haircut, he also said that Sweater Funk was "one of the best parties in America."
That was such an honor to hear Mayer Hawthorne to say that; it really warmed my heart. Of course we have some pretty heavy hitter guests like Dam Funk. He runs our sister party Funkmosphere in L.A., so when one of us goes down there we play that, and when one of them come up here they play here! It's kind of like a rule.
Since you guys bring back the old school in the music you play, do you listen to current hits? What's your opinion on music now?
I'm barely catching up with stuff from the past. As far as new stuff coming out, F.A.M.E, with Teeko, Max Kane, and Malaguti, are mimicking that sound and making really hot stuff right now. I'm not one of those salty "new music sucks people." It's hard enough for me to find new music cause I'm still digging for stuff in the past!
I love playing soul and old records that evoke a feeling for me. I'm a sucker for killer bass lines and sweet vocals. What I love about the music is that when you hear it you want to dance because it's fun and light-hearted. That's my favorite part about the music. Right now with music, they take flirting to another level.
Lastly, is there one record that is "the song" for you?
I'd have to say "The Beat is Mine" by Vicki D., because I love the intro, and I love the lyricism. When Buddy Sativa and Onra were in town, they came to Sweater Funk, and I got to play that record live with Buddy. There's a signature melody in that track and when were playing, with Buddy and I vibing off each other, I pulled the volume down and he mimicked it on his keys and the crowd went crazy. That is the one record I always bring with me because it's so catchy and fun with that special memory.
Boogie down with her Tuesdays at Otis Lounge and Sundays at Li Po Lounge.