TEDxPresidio Shifting From Code Red To Code Green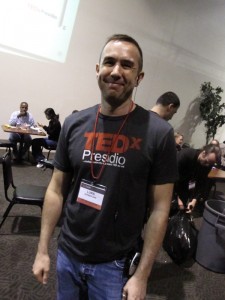 If you're reading this it's likely that you're already aware of TED talks. Teachers use them as study guides in college – Apple uses TED's website on many of their iPad ads that litter the city's bus stops and highway billboards. TED is a highly regarded and well organized conference that is determined to bring together thought leaders to express their views and experiences to attendees in the hopes to inspire change.
For those not lucky enough to receive a special invite to attend, their site has a great library of videos readily available after a conference takes place. In addition to this, TED has begun to sprout all over the world in the form of TEDx. (more info)
Today's TEDxPresidio was focused on the theme Business 3.0. The answer is as diverse as each of the 20 plus speakers who's task was just that.
The talks, lead by Darian Rodriguez Heyman author of Nonprofit Management 101, were very diverse and touched on many important topics including: sustainable business practices, social change, automating the work force, new tools for greener building and so much more.
Ari Derfel, Executive Director of Slow Money, began the conference with an inspiring story about a friend that went on a vision quest that lead to the fruition of one of Esquire Magazine's Top 20 best new restaurants. Their focus is to have a business that is not defined by monetary success but one that honors personal relationships with their clients and consumers as well as their connection to the earth.
There were stories of serious ingenuity. Kevin Surace from Serious Materials spoke via video about his efforts to refit the entire Empire State building with new, more environmentally friendly windows 3 weeks shy of their 6 month deadline. Carlos Dominguez, Cheif VP of Cisco Systems discussed their successes of bringing video to the forefront of communication (it would have been pretty awesome to see the video hologram he showed in Brazil, maybe next time?).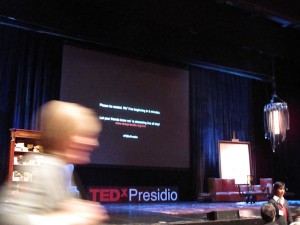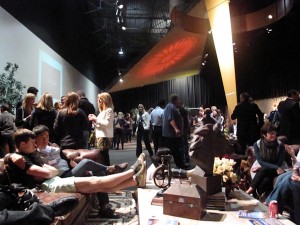 Lynelle Cameron had a great presentation about AutoDesk's applications that help designers make better decisions at the start of product development that will have lasting impacts on workflow, the products we see on the shelves and their impacts on the environment.
The city was represented by Melanie Nutter. As the Director of the San Francisco Department of the Environment Melanie went through a straightforward slideshow about the changes we're making to allow "8 to 80 year old's to ride bikes safely in the city" and ways businesses can get green certification.
The funny man CEO Gary Hirshberg from Stonyfield Farm was represented via video and had an insightful take on his experience making millions with sustainable practices by removing ad costs and replacing them with creative PR campaigns, like Meet the Cows, a sort of blog for the cows on the farm that you can follow on their website as well as recieve email updates about their latest opinions, quarterly.
These are a diverse range of individuals, movers and shakers if you will, at today's conference. An essential component to the success of getting the message of action out there was to hear Darian Rodriguez Heyman recap and direct the talks between sets. Throughout the seven hour session Darian posed questions like "What would you do if you could not fail?" and seemingly on-the-fly audience Q&A that explored the mental blocks and encouraging words to help move forward with some of the many ideas discussed.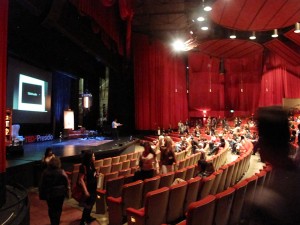 There was a theme of love in the air as well, this is San Francisco after all. Darian is right on when he says the green movement has to move from Code Red to Code Green. We can no longer use tactics of fear to encourage the public and businesses to be a more socially responsible people. Through knowledge you can change the way you think, act and conduct business on this fragile and one-of-a-kind planet of ours.
To quote Darian qouting Che Guevara, "The true revolutionary is guided by great feelings of love."
Catch post TEDxPresidio video over at http://tedxpresidio.org/