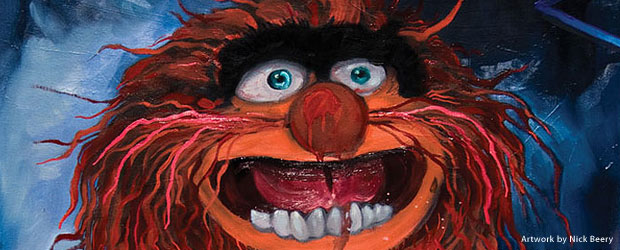 Sponsored
The largest list of SF/Bay Area Halloween Nightlife, Live Music, Family and Art Events.


Plan Your Halloween
More Music, More Festivals
After a weekend packed full of events, San Francisco still isn't slowing down. It's shaping up to be another busy week as the Treasure Island Music Festival gets under way with two days of music and after-hours events. The music starts early Friday with local rockers Thee Oh Sees and Sic Alps pairing for a show at Great American Music Hall. The SF Comedy & Burrito Festival brings an interesting combo to the festival scene with its debut this week and the Union Street Wine Walk returns for its third edition. Wings Wings tests local eaters who can handle the heat of its Angry Korean flavor with a Chicken Wing Eating Competition and New York tastemakers David Byrne & St. Vincent join forces on stage to share their latest project.

Weekly Giveaway: What do you think of our new newsletter format? Let us know for a chance to win E.T. or Moonrise Kingdom on Blu-ray.


Tue Oct 9 at Fox Theater

Grizzly Bear is a Brooklyn-based indie rock band known for their vocal harmonies and folksy timbres...


Fri Oct 12 at Great American Music Hall

"Fourteen albums into their discography, each new Thee Oh Sees album is somewhat unpredictable..."


Oct 11 - Oct 13 at various locations

Spanning three days, the festival will showcase over a hundred comics performing at six venues in over thirty shows...


Oct 13 - Oct 14 on Treasure Island

Treasure Island Music Festival is back for its 6th year with a solid mix of acts! Don't miss Girl Talk, The Presets, The XX. M83 and more!


October in SF

Visit many venues at Fort Mason Center during the first weekend of ArtSpan's citywide art celebration. As the largest and first open studios program in the country...


Oct 13 - Oct 14 at Festival Pavilion

Join the best spirits distillers along with leading Bay Area trade decision makers in a grand celebration of handcrafted, ultra-premium spirits...


Sun Oct 14 at Public Works

ICEE HOT and Public Works are proud to present an afterparty unlike other afterparties...
Featured Giveaways
SBTRKT on Sat Oct 13th at the Mezzanine


WIN Tickets
Yelawolf on Thu Oct 11th at The Fillmore


WIN Tickets
Dark Star Orchestra on Fri Oct 12th and Sat Oct 13th at The Fillmore


WIN Tickets
Tue Oct 9

Wed Oct 10

Thu Oct 11

Fri Oct 12

Sat Oct 13

Sun Oct 14

Mon Oct 15

Wed Oct 17

Thu Oct 18

| | |
| --- | --- |
| | by Ellen Lovelidge |
| | |
| --- | --- |
| | by Luis Chong |
| | |
| --- | --- |
| | by Alexandra Naughton |
| | |
| --- | --- |
| | by Mel Valentin |