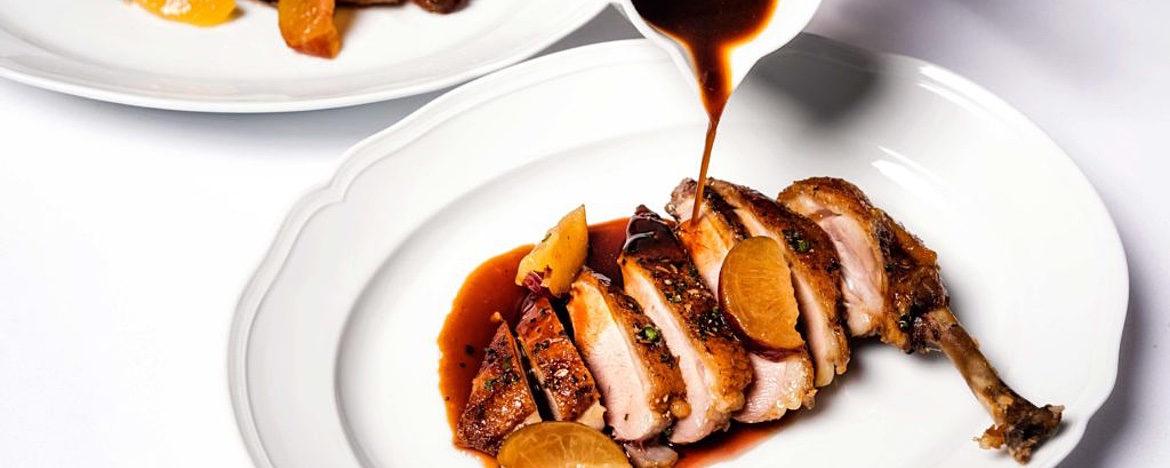 The Best New Peninsula Restaurants You Might Have Missed
The Peninsula sounds like a magical, faraway place, even if you've lived in the Bay Area for a good decade. And no wonder – not quite in the heart of Silicon Valley, like San Jose, the Peninsula has a number of cities most San Francisco residents rarely find get to; unless they work there. Long considered a foodie desert, the area is ironically experiencing a restaurant awakening like no other. And there's a twist. Unlike trendy San Francisco, a number of Peninsula restaurants seem to have chosen a tried-and-true route; deliver hearty, honest, delicious food. And if you add in the few fine dining establishments blowing everybody's mind, you're looking at a real food revival.
So, should one start making plans for a Peninsula dining adventure now? You bet! Here are the 5 new openings to begin your journey.
~~~~~~~~

Located on an unassuming stretch of construction zones, the newest restaurant by the Bacchus Management Group (The Saratoga, Spruce) is nevertheless a real standout. Inside, chic bistro-like interiors offer two levels of fine dining, with two separate cellars for white and red wines and a poker room for serious players. The menu at Selby's juggles French, American and even Russian classic dishes with ease, offering something for everyone. Feeling basic? Go for the especially indulgent (and affordable) burger. Want to explore? Order a rich pasta, an Olivier salad and, perhaps, the braised rabbit. Don't skip the desserts, do dress up, and escape – if only for a night – into an experience not many Bay Area eateries dare to offer.
3001 El Camino Real, Redwood City
~~~~~~~~

Located at the luxurious Park James Hotel, this is another place to see and be seen. The food and the decor compete for impressive looks, and the menu is stocked with all the favorites. Expect Brussels sprouts so crispy everyone will hear you eat them, soft house rolls slathered with butter, dates stuffed with chorizo and other staples of Californian kitchens. Sit indoors or on the large patio, glass of wine in hand, and pretend like you're closing the deal of your life.
1400 El Camino Real, Menlo Park
~~~~~~~~

On the more approachable side of things, this new wine bar by industry veteran Jason Cooper is a bubbly, modern type of place your newly relocated Google-employed friends would like. Serving a dazzling amount of bubbly by the glass, Velvet 48 pads the belly as well, with cheese and charcuterie plates, airy gougeres (the most addictive puffed cheese pastries), a chocolate plate and other treats.
310 Lorton Ave, Burlingame
~~~~~~~~

Yes, there's a slash in the name, but that's where the pretense ends.Craft/Code is a lively new cocktail bar and restaurant by chef Scott Gorman, offering dinner, lunch, and brunch. For dinner, dishes may include cauliflower steak or short rib braised in beer, and brunch goes big with a croissant French toast, Japanese-inspired Bloody Mary and other crowd-pleasers. The cocktails are especially gorgeous, with over 20 options to choose from.
1770 S Amphlett Blvd, San Mateo
~~~~~~~~

To finish this list without Maum, the Micheline-starred, super-exclusive Korean dining concept from chef Michael Kim, would be unthinkable. Should you be able to afford the $195 tasting menu on a regular Saturday? Probably not, but for a special occasion, look no further. The minimal, austere spot is the perfect backdrop for creative and complex dishes, such as sablefish with abalone and spicy Gochujang paste, or a barley and buckwheat dessert that tastes much better than it sounds. Feeling especially decadent? Splurge on the wine pairing.
322 University Ave, Palo Alto