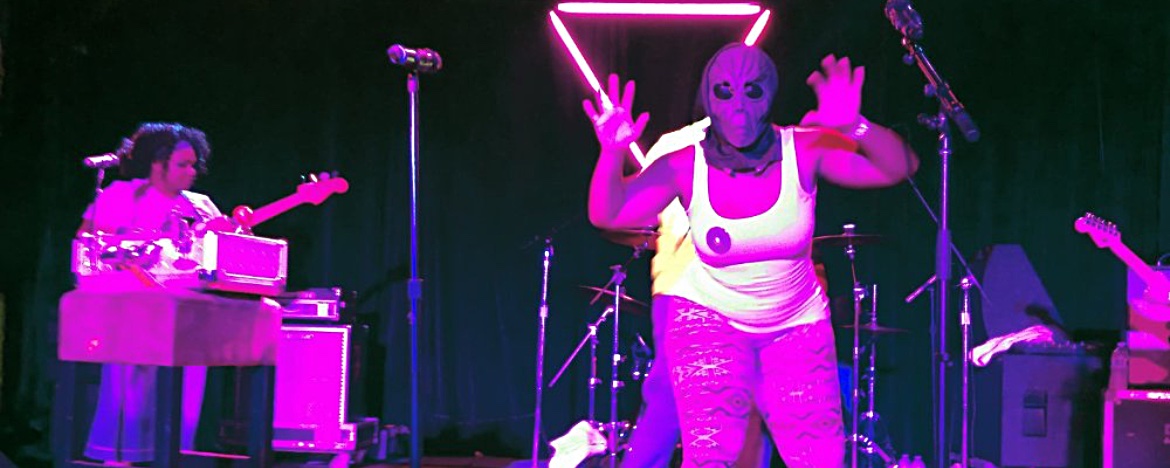 8 Awesome October Concerts That are not Already Sold Out
While the rest of the country cozies up to fall with chunky sweaters and pumpkin-spiced everything, it's peak concert season here in the Bay Area. There's lots to look forward to this month. Don't miss these October shows:
~~~~~~~~

Oct. 4-6: Hardly Strictly Bluegrass
The outdoor festival season closes with a twang at Hardly Strictly Bluegrass, the free event that draws +700,000 people to Golden Gate Park for three days of music. Highlights this year include former Led Zeppelin frontman Robert Plant, heavy instrumental funk from the Budos Band, The New Pornographers, and local acts Chuck Prophet and Fantastic Negrito. Be sure to check out the new security rules at the festival before you go.
~~~~~~~~

Oct. 5: Kurt Vile and Jon Langford @ The Fillmore
If big crowds aren't your thing, you can still get in on the Hardly Strictly action at one of the festival's night shows. Kurt Vile brings his excellent new album Bottle it In to the Fillmore with support from Welsh singer/songwriter Jon Langford, who has since put his roots down in Chicago and gained worldwide recognition for various Americana projects.
~~~~~~~~

Oct. 8: Big K.R.I.T. @ The Fillmore
Mississippi lyricist Big K.R.I.T. finally levels up with his first headlining show at The Fillmore after annual stops at Slim's the last several years. Ten years after he dropped his first single "Country Shit," his July release K.R.I.T. Iz Here is his best album to date.
~~~~~~~~

Kokoko! made their debut on our monthly concert roundup with their first-ever Bay Area show back in March. They are definitely worth revisiting in October. The band stops in Oakland in support of its first LP Fongola, an amalgamation of Congolese rhythms and electronic dance music delivered on improvised instruments made from found objects. You won't find a more unique dance party.
~~~~~~~~

The guitars are out and the grooves are loud and heavy – in the vein of classic Black Sabbath – when Witch hits the stage at the Chapel. Guitar god J Mascis flips the script in this band, taking a seat at the drum kit behind guitarist/vocalist Kyle Thomas. And if you're still looking for more, Mascis is sticking around and plugging into his Marshall stacks for three days with Dinosaur Jr. at Slim's later in the month.
~~~~~~~~

Oct. 16: Devendra Banhart @ The Fillmore
Perpetually mellow crooner Devendra Banhart returns to the stage with Ma, his first LP in three years. The freak-folk movement fixture who got his start in San Francisco has since settled into LA's Silver Lake scene with a songwriting style that feels tailor-made for the shift to fall's shorter days and the last moments of the city's sunny season.
~~~~~~~~

Oct. 17: Sis (album release party) @ Amnesia
Berkeley band Sis celebrate the release of their second LP Gas Station Roses and the final date of a short West Coast tour in the intimate confines of Amnesia. Look for dreamy and percussive tracks inspired by eclectic 80s acts like Grace Jones, Talking Heads and Peter Gabriel.
~~~~~~~~

South Bronx trendsetters ESG make a rare live appearance at Public Works to celebrate Halloween. The trio got its start in the 1980s New York club season and is widely considered as a significant influence on hip-hop and dance music. You'll recognize the "UFO" sample in many of your favorite tracks.
~~~~~~~~

There's no shortage of events surrounding Halloween, including P-Lo, DJ Quik, Holy Ghost!, Ra Ra Riot, and way too many parties to name here. Check out SF Station's Halloween Guide for more details.
~~~~~~~~

Find more concerts and events with SF Station's events calendar.
Photo credit: hinnk