Interview: Ken Burns to Preview New Documentary Country Music at the Palace of Fine Arts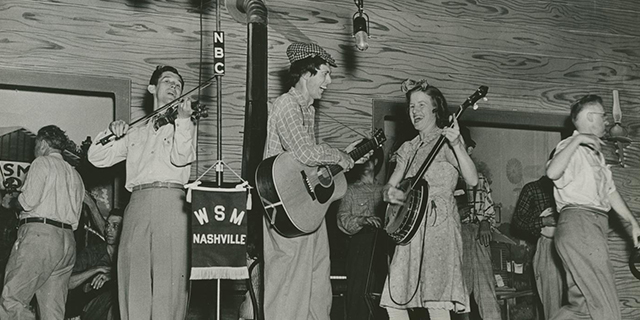 Country Music, the newest documentary directed by renowned filmmaker Ken Burns, will be previewed at the Palace of Fine Arts in San Francisco ahead of the film's September 15th premiere on PBS. The eight-part, 16-hour film tells the history of country music from the Carter Family, Jimmie Rodgers, and Bob Wills to Johnny Cash, Willie Nelson, and Dolly Parton.
Burns is a prolific documentarian whose filmography delves into a diverse range of topics, including histories on the Brooklyn Bridge, the Statue of Liberty, baseball in America, the U.S. National Park system, and, most recently, the Vietnam War.
The preview screening of Country Music, to be followed by a conversation with Burns and his team, will take place Wednesday, July 24th at the Palace of Fine Arts in San Francisco. Tickets for the event can be purchased here.
In advance of the SF screening, we spoke with Ken Burns over the phone to learn more about the upcoming film, the power of music, and his perspective on documentary-making.
~~~~~~~~

It has been 18 years since the release of Jazz, which was the last time you devoted a documentary series entirely to a single musical genre. How does Country Music differ from that earlier work?
Ken Burns (KB): In many cases, it was more the same than not. Country music is a uniquely American art form. So is jazz. It grows out of the American South. So does jazz. It reflects tensions between different regions, different instruments, and different styles of playing. So does jazz. It's filled with an extraordinary pantheon of several dozen amazing figures that you get to know over the course of the series. So does jazz.
And there's cross-pollination. The early major stars of country music — A. P. Carter, Jimmie Rodgers, Hank Williams, Bill Munroe, and Johnny Cash — all had African-American tutors and mentors, who took their chops from "here" to "way up here." And the reason they're on the Mount Rushmore of early country music is because of that ability to absorb more than one tradition of music, which is the great American genius. And jazz is very much the same way: people are listening to other people, and in that exchange art is created. It's a beautiful thing.
It's wonderful to see in the film how that played out in ways that were very similar. The differences were only in the specifics of the particular artists—with the circumstances of their birth, how they rose, what instrument they played. We're not talking about a lot of horns and saxophone in country music, just as we're not talking about that many fiddles in jazz.
"Country music is truth-telling," says singer-songwriter Rodney Crowell in a trailer for Country Music. Couldn't you say jazz is truth-telling too?
(KB): You hear Wynton [Marsalis] essentially say that it is in Jazz. What we're saying is that music, as Wynton himself says in this film, is the art of the invisible. To which I would like to add that it's the artistic form that works on you faster than anything else. Two notes, and you can be emotionally engaged.
Whatever the subject of our film, we have always depended on music. In our most recent series on the history of the Vietnam War, we had Trent Reznor and Atticus Ross deliver three hours of original compositions before we started editing; not afterward to amplify emotions we'd hoped were there, but before so that they were organic to our editing process. Then we added 120 musical cuts from jazz, country, folk, but mostly rock and roll, including The Beatles, The Rolling Stones, and Bob Dylan. And what you find is how powerful music is in everything that we do.
By now, many people are familiar with the Ken Burns style of documentary. In Country Music, what can we expect to be familiar? And what may surprise viewers?
(KB): When you say "Ken Burns style," we have to seek a common agreement on what "style" means. I would like to suggest that style is the authentic application of technique. That means it's not just doing it for the sake of doing it, but it's organic to who that person is.
If you stand away from all my films, they all look in some ways the same. That would be the Ken Burns style. As you get closer, you'll find that some things are calibrated differently. There might be lots of live cinematography in the Lewis & Clark and Thomas Jefferson films because they take place before the advent of photography and motion pictures, and certainly there's no one we could interview from the period. So it's more first-person voices and live cinematography. Another film might be all footage or a mixture of footage and still photography; plus a lot of talking heads of people who experienced it. Each film is calibrated based on the situation.
When people look at Country Music, they're going to see something that is familiar in the use of photographs, footage, interviews, and live cinematography. But at the same time it's in the service of a story dedicated to this musical art form. So there will be surprising moments when the song you're listening to is sung by the person being interviewed at exactly the right moment. It's exhilarating.
People that don't like country music may say, "Wow, I didn't realize that I actually did like it." And people that don't think they know much about it will say, "Wow, I didn't realize how much I did know." Even people very familiar with it, everyone in Nashville will say, "God, I had no idea." I remember a woman from the [Nashville-based] Country Music Association couldn't believe she had to visit us in New Hampshire in February to learn more about her town and her music. I think there will be that sense of revelation, and because of that this might be our most moving film.
People associate your films with extreme length: for example, Country Music is approximately 16.5 hours long. Given the evolution of new technologies, delivery systems, and viewing platforms, today we have everything from six-second videos on social media to the nearly 72-hour runtime of Game of Thrones. How do you see long-form documentary fitting into this evolving landscape?
(KB): I've been vindicated. I remember when The Civil War, which was 12 hours long, came out in 1990, the critics said, "Boy, this is great, but nobody is going to watch it because it's way too long." And everybody did: it's still the highest-rated in the history of public television. Four years later, Baseball was even longer—18 hours long—and they said the same thing, but it had an even bigger audience on its first broadcast. They said the same thing about Jazz (2001), The War (2007), and The National Parks (2009). But they didn't say it about The Roosevelts in 2014 and they didn't say it about The Vietnam War two years ago. And no one is saying it about Country Music.
It's because we live in a world with so much information — yes, we have eroded attention spans — but everyone craves good curation. Everyone's willing to dedicate the time to binge, whether it's dramatic or documentary. Now that the documentary world has branched into not just being expository, it obeys the same laws of storytelling as a feature film or dramatic series, but we can't just make stuff up. We have the same power. You're finding people starved for that kind of curation, so they're willing to binge.
After doing it the same way for 40 years, that approach has been vindicated. And that approach has had at its forefront the essential trust of my audience. I don't dumb down for them. I assume their intelligence. And they reward that assumption with their attention over many, many hours.
Can you share a few of your favorite filmmakers and films from the past couple years?
(KB): I'm a huge fan of all kinds of film, from experimental things that Stan Brakhage did to Hollywood to international to, of course, documentaries. I'm always thrilled to see what Werner Herzog does with documentaries. I'm always curious about what the really great directors in Hollywood are able to do, like Michael Mann and Martin Scorsese.
But I haven't been able to see every film ever made, so I'm always having to go back to previous years to investigate French, Italian, or Japanese cinema. I've been on the board of the Telluride Film Festival for 20 years, and I've always loved the extraordinary, immersive dip into the deep end of cinema, which reminds you that the American contribution — while loud — is relatively small in the context of world cinema. What's going in Algeria, Nigeria, Indonesia, China, Iran, or other places in Europe and South America is as good filmmaking but doesn't have the marketing mojo of the United States to deliver it. I don't believe you could tell me any film better than Alfonso Cuarón's Roma from the last several years.
~~~~~~~~

Country Music
Following the screening, KQED's Mina Kim moderates a conversation with Burns
Wednesday, July 24th, 7:30pm – 10pm
at the Palace of Fine Arts, 3601 Lyon Street, in San Francisco