Put These April Food and Drink Events on Your Radar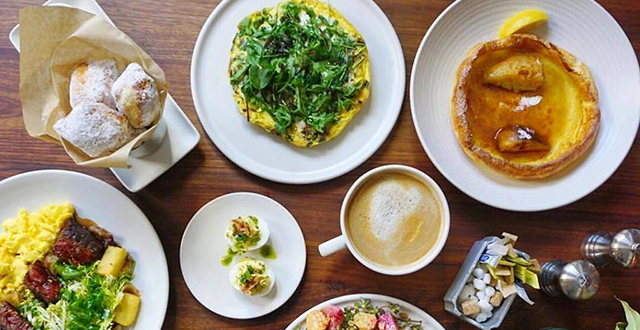 Drinking caramel? Biting into a famous hamburger? Having brunch for dinner? April, the first month to mark the much-anticipated summer-ish vibe, has it all, in truly decadent style. Where to indulge in the month's best foodie films, meals and events? And where, if you really must, can you consume a Mexican-inspired Passover dinner? We got you covered.
Celebrate with Third Culture Bakery
The beloved maker of delicious mochi muffins and doughnuts is approaching a milestone: this Saturday, April 6, from 10am – 5pm, Third Culture Bakery will be celebrating its second birthday. In addition to the colorful sweet treats, for one day only a savory menu will be offered, featuring dishes inspired by one of the owners' Indonesian childhood. While the event is free, a VIP Tasting Ticket is also available, allowing guests to skip-the-line, and receive a package of Third Culture Bakery merchandise and bites. Tickets are available here.
2701 Eighth Street, Berkeley
Drink caramel at Recchiuti
Were you aware of National Caramel Day? It's going down on April 5th, and the local chocolate brand Recchiuti Confections celebrates with a limited-edition Iced Burnt Caramel Drink, available only at its Dogpatch location. On Saturday, April 6th, founder Michael Recchiuti is also spinning Burnt Caramel Ice Cream at theLab from 11am – 4pm during the 1st Saturday Dogpatch crawl. Sweet.
801 22nd Street, San Francisco
Celebrate Passover with a Mexican twist
Passover is one the yummiest Jewish holidays, and the team behind Berkeley's beloved Comal knows it well. That's why on Monday, April 22nd and Tuesday, April 23rd, Executive Chef Matt Gandin will serve a Mexican-inspired Passover menu, with dishes like Rock Cod "Gefilte" fish Cakes with chipotle aioli and Lamb Barbacoa Quesadilla with Anaheim chiles. The dinner will be served family style, at the restaurant's private dining room. Tickets are $80, including service charge but excluding all beverages, available here.
2020 Shattuck Avenue, Berkeley
Sink your teeth into Shake Shack
The Shake Shack obsession is real. After opening their first Bay Area branch in Palo Alto, the Shack just got a little closer to San Francisco residents, with a second location across the Golden Gate Bridge. Take a short drive, enjoy the views, and celebrate the fact you got out of town with the chain's famous burgers, including a the Bay Area-exclusive Golden State Double, a Richards Grass-fed Beef double cheddar cheeseburger topped with pickles and smoked garlic aioli.
Marin Country Mart, 401 Larkspur Landing Circle, Larkspur
Watch an inspiring documentary about female chefs
The female voice in the culinary world had never been more prominent. On April 1st, Slow Food San Francisco, Airbnb, and filmmaker Joanna James team up to celebrate just that, with a screening of A Fine Line, a full-length film about women in food. The screening will be preceded by a dinner party, with wines from Markham Vineyards, and a panel discussion with chefs Tanya Holland and Gabriela Cámara, and Shakirah Simley, Legislative Aide for SF Board of Supervisors. Tickets are $75, available here.
Have brunch for dinner, because why not
April Fools' Day is almost here, and at Bluestem Brasserie the tradition is flipping the script and serving the brunch menu for dinner on April 1st. Expect buttermilk biscuits and gravy, caviar deviled egg and a cocktail menu inspired by the Looney Tunes. Why can't Fool's Day be every day? Reservations can be made here.
1 Yerba Buena Lane, San Francisco
Go on a foodie crawl through the Castro
Perhaps not known for its culinary standouts like neighboring Hayes Valley and the Mission, the Castro, nevertheless, it trying hard. On April 3rd, three prominent neighborhood restaurants, Canela, Starbelly, and Blackbird, join forces for the second annual progressive dinner. Festivities will unfold across the Castro starting at Starbelly, with a welcome cocktail and small bites, moving to Canela for a second course of Roasted Whole Fish with Squid Ink Rice, and finishing at Blackbird for gourmet dessert. Sounds like our kind of evening. Tickets are $69, available here.