Woodstock's 50th Anniversary Comes Full Circle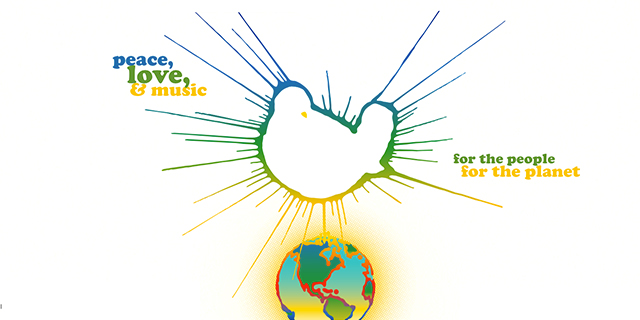 Fifty years after Woodstock created a tidal wave in music and pop culture, the festival circles back once again for Woodstock 50. Hoping to grab the attention of a younger generation, where we have an overabundance of music festivals, each with its own cause, promoter John Lang has created a lineup that attempts bridge the old with the new, while staying true to the concepts of Peace, Love and Music.
The three-day music festival will remain in Upstate New York; about 2 hours away from the site that hosted the original festival. For Woodstock 50, the changes from 50 years ago will center on the music; plus all the crazy merch appropriate to our day and age, like that tie-dyed hip hop tee you never knew you needed or even an 1/8th of Woodstock Weed.
About the lineup: A group of artists who performed at the original Woodstock will return to help bring back fans who might have been around, that first go-around. Santana, Dead and Company, John Fogerty, John Sebastian, Country Joe McDonald and Canned Heat will be back. Notable contemporary artists who've decided to put their hat in the ring include Jay Z, The Killers, Chance the Rapper, and more. In all, there will be more than 80 artists performing.
And they're doing so for many of the same reasons that the Woodstock of 1969 embodied: bring people together through the power of music, show that love can conquer a lot, and to join forces, collaborate and network.
Woodstock promoter Michael Lang realizes the trying times of today, and aims for Woodstock's 50th anniversary to spark social change. As he told Rolling Stone, "Many of these artists are committed to social change, have their own issues that they support, but also support these global issues of climate change and Black Lives Matter."
The rapper, Common, conveyed a similar sentiment when he shared what taking part in Woodstock 50 means to him. "To be able to be connected to Woodstock in any shape, form or fashion for me is one of the greatest honors I've had as an artist, as human being (and) as a musician… There's so much going on right now (and) I think one of the best ways we can combat the ignorance, the divisiveness, the hatred is to go out there (and) push love and express love and practice love…"
Lineup for Woodstock 50
Day 1: Friday, August 16th
The Killers – Miley Cyrus – Santana – The Lumineers – The Raconteurs – Robert Plant and the Sensational Space Shifters – Nathaniel Rateliff and the Night Sewts – John Fogerty – Run the Jewels – The Head and the Heart – Maggie Rogers – Michael Franti & Spearhead – Bishop Briggs – Anderson East – Akon – Princess Nokia – John Sebastian – Melanie – Grandson – Fever 333 – Dorothy – Flora Cash – Larkin Pose – Brian Cadd – Ninet Tayeb
Day 2: Saturday, August 17th
Dead and Company – Chance the Rapper – The Black Keys – Sturgill Simpson – Greta Van Fleet -Portugal. The Man – Leon Bridges – Gary Clark Jr. – Edward Sharpe & The Magnetic Zeroes – Dawes – Margo Price – Country Joe and the Fish – Rival Sons – Emily King – Soccer Mommy – Sir – Taylor Bennett – Amy Helm – Courtney Hadwin – Pearl – John-Robert – IAMDDB
Day 3: Sunday, August 18th
Jay-Z – Imagine Dragons – Halsey – Cage The Elephant – Brandi Carlile, Janelle Monae – Young The Giant – Courtney Barnett – Common – Vince Staples – Judah and the Lion – Earl Sweatshirt – Boygenius – Reignwolf – The Zombies – Canned Heat – Hot Tuna – Pussy Riot – Cherry Glazerr – Leven Kali – The Marcus King Band – Victory – Hollis Brown – John Craigie – Amigo the Devil – Liz Brasher
Tickets to Woodstock 50 go on sale this April 22nd, appropriately, that's Earth Day this year.