6 Sexy Bay Area Dishes to Share With Your Valentine (Or Not)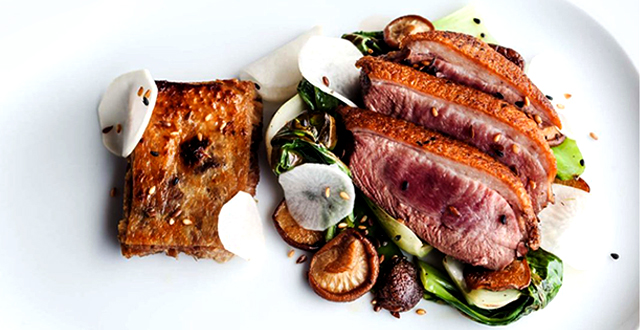 Valentine's Day is a 'romantic' occasion; according to the marketing machine that constantly makes up stuff we need. But what does romance even mean in the age of Tinder and Cardi B lyrics? No one ever bothers to explain. Instead of attempting to decode a clichéd, anxiety-inducing notion, let's just say this – whatever romance means to you, you can't go wrong if there's sexy, shareable food being served at a fun, exciting place. This Valentine's, leave the complex questions to the side. We found delicious, naughty and crave-worthy dishes you can share with a loved one, or devour all by your lonesome. You're welcome.
Seafood Charcuterie at Ayala
You know what's sexy? Novelty. While any semi-informed, self-proclaimed foodie can lecture you on the classic charcuterie, seafood charcuterie is still a 'thing'. Head to Ayala, a new sea-centric restaurant in a hotel (which is kind of alluring in its own way) and order the masterful, beautiful plate of paper-thin octopus, trout and cod. The thrill of sampling the delicate textures, sharing and debating the flavors is just the bonus.
398 Geary Street, San Francisco
Crepe Pancakes at Vive la Tarte
Sexy foods are not eaten exclusively in the dark. For a sweet, disheveled breakfast for two, look no further than Vive la Tarte's latest offering; airy, addictive, elevated pancakes. Exclusive to the bakery's new Noe Valley locations, the dreamy pancakes are served with a cheeky caramelized banana slice.
4026 24th Street, San Francisco
BBQ Ribs at International Smoke
There's something unapologetically larger-than-life about Ayesha Curry and Michael Minna's International Smoke. Perhaps it's the crowd, super excited to be there. Or maybe it's the Lunar New Year string lights, circumstantially spicing up the Valentine's Day atmosphere. Or probably, it's the large, sticky slabs of meat; St. Louis ribs gotta lead the pack. Nothing's sexier than a plate of delicious, carnivorous heaven? If meat's your thing, this is the spot.
301 Mission Street, San Francisco
The Duck at Jardinieire
'Duck', served at Jardiniere, one of San Francisco's most acclaimed restaurants, needs no introduction. It's a classic with reason; this pink explosion of a dish is French, juicy, sweet, savory and endlessly sexy. Oh là là. For Valentine's Day, the restaurant spices it up with kumquat and fennel, which offer a deviation from the regular menu and provide additional excitement.
300 Grove Street, San Francisco
Mini Lobster Rolls at Guesthouse
Marin's Guesthouse is brand new and kind of in the middle of nowhere – perfect for that 'let's shake up the routine' Valentine's game plan. When you arrive, sit at the bar, order a couple of cocktails. The plump, aromatic lobster rolls will make you believe that you're in another country.
850 College Avenue, Kentfield
Sea Urchin Fondue at Bardo Lounge
Despite its central Lake Merrit location, the somewhat new Bardo is yet to be discovered by the masses, which makes it a great date spot. Surrounded by sexy retro vibes, dip your spoons into the sea urchin fondue, topped with caviar. It's a dish that's as decadent as it sounds.
3343 Lakeshore Avenue, Oakland