Road Trippin'! 8 Spots to Eat, Drink and Mentally Unwind in Santa Rosa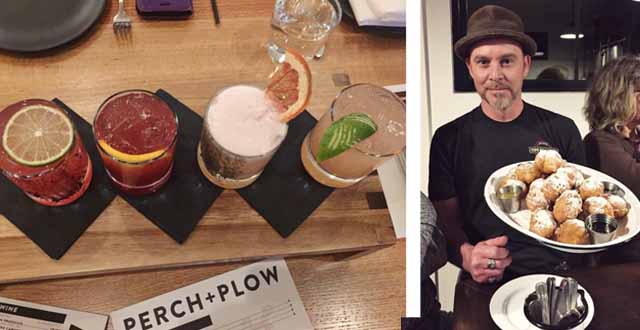 Next time you're finding yourself getting extra aggravated on an elbow-to-elbow MUNI ride home, or have an extra day off and are looking for a quick weekend getaway outside the City, head out to Santa Rosa. Located just a little over an hour from either San Francisco or Oakland, there's some zen in your near future. Not to mention some opportunities to indulge in craft beers, herb-and-wine tastings, photo-worthy cocktails, and do some forest bathing or sit poolside at a retro hotel.
We'll let you in on a few of our favorite activities when hanging out in Downtown Santa Rosa.
In Downtown Santa Rosa there are ample food options for those strolling by, but an easy mistake would be to overlook Perch + Plow, which is located up a flight of stairs right off of Courthouse Square. This chic and modern-art-filled restaurant is perfect for a date night or a gathering with a group of friends…especially those who love cocktails. Try the crispy pork belly fried rice and the Smoking Gun cocktail (brown butter washed old forester bourbon, chai infused sweet vermouth, brown sugar, Aztec chocolate bitters, orange twist, cherry wood smoke). The Smoking Gun comes in a sealed mason jar—twist the jar open to unlock the dreamiest mix of campfire smoke, followed by a swift kick of bourbon.
90 Old Courthouse Square, Santa Rosa
Usually when people think of Santa Rosa they think of the wineries, but skipping out on their world-class craft beer scene would be a miss. Throughout February, Visit Santa Rosa has collaborated with local breweries to create a FeBREWary beer passport program to encourage patrons to try a number of different breweries in the area. It's like speed dating—except with beer, and you get a commemorative 2019 Santa Rosa Beer Passport beer stein to take home at the end. Collect nine of the brewery stamps (including one free stamp), then take your completed passport to The California Welcome Center to get your prize.
There are Multiple Brewery Locations, including Russian River Brewing Company (home of the insanely good, award-winning beer, Pliny the Elder)
I can't imagine that anyone could hate on restaurant owners Andrew and Susie Pryfogle. This husband-and-wife team are first-time restaurant owners and will treat you like family (or way nicer than family, depending on what your family is like…) Anyway, Tips Roadside opened in 2018 after originally receiving their building permits for their restaurant just one week before the October 2017 fires. During that time, they used their food trucks and volunteered their time, alongside other community members, to feed over 5,000 first responders in Glen Ellen and Santa Rosa. On top of their unwavering vision and follow through, the two are armed with a secret weapon: executive chef  Thaddeus Palmese. Palmese brings a New Orleans flare to the menu and is damn serious when it comes to the science of making the perfect beignet. Try the classic beignet with a Meyer lemon dip on the side, or the smoked bacon version with house-spiced syrup.
8445 Sonoma Hwy, Kenwood
This restaurant is west coast vibes all around. From the food, beer and wine menu (inspired by California, Pacific Northwest, and Hawaiian flavors), to their head chef Gray Rollin who previously toured around with Cali rock band Linkin Park as their personal chef before setting up shop in Santa Rosa. Rollin was also born and raised on the left coast, more specifically in the Bay Area. We recommend trying the fig & prosciutto pizza. While you're at it, see if Rollin will tell you some stories from his touring days (aside from Linkin Park, he also served as a chef for Motley Crue, KISS, Black Eyed Peas, Katy Perry, Blink 182, and Godsmack). Also stick around for the chocolate mousse with Campfire Stout.
523 Fourth Street, Santa Rosa
As the neon flamingo sign slowly rotates above, and you glance at the glimmering lights reflected off the pool at dusk, you can almost imagine what it was like visiting here in the late '50s, when the hotel became known as "the place to stay north of the Bay" by Hollywood movers and shakers; when movie stars like Jayne Mansfield and ladies in cat eye sunglasses basked in the sun by the very same pool. Today, the reasonably-priced Flamingo is still a  family-run business after thirty years and, has since been named a historic landmark by the City of Santa Rosa. Take a minute to sit by the pool before Lyft'ing off to the nearby restaurants and wineries; and stick around for the Sunday Champagne Brunch ($36 adults, $16 for  kids under 11).
2777 Fourth Street, Santa Rosa, CA
If you're out with someone who says they hate the Peanuts crew, they're a pouty pants. Leave them in the car. For everyone else, of all ages, this is a fun stop and walk down comic strip memory lane. Be sure to stop in the giant gift shop. Admission: $12, $8 seniors, $5 youth/students.
2301 Hardies Lane, Santa Rosa
You might know of the Paradise Ridge Winery or are familiar with their sculpture collection, but most likely you haven't visited their small Kenwood Tasting Room. Paradise Ridge Winery's main estate and winemaking facility were destroyed in the 2017 fire, but their giant "LOVE" sculpture had survived the fire, becoming an iconic symbol of community's resilience during this tragic time. In the meantime, while the owners, whose family had first established the winery back in 1961, are in the process of rebuilding the main estate visitors can visit the Kenwood space. In this unpretentious and small tasting room, tap into your inner nature child with their herb garden and wine sensory pairing session ($30 per person) or the herb-infused chocolate and wine pairing ($35). Be ready for your senses to be bewitched by sweet, savory, citrus, and earthly aromatics.
Does it bum you out to think about the festival-esque parking situation that's become the norm out by Muir Woods? Still love the trees but hate the traffic? Get your nature fix by visiting the Armstrong Redwoods State Park. Here you can get into the spirit of forest bathing and surround yourself by this majestic old-growth redwood forest. You'll see some of the tallest and oldest trees remaining in this part of California, including the Parson Jones Tree (~310 feet high) and the Colonel Armstrong Tree which is more than 1,400 years old.
17000 Armstrong Woods Road, Guerneville