This New 'Celestial Bodies' Tasting Menu is Otherworldly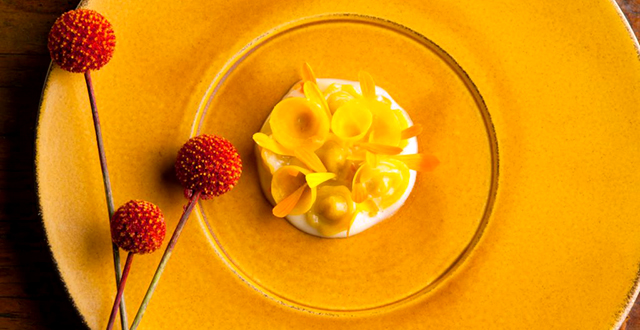 Tasting menus are as plentiful in San Francisco as tech start-ups, and many follow a similar fate; in the end it just doesn't work. They're a series of beautiful small plates flash in front of you, and then you're done. What was in that bowl? How was that cheese called? It's delicious, but overall it's a blur. Merchant Roots, a relatively new Fillmore deli and restaurant, decided to do things differently. And the result is an otherworldly, creative affair.
The Table at Merchant Roots, a ticketed nightly affair, was crafted by real-life and business partners chef Ryan Shelton and wine director Madison Michael, spanning nine courses for $110, with optional wine pairings for an additional fee of $75. Like many other prix-fixe menus in town, there's a theme; but not just any theme. 'Elements' is a delicious exploration of celestial bodies (sun, moon, comet) and minerals (salt), alongside your old friends: air, water and fire. There's only one communal table, so through the meal you'll get to meet your fellow San Franciscans as you sip wines and decipher beautiful creations.
Not limiting themselves to a beautiful plating, Shelton and Michael serve an elaborate meal for all senses; SALT (nori-buttered octopus served with curious nori sponge bread and trout roe) rests on a volcano-shaped, custom-made plate, which produces dashi broth bubbles worthy of fine photography. FIRE (dry-aged strip loin with charred sunchokes, bone marrow, and horseradish cream) comes on burnt wood slabs the chef made himself. Other dishes come in spheres, edible gold leaf and paper-thin caramel 'wraps', ingredients frozen, torched or otherwise transformed.
Celestial in every way.
Tickets are sold-out through January, but February seats are available..
Merchant Roots, 1365 Fillmore Street, San Francisco