Pro Arts' Statis Festival Transforms Downtown Oakland's Ogawa Plaza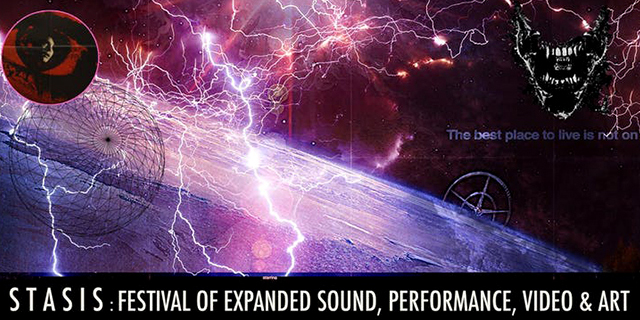 Pro Arts anchors the arts community in downtown Oakland. Their unique place in the arts helps foster non-commercial work that wouldn't otherwise be possible. Well, this weekend, they'll be hosting the Stasis Festival featuring sound, video, art, performance, and shopping.
The three days, running December 7th to 9th in downtown Oakland – near BART – are packed with performances by local and national artists. On the last day – Sunday, December 9th from 12noon to 7pm – there'll be a Pop Up Market with artists selling records, recorded media, prints, clothing, jewelry, limited edition prints, and sculptures.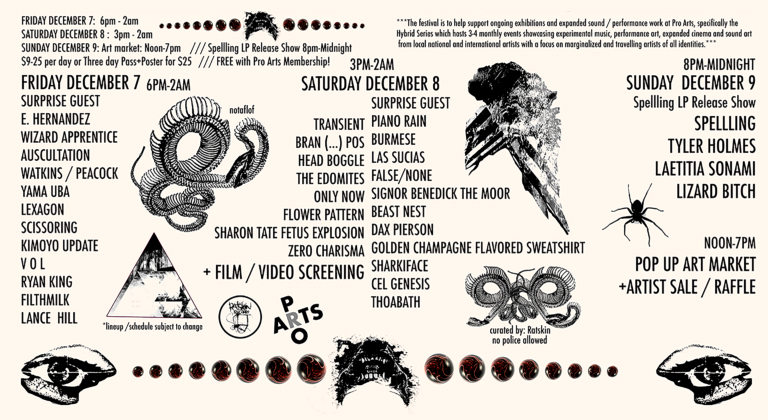 Schedule
~~~~~~~~
FRIDAY, DECEMBER 7th
4:00 – 6:00 pm – doors / quiet DJ'S / opening
6:00 – 6:20 LANCE HILL
6:30 – 6:50 FILTHMILK
7:10 – 7:30 RYAN KING
7:40 – 8:00 THE EDOMITES
8:10 – 8:30 KIMOYO UPDATE
8:40 – 9:00 SCISSORING
9:10 – 9:30 LEXAGON
9:40 – 10:00 YAMA UBA
10:10 – 10:30 WATKINS / PEACOCK
10:50-11:20 AUSCULTATION
11:30 – 11:50 WIZARD APPRENTICE
12:00 – 12:20 E. HERNANDEZ
12:40 – 1:00 SURPRISE GUEST – XXXXXX XX XXXX
SATURDAY, DECEMBER 8th
1:00 – 2:00 p.m. DOORS OPEN / DJ's
2:00 – 3:20 SCREENING
3:30 – 3:50 SCREENING PART 2
4:00 – 4:20 SHARON TATE FETUS EXPLOSION
4:30 – 4:50 FLOWER PATTERN
4:50 – 5:10 ONLY NOW
5:10 – 5:30 V O L
5:40 – 6:00 HEAD BOGGLE
6:10 – 6:30 BRAN (…) POS
6:40 – 7:00 TRANSIENT
7:10 – 7:30 BREAK / DJ
7:30 – 7:50 THOABATH
8:00 – 8:20 CEL GENESIS
8:30 – 8:50 SHARKIFACE
9:00 – 9:20 GOLDEN CHAMPAGNE FLAVORED SWEATSHIRT
9:30 – 9:50 BREAK / DJ
9:50 – 10: 10 DAX PIERSON
10:20 – 10:40 BEAST NEST
10:50 – 11:10 SIGNOR BENEDICK THE MOOR
11:20 11:40 BURMESE
11:50 – 12:10 BREAK / DJ
12:10 – 12:30 LAS SUCIAS
12:40 – 1: 00 FALSE / NONE
1:10 – 1:30 PIANO RAIN
1:40 – 2:00 SURPRISE GUEST XXXX XXXXXXX
SUNDAY, DECEMBER 9th
12:00 – 7:00 p.m. ART SALE / RAFFLE / POP UP MARKET
7:00 – 9:00 DJ'S / SCREENING
9:10 – 9:40 LIZARD BITCH
9:50 – 10:20 LAETITIA SONAMI
10:40 – 11:10 TYLER HOLMES
11:20 – 11:50 SPELLLING
Stasis : A Festival Of Sound, Performance, Video & Art
Friday, December 7th, 4pm – 1am
Saturday, December 8th, 1pm – 2am
Sunday, December 9th, 11am – 7pm
at Pro Arts Gallery
150 Frank H Ogawa Plaza in Oakland