The Tunnel Tops: A Place to Come Together, Be Inspired and Play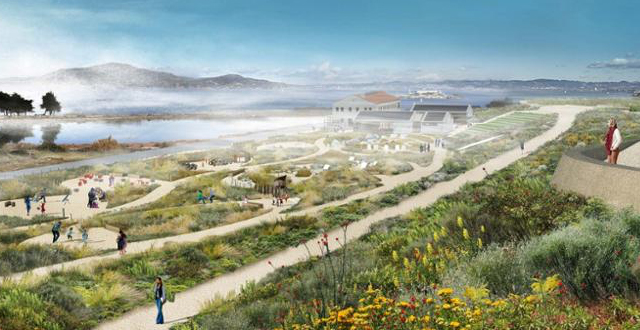 When base realignment in 1994 led to the closure of the Presidio as a military facility, a seed for what the Presidio could be was planted. Over the years since then, that seed has become a vision. First Crissy Field was remade into a natural wetland. Many of the buildings in the Presidio were then remodeled, while new buildings, like the Letterman Digital Arts Center, were built. Eventually Doyle Drive was torn down and replaced by the Presidio Parkway. And now, above the tunnel portions of the road, a new project is taking shape.
The landscape architect hired by the Presidio Trust is James Corner Field Operations. This is the company that transformed New York's High Line from an old train trestle into the world-renowned pedestrian park. The next step on Thursday, November 15th, 2018, 8:30am – 9:30am, is the demolition of the former Army-era Burger King. That take down will clear the way for development of the area above the parkway's tunnels to begin in earnest; early 2021 is being targeted for the project's completion.
​​This new 14-acre park, roughly the size of Dolores Park, will be called The Tunnel Tops.
This green space will connect Crissy Field with the interior of the Presidio; including the Main Post. It will be a place where visitors can connect with nature, where kids will play, and where everyone will be inspired by 360-degree views that were never before possible.
"We are standing in what will be the largest of the three play meadows," Michael Boland, the Presidio's chief of park development and operations, said on a recent walk over the tunnels. "And over there is where that first overlook will be — it'll have a dead-on view of the tower of the Golden Gate Bridge. That will be the selfie spot."
The Tunnel Tops will be an amazing natural locale; an only in San Francisco escape that transports, without ever having to leaving the city.
​The Presidio Tunnel Tops
at Observation Post, 211 Lincoln Boulevard, in The Presidio
Related Articles:
https://www.presidio.gov/tunnel-tops/about/the-project
https://www.sfchronicle.com/bayarea/article/Above-the-bay-the-Tunnel-Tops
https://en.wikipedia.org/wiki/Presidio_of_San_Francisco