Hamilton is the musical that brings to life and plants in our consciousness the amazing journey of Founding Father, Alexander Hamilton. Lin-Manuel Miranda's inspirational music, lyrics, and writing follow the Shakespearean arch of Hamilton's life, going beyond our collective imagination that the Founders were saint-like beings inspired by God to create a new country. Instead Miranda makes real the loss, rejection, ambition, rivalries and ultimately the death of Hamilton. Hamilton won a record 11 Tony Awards, including Best Musical, was the recipient of the 2016 Grammy Award for Best Musical Theater Album, and won the 2016 Pulitzer Prize for Drama.
There is a maximum purchase limit of four (8) tickets per account for the engagement. When tickets go on sale, most of the prices will be $111 and $214.
Producer Jeffrey Seller, when he announced that single ticket would be going on sale noted, "It's tempting to get tickets any way you can. There are many sites and people who are selling overpriced, and in some cases, fraudulent tickets. For the best seats, the best prices and to eliminate the risk of counterfeit tickets, all purchases for the return San Francisco engagement should be made through www.hamilton.shnsf.com."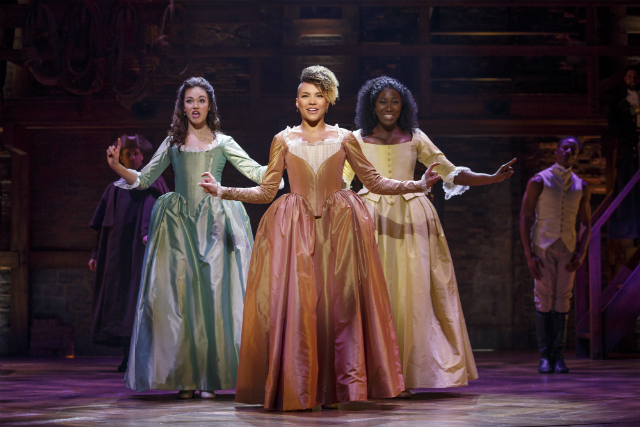 Solea Pfeiffer, Emmy Raver-Lampman & Amber Iman – HAMILTON National Tour (c) Joan Marcus, Courtesy of SHN
SHN Orpheum Theatre
1192 Market Street at Hyde
Performances at The Orpheum run February 12, 2019 through September 8, 2019
For more info visit the Hamilton website.
Related:
Alexander Hamilton on Wikipedia
Milpitas: 'Hamilton' cast member visits middle school