5 Decadent German Restaurants to Welcome Oktoberfest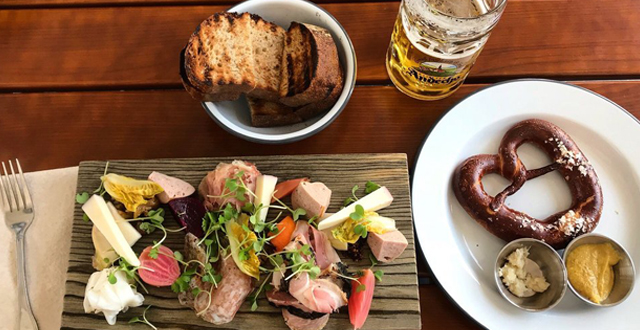 Oktoberfest, the joyful Bavarian festival celebrating all things beer and community, is starting on September 22nd and will run until October 7th. Originating in 1810 as a celebration to mark the Bavarian Crown Prince Ludwig's marriage to Princess Therese,  the festival historically ran through October, but later has been extended to late September, due to better weather. In San Francisco, Oktoberfest spans a variety of venues and events, from Oktoberfest by the Bay to Fort Points' Ferry Building seasonal beer tastings. It also provides a great excuse to visit one (or more) of the Bay's German restaurants, reminding us all how tasty, Fall-appropriate, and sharable German fare is.
From the new eatery with all the views to a historic beer hall, here's the list of where to celebrate Oktoberfest in abundance.
Radhaus
The newest German offering from the team behind Biergarten, Radhaus is the eatery Fort Mason was always lacking. Airy and relaxed, it serves numerous German beers on tap, as well as an array of small and large dishes with a side of Bay views. The obadzda, a Bavarian cheese dish, is hard to pronounce but easy to scoop up with a soft pretzel. And, in true San Francisco fashion, there are open-faced toasts to snack on, while the potato salad and the juicy currywurst (a pork sausage covered in curry sauce) make for a satisfying lunch.
Landmark Building A, Fort Mason Center
Schroeder's
One of the oldest institutions in the city, Schroeder's in the Financial District is always up for a good time. Celebrating its 125th anniversary this Oktoberfest, the restaurant is planning an expansive temporary beer garden for the duration of the event. However, you really don't need a special reason to step into the dimly lit hall and feast on a variety of sausages, build-your-own burgers, and vast charcuterie plates.
240 Front Street
Walzwerk
Tucked away on the outskirts of the Mission, Walzwerk feels like going to a friend's house; a little disheveled, welcoming, and super-casual. Then add in its quirky staff and odd-yet-addictive music. After you find a spot amidst Communist-era paraphernalia, note that the restaurant specializes in Eastern German food, meaning simple, hearty dishes with light Russian influences. Order the herring and the potato pancakes, the apple-stuffed chicken breast, and the curious cocktail mixing beer and Coke, just for laughs.
381 S Van Ness Avenue
Supperkuche
A Hayes Valley favorite, this cozy restaurant ticks all the traditional German boxes; on the menu, you'll find pickled herring, a special brand of meat-stuffed German ravioli, and a selection of comforting dishes for carnivores, from a pork schnitzel to grilled sausages. On the weekend, the Sunday brunch goes all-in with a wild boar sausage hash and generous servings of 'Emperor's Pancake', a better, more decadent version of the American pancake stack.
525 Laguna Street
East Bay bonus: Gaumenkitzel
On the other side of Bay Bridge, Gaumenkitzel proudly waves the flag for German cuisine, with a thick menu brimming with classics. Despite its large size, the restaurant is permanently packed, and for a good reason—its food feels both homemade and gourmet. Standouts include soft spaetzle (a form of pasta served with either cheese or meat sauce), a rich charcuterie board and the Black Forrest cake, (a combo of cherries and chocolate that somehow always fits right into your schedule).
2121 San Pablo Ave, Berkeley