By the end of this year, the Art Institute of California, San Francisco (not to be confused with San Francisco Art Institute), and Argosy University in Alameda will be closing campuses because of declining enrollment and students' preferences for online learning. Students were blindsided by the closure announcement and are now trying to figure out how and where to continue their education.
Nearly 140 employees of the Art Institute of California, San Francisco and 78 employees at Argosy's Alameda campus will be laid off by December. And a Pittsburgh organization called Dream Center Education Holdings acquired schools affiliated with the Art Institute of California and Argosy University last year. A few other California campuses owned by Dream Center are also expected to close later this year.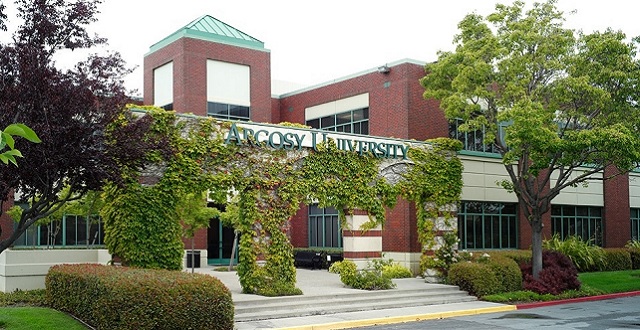 Argosy University in Alameda
Students at both colleges are now scrambling to figure out alternative options. Those unable to finish their degrees before closure can seek tuition reductions or grants. Students that transfer to another Dream Center campus are eligible for a 50% tuition reduction and those that enroll in a partner institution are eligible for a $5,000 grant.
Some students are unable to transfer people because credits aren't transferable. There are also a limited number of credits some schools will take from transfer students. Online classes are also an option, but the G.I. Bill, which provides educational assistance to military veterans, doesn't cover online classes.