5 SF Bay Area Date Night Combos that Rekindle the Classic 'Dinner & a Movie' Concept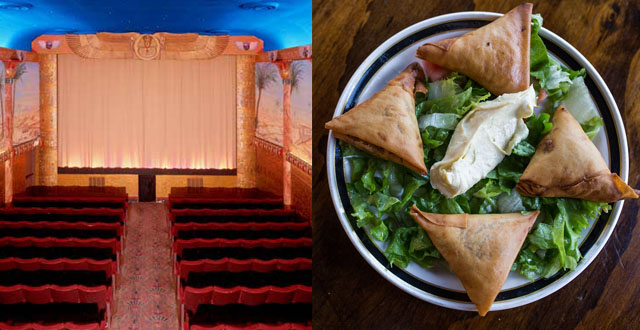 A dinner and a movie. It's the classy combo that came before Netflix and chill, the '90s recipe of a perfect date, and still as relevant as ever. And why not? For fresh daters, it's an opportunity to dating in stride with a conversation-filled dinner for two, followed by a chance to sit quietly together, a rare activity these days. For established couples, maybe it's about trying new spots and getting out of the sweatpants-at-home movie routine.
We're revisiting the classic dinner and movie, with the help of these perfect pairings of theaters and restaurants—each within walking distance of each other.
Fiorella + Four Star Theater
An Italian restaurant is textbook old-school romance, and Richmond-based Fiorella does a good job at putting a cute twist on the concept. Dine among the Instagram-friendly wallpapers, share the kale crostini, scrumptious clam pizza, and the best ragu orecchiette in town. Then, literally cross the street to catch a movie at the tiny indie theater; there are only about two movies shown at a time, so an argument about which one to pick is less likely.
Fiorella, 2339 Clement St. Four Star Theater, 2200 Clement St
Locanda + Roxie Theater
The Mission's culture gem The Roxie will set anyone in a fun, rebellious mood, so we'd recommend going there first. Watch an SF Indie Fest flick in the iconic space, challenging and impressing each other with clever commentary. After the show's over, take a 2-minutes walk to Locanda, a perfect date spot of sorts, where small plates and big-impact Old Fashioned flights will take the night further. Crispy artichokes, juicy porchetta, and a chocolate olive oil cake is heaven in edible form.
The Roxie,  3117 16th St. Locanda, 557 Valencia St
Cassava + Balboa Theatre
What do these two spots have in common? Threats of closure and, at least for now, they are both riding out the city's tough financial realities…and thank goodness! Start your night at the inventive restaurant, which, in addition to a regular menu, serves a nightly and tasting menu (generally $42, more for V-Day) for the indecisive. Most dishes have a throwback vibe to them, which is perfect for that old-school date night. After dinner, head over to the historic Balboa Theatre. Admire the marquee, watch a contemporary film or dovetail toward nostalgia with a throwback film. Up to you, the night is yours.
Cassava, 3519 Balboa St. Balboa Theater, 3630 Balboa St.
Cafe Romanat + Grand Lake Theatre
For East Bay dwellers, the Grand Lake Theatre is Oakland's most iconic landmark and a fabulous place to watch a movie. No matter where you look— be it the rugs, staircases, the ceiling, there is beauty everywhere in here. Up to date on all the latest hits, the Grand is a safe bet when an Oscar nominee or a blockbuster is in order. After the movie, cross the street to a semi-secret, highly romantic Cafe Romanat, where delicious and authentic Ethiopian dishes are best eaten with your hands. Low lights and soft enjera, enough said.
Cafe Romanat, 462 Santa Clara Ave. Grand Lake Theater, 3200 Grand Ave. 
Izakaya Kou + AMC Kabuki Theatre
There's something about Japantown's Kabuki that just screams sophistication. From the glass walls to the abundance of choices and the refined atmosphere, your date night is off to a good start. Don't be tempted with the snacks menu offered at the theater, head straight to the neighboring Izakaya Kou for a late dinner. Offering traditional low seating and an intimate vibe, this is the place to connect, intermittent with sake cocktails.
Izakaya Kou, 1560 Fillmore St. AMC Kabuki, 1881 Post St