The Bay Area's Top Parties to Welcome in the New Year (That Won't Break the Bank)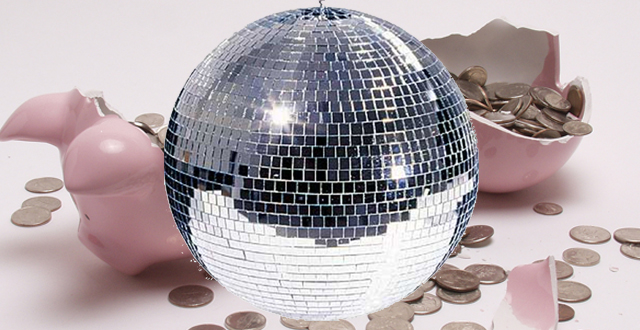 Woah, 2017. It's been a record-breaking year. Just twenty days in, a reality TV "star" was sworn into office as the President of the United States. The following day, nearly 600 marches flooded streets around the globe, recording the largest one-day protest in recent international history, and definitely in all of American history.  Since then, the Earth's wrath has been felt in varying waves across the world and California has been fighting fire after fire.
We, engaged citizens, sure have our work cut out for us in 2018, but our vigilance and tenacity over the past year has built the momentum to make everything possible in the year to come. And that, my friends, is a reason to celebrate! Lucky for us, year-end celebrations span a full three-day weekend. And since we're all trying to save up for Bitcoin, here's a list of the Bay's top New Year's parties that won't drain the bank.
All Day I Dream + Wide Awake: Lee Burridge / Bo Borzu / Rooz
Lee Burridge—the dreamer who has brought melodic house music and breathtaking sunsets together in picturesque parks around the world, including Middle Harbor Shoreline (Oak) and Golden Gate Park (SF)—is taking over Public Works on the 29th, to kick off the NYE weekend festivities. Supporting Burridge are top local talent, Bo Borzu (DiscoKnights) and Rooz (Deep Blue).
Friday, December 29, Public Works, 9pm-4am, Tickets ($20-30)
Sasha & John Digweed / Eagles & Butterflies 
+Syd Gris, DJ Spesh, Rachel Torro, Darren Grayson
Once well-known residents of Twilo (NYC), this pair is now legend. They announced hiatus around 2006, but after nearly ten years, Sasha & John Digweed share the stage at The Midway SF to properly launch the NYE'18 weekend.
Friday, December 29, The Midway SF, 9:30pm-4am, Tickets ($25-50)
Another legendary DJ, Laidback Luke brings award-winning skill to a club that hosted the official Marshmello after party this past year. If that's your thing, dig in.
Saturday, December 30, Temple, 10pm-3am, Tickets ($23)
Beats Antique / Clozee / Tsaruda / Alex & Allyson Grey
For two nights, The Midway SF is hosting one of our favorite acts seen frequently at festivals. Their mixture of world-influenced dance choreography, a string section that could easily stir up a gypsy camp, and periodic glitch breakdowns can induce widespread dance fits throughout most crowds. Now consider their undercard for Saturday, fit with a pair of world-class glitch producers in addition to the prolific visual artists, Alex & Allyson Grey. This party will feature a feast for ears and eyes.
Saturday, December 30, The Midway SF, 8pm-2am, Tickets ($20-30)
Beats Antique / Wax Tailor (DJ set) / Thriftworks / Desert Hearts
Back for the doubleheader, Beats Antique will be supported by DJ sets from Wax Tailor and Thriftworks, while the Desert Hearts crew take control of the side room, dubbed Gods & Monsters at The Midway SF. All who have witnessed a Desert Hearts takeover are familiar with the raucous house rave these debauchers are about to bring to this back room. And chances are, those witnesses already have a ticket to get into it again.
Sunday, December 31 (NYE!), The Midway SF, 9pm-4am, Tickets ($30-60)
Poolside / Body Music / Peter Blick / Dam Funk
Poolside finally released their sophomore album this past year, and those who haven't caught up on it yet, should do so. They've accentuated their disco influence to add a solid gold assortment to their already dance-easy DJ sets. Safe to say, this is going to be a very feel-good party.
Sunday, December 31 (NYE!), Public Works, 9pm-3:30am, Tickets ($25-60)
"Step into the realm of wonder, and follow the black rabbit into the New Year!"
Monarch alludes to a possible dark Wonderland theme on this one. Needless to say, we're intrigued. And though the exact ongoings of this party might be a mystery, we can fully trust that the collaboration of promoters here—Soundpieces, Monarch, Werd., and Brouhaha—have curated a high-quality roster of DJs.
Sunday, December 31 (NYE!), Monarch, 8pm-3am, Tickets ($20-50)
East Bay 
Junglepussy / Kari Faux / Rayana Jay /+more
For those staying in the East Bay, Junglepussy has your back for the best party we can spot on your side of the bridge. Shayna McHayle, known as Junglepussy, spits sass and self-empowerment over jazzy beats with impressive flow—a style that will surely nourish the soul into the new year. Find her at Geoffrey's Inner Circle with Kari Faux and Rayana Jay.
Saturday, December 31st, Geoffrey's, 9pm-2am, Tickets ($25-45)
Yup, they blowin' the whistle when the ball drops at New Parish. Too $hort is a relic from the Biggie-Pac hip-hop era and is best known (currently) for his track, "Blow The Whistle." The rapper will hit the stage at New Parish armed with a fresh pack of tracks released through a 2017 mixtape drop, "Hella Disrespectful," which featured E-40 and G-Eazy.
Saturday, December 31st, New Parish, 9pm-??, Tickets ($60)
2018: Day One
The ball drops at midnight. When will you? As many retire for the night, San Francisco's most ambitious ravers will flock to The Great Northern to start the new year with droves of incredible talent—Justin Martin, Blond:ish, DJ Tennis, Honey Dijon, and so many more.
January 1st, 2018, The Great Northern, 4am-12pm, Tickets ($20-35)