Heron Art & Wolfbat Lure SF into the Lair of Mythical Creatures & Psychedelic Landscapes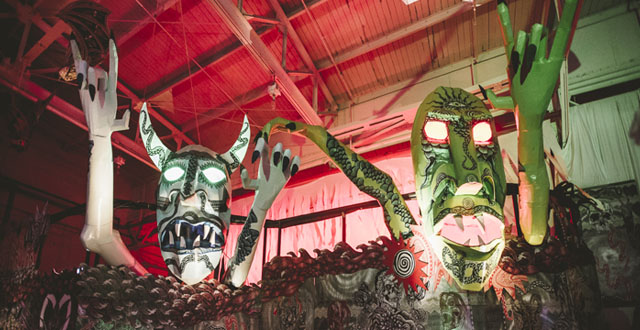 Did your Halloween fall short of expectations? Don't worry! The best Halloween block party in SF is coming up this Friday at Heron Arts.
On Friday, November 3rd, Heron Arts will host "HalloWolfbat: A Visual Conjuring and Performative Art Installation & Exhibition" by artist Dennis McNett (Wolfbat) with a musical performance by High on Fire. The entire gallery will be filled with Wolfbat's massive mythical creatures against psychedelic landscapes with High on Fire playing their signature metal music in the alley—the perfect soundtrack for the work.
I have to say I'm a big fan of McNett's work; it makes me want to move, scream, scratch, and basically, go nuts in the world. Each line in his prints carries a gnarly, lively energy and when he covers sculpted creatures in them, my heart wants to howl from the center of my chest. While I've never experienced one of his performances first-hand, I can confidently say that this event might make you feel the same twinge to move from destruction to renewal and have a really good time in the process.
As McNett was preparing for the fifth incarnation of his HalloWolfbat event, he gave us a little insight into his work, its place in our city, and good ol' Halloween.
In an interview I read with you in Juxtapoz many years ago, you highlighted printmaking's unique ability to catch energy in every single line because each line in a print takes so much energy to create. How did you decide to take that to the next level and create physical objects that move, often propelled by the human energy wearing them?
I know how to make things and didn't want to be limited to prints. At some point, it wasn't enough and I wanted the wolf to be standing in the room or running down the street, so the work morphed into sculptures, costumes and movable happenings.
Your work seems to exist as an ephemeral experience rather than as rarified commodities, which goes against much of what people focus on in fine art. Yet, your work takes an incredible amount of time and effort to create. Do you find possibility in its destruction?
I make things to sell too. I do a lot of woodcarvings, prints and sculptures. I do think most people gravitate towards the installations and happenings. It does feel really free to not be restricted by what is archival, wondering where is it going, how do I sell this, etc. I just make work that is okay to be destroyed, exist in an experience and live through the memory of others.
While they usually live in packs, wolves are often seen as solitary figures, i.e. the "the lone wolf," but your work and these events bring people together rather than isolating them. Using subcultural motifs alluding to skateboarding and punk rock, do you see this as an invitation to a kind of subversive army of followers?
Lone wolves die. I'm more interested in the pack. I always say to people that are helping or participants at events, you are part of the Wolfbat tribe and the only requirement is to want to be part of it and do your best to put good back into the world. It's that simple. I love the energy and collaboration that happens when opening the door or setting the stage.
I think one of the most significant influences on the aesthetic of San Francisco art is skateboarding. This city is enmeshed in its history. Creating graphics for companies like Antihero, which is located here in SF, how do you feel your work fits into our city and the lives of people who live here?
I think it's the same as what I described above, and maybe even where it comes from. For me, all you had to do to be a part of skating was want to be part of it and do your best. The encouragement and creativity was sure to follow.
You have mentioned your interest in disruption, often holding your events in "fancy" neighborhoods and causing a ruckus. The SOMA neighborhood, where Heron Arts is located, has become a bastion for the gentrification of this city, kicking out subcultures left and right. How do you feel showing this body of work in this way in this location?
I have definitely lashed out, or at very least shook things up on occasion, with some of the parades or happenings that I've done. Subculture isn't going anywhere. It just finds new ground and the gentrified neighborhoods get boring and then the bored find the neighborhoods with subculture and fun, and then gentrify them. And on and on—as it's been forever. I'm excited to be here in SF and hope to give everyone a good time.
Your work specifically highlights the Norse mythology of the wolf. I thought I'd do a little digging into Norse Halloween traditions and found some pretty interesting stuff. From what I've read, there was a celebration and feast at this time of the year called Winternights or Vetrnætr. It was said to be a ceremony of wild abandon celebrating the beginning of the winter season and would have likely included an animal sacrifice with a communal feasting after that animal had been cooked. Attendees did not necessarily wear costumes but probably had masks, and they have evidence of a sheep and cow mask found in Norse ruins. To put the icing on the cake, the most important part of the celebration would have been the ceremonial drinking of the ale. Seems incredibly fitting. Were you aware of this history?
I hadn't heard of this before, no. I do like the sense of community, ritual of connecting with the earth/season and giving a form of thanks/celebration. I hope HalloWolfbat has some of that action.
I got to go to a Halloween party at KCDC in Brooklyn back in 2011 and remember thinking how perfect your work was for Halloween. How do you feel about the holiday?
That was a fun time at KCDC. I've always loved Halloween. It's always fun to see what people come up with for costumes, it was fun being frightened as a kid and getting jacked on candy.
What is your favorite Halloween memory?
Last Halloween, being killed by GWAR on stage at HalloWolfbat.
Do you wear costumes? If so, what was your favorite one to wear?
I have a favorite Wolfbat jacket, hat and mask I've worn at several events.
Favorite candy?
Atomic Fireballs.
+++ Heron Arts & Noise Pop Present: HalloWolfbat ft. High On Fire
Heron Arts (7 Heron Street)
Friday, November 3, 5-10pm