Noise Pop's 20th Street Block Party Lineup Announced (Neon Indian, Kilo Kish & More)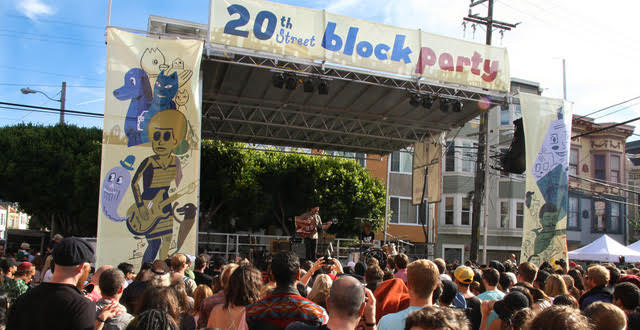 The fifth annual neighborhood celebration known as the 20th Street Block Party has just announced their lineup of performances, including electronic group Neon Indian and singer-songwriter Kilo Kish at the top the list. This free summertime music event is a mix of nationally recognized and local talents. It also benefits a good cause.
Hosted by Noise Pop, the event meshes eclectic music and entertainment, food and drink, and art on multiple stages. Festivities take place just outside the doors of Noise Pop headquarters along 19th and 20th Streets, between Harrison and Bryant Streets in the Mission district. Other musical acts confirmed to play this year include four-piece Indiana band Hoops, California's Sugar Candy Mountain, Oakland four-piece group The Tambo Rays, San Francisco dream-pop outfit High Sunn, and Oakland duo Big Thursday.
Proceeds and donations from the Block Party benefit for 19th Street neighbors Mission Language and Vocational School (MLVS), a private, nonprofit community education and workforce development center, providing occupational skills training and Vocational English as a Second Language to primarily Latino, unemployed and working poor immigrants and their families, as well as other underserved groups in the San Francisco Bay Area. MLVS co-curates the festivities and performances during the Block Party.
August 2 Update: Participating food vendors have been announced. Among this year's featured food vendors are returning local favorites such as Alicia's Tamales Los Mayas, Flour + Water, Farmhouse Kitchen Thai, FK Frozen Custard Bars, Savourie Streets, Seoul of Taipei, The Pop Nation, Universal Cafe, and many more. Delicious new additions to this year's event are set to include Little Star Pizza's mobile pizza kitchen Rollin' Deep, Media Noche, WesBurger N' More, Humphry Slocombe, and Bonito Poke. Visit the event's website for a complete list of vendor participants and activities.
20th Street Block Party is free to attend and open to the public, but donations are suggested. Food and drink will be available for purchase. Headliner Experience VIP tickets are also available for $99, and will offer access to a private lounge, restrooms, free food and drinks, and private front-of-stage viewing area.
+++ 20th Street Block Party
Saturday, August 19 from 11am-6pm
19th and 20th Streets, between Harrison and Bryant Streets