'Drawing with Skinner' A Psychedelic Nightmare-Filled TV Dream Come True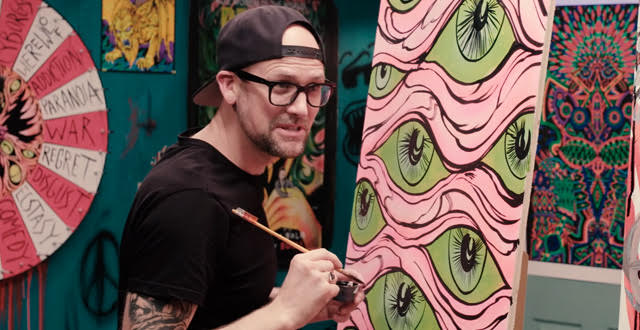 Skinner never ceases to amaze. The latest from the Oakland-based self-taught artist is "Drawing with Skinner," a show produced by Super Deluxe. The new show has elements reminiscent of "Pee Wee's Playhouse," "Wayne's World," and Bob Ross' series "Joy of Painting," (because that's the obvious one that comes to mind)—but "Drawing with Skinner" has its very own flair. Like a moth to a flame, viewers are immediately drawn in by that signature Skinner mix of heavy metal magic, psychedelic trippiness, and fun-loving antics.
Each show pairs Skinner with a special guest, adding their own unconventional personality to the episode. Guests have included the hip-hop producer/DJ Gaslamp Killer, Buzz Osborne of the Melvins and Andree Vermeulen of the show "Angie Tribeca."
Three episodes have been filmed thus far, and ten total episodes are expected to be produced. When asked about upcoming guests, Skinner revealed that Blake Anderson from Comedy Central's "Workaholics" and Chet Zar, best-known for his work with Tool's music and live videos, are next on the list. Also, if anyone from "RuPaul's Drag Race" is reading this, Skinner has an open invitation out for you! When asked about other fantasy guests that would be on the top of his wishlist (dead or alive) Skinner mentioned, "Lucille Ball! I love her! Maybe Vincent Price!"
On top of the colorful lineup of guests, the set design is definitely worth noting. I mean, look at it. The Fonco Studios set, located in L.A., was built and assembled when he arrived. He then painted it all and decorated the hell out of it with stuff from his studio.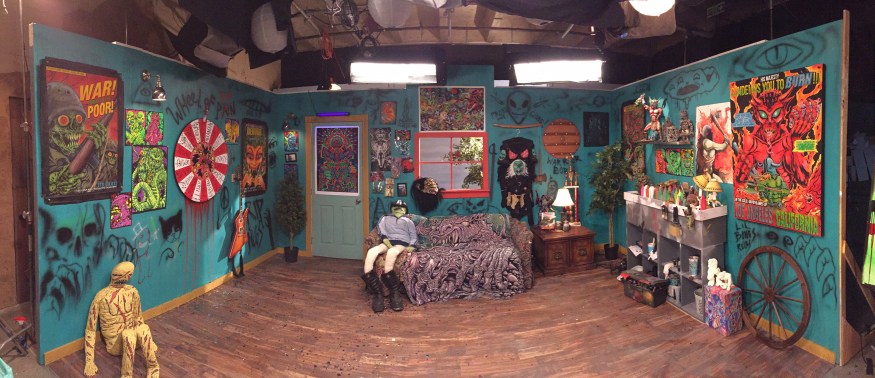 Just past the bad-ass intro, the Wheel of  Fun and the lurking internal voice segment telling you to quit art, Skinner and his guests offer some philosophical nuggets that might even make the ghost of Bob Ross proud. As internally-glowing as one of Skinner's death metal neon posters, the show shines through with some solid advice.
As Gaslamp Killer and Skinner casually chat in episode one, Skinner concedes, "Self-judging is probably the most difficult part about art. It's so weird because the world is already hard enough to live in without your mind…the untamed mind, [getting in your way.]"
Gaslamp throws in some of his own words of wisdom. "Stop being so judgemental about your art. Just let it flow. That inner voice runs our lives. If you let the bad voice run rampant then you'll lose everything good about you. You gotta self-talk in a way. You gotta tell yourself, 'I love who I am, I love where I am.' It's not easy when you're a piece of shit because you deserve to die and should burn in hell. But if you are a good person, then it's easy to lie to yourself and keep telling yourself, 'I'm a good person, I'm on to great things, I am the man I would like to be." Then before it all gets too saccharine, the convo continues on about childhood moments of mischief and mahem. Classic.
Here are the first two episodes to get you started.
https://youtu.be/FbkG1s26oqQ
Most artists are thought to either run on the very outgoing end of the spectrum or are painfully shy. We asked Skinner what he might say to a timid artist who might have difficulties with being in the public's eye. "I'd say that confidence would come from being comfortable with yourself. If you're uncertain internally then you'll be uncertain outwardly. You have to love yourself, flaws and all. Be confident, we're all trying to figure it out!"
While some of us mortals are still catching up with these episodes, Skinner is speeding by in the fast lane with new projects on the horizon. He just finished designs for "Space Blazers," an animation-based pilot with Blake Anderson. Skinner also has a Necronomicon pop-up book in the works.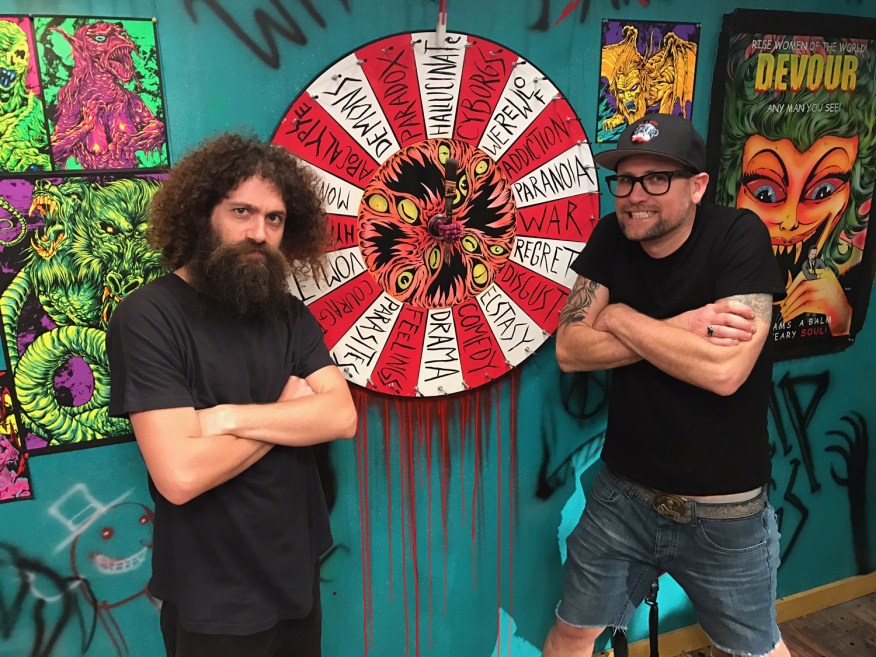 Check Skinner's website and shop for the latest and greatest.
Photos courtesy of Skinner