Showdown's Last Stand, Beloved Local Bar Says Goodbye to Sixth Street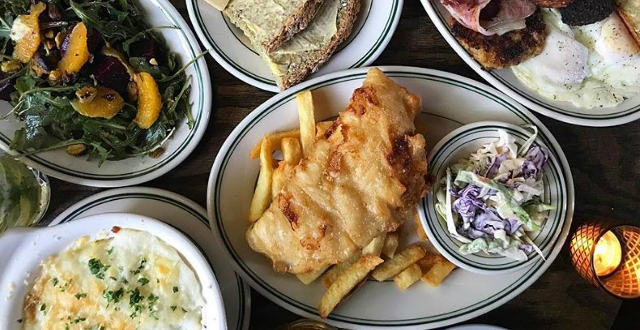 Showdown is a bar for locals. A place to stop in after work, then stay way too long and wake up the next day with some photo strips in your purse. It's for folks that aren't scared off by the rough Sixth Street location. The type of place that let's emerging comedians have a try at the mic and artists hang their work. It was for those that know that Tapatio most definitely does go in Tecate…or at least weren't afraid to try a thing.
With all that in mind, we were really sad to hear that this place will be closing its doors for good on May 27th. In light of the news, we got in touch with Showdown's co-owner Johnny Venetti. We wanted to find out more about the bar's history, why a dive bar that consistently gets good Yelp reviews is closing, and to order one more spicy beer/tequila/Tecate special off the handwritten sign—before last call.
This location seems to have been a bar forever but people remember it by different names. How long has the place been open as Showdown?
As far as I know, the 10 6th street location has been a bar since 1935, which you can tell by the deco style of the back bar and such.
[First] the Charleston Club, then Arrow Bar, and then Matador…briefly. Then my biz partner Anita Dah and I took it over and turned it into lil' ol' Showdown! I believe it may have also been called the Frisco Club at one point, in it's earliest years. We took over in 2009.
I personally DJ'd there in it's Arrow Bar days, as well Club 6 and POW, which is now currently Monarch. So it really came full circle for me. I had been on that block in some way or another since 1999. Since being in the music scene here in SF for that long of a time, we decided we wanted to go with an intimate, friendly honest little bar. A bar without gimmicks. We stuck with our music and art community and created a place where people could showcase art and music of all forms.
I had been in there for an art show once and I've seen bands and comedy shows randomly happening at Showdown, there's always someone in the back DJ'ing. Can you speak the bar's relationship to featuring local talents?
As I mentioned, our calendar is eclectic. We are all over the place and though we like it that way, it has to be that way! We are all artists in this place so we welcome them with open arms. Always. I feel we have a great reputation for being a place that is open to ideas and are very supportive of the music and art scene in SF and beyond.
Man. It's such a bummer to hear you're closing. What brought this about? Was it a sudden thing or a long time coming?
The close has come down to many reasons. In all honesty, Showdown never was able to pay it's own bills—to wash its own face, so to speak. The biz is entirely event-driven with a little help from ongoing events in our neighborhood. So, if the event doesn't bring the people, we most likely won't cover our costs. Hard to believe being so small but Sixth Street is rough.
Consistency is key. When we opened, I had the calendar booked out every night for months in advance and with us being a new spot in a gritty location, we were rockin'! Showdown parties didn't stop but like anything new, it ages as do we. It's hard to keep folks excited forever! Parties come and go…then 8 years flies by and our lease is coming to an end. Behind the scenes, we were dealing with
Behind the scenes, we were dealing with a possible negotiation of a new lease with the landlord, John Gall. He has been fraudulently charging little old Showdown for a huge amount of late fees and compound interest that was clearly designed to put us in a hole that we weren't able to climb out of. Though we won in court, we decided that it was best that we turn the page and stop giving money to landlords that just have greed in their best interest and no concern for keeping a mom and pop biz in biz. So we are leaving with our [liquor] license and they can have the space.
Any idea what's up next for you?
What's next for us is a break. Time to gather and regroup. I have personal art and music projects to wrap up this summer and we will be spending some quality time with our family and friends. We have the license so the 'Show' may go on but…we shall see…
Nice! Enjoy the break. Any shout outs you want to make while we got you?
Shoutouts?!? Don't get me started!!
+++ Showdown, 10 6th Street
Catch the farewell party on Wednesday, May 24.