Meet Mike Tyson, Hulk Hogan, Joe Montana, Dennis Rodman This Weekend in San Francisco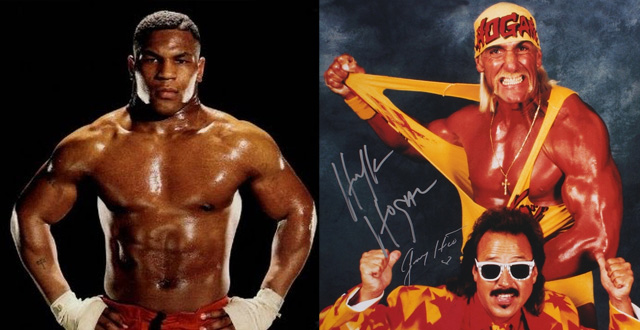 Ever dreamed of meeting your favorite football Hall of Famer or wrestling legend? This weekend Tristar brings its annual collector show to the Cow Palace. Admittedly the cost to get your picture taken with some of the stars is high. For example, $129 to have Pete Rose sign a baseball with "I Am Sorry I Bet on Baseball" and signature, but it's not often you get to see such a variety of stars in one place in the Bay Area.
Autograph guests schedule
SATURDAY, APRIL 29
Ty Blach 11:00 am
Chris Marrero *FREE* 11:00 am
Will Clark 11:15 am
Andre Dawson 11:30 am
Phil Esposito *New Day* 11:30 am
Christian Laettner 11:30 am
Eddie Murray 11:45 am
Tim Raines *New Time* 12:00 pm
Orlando Cepeda 1:00 pm
Pete Rose 1:00 pm
Reggie Jackson 2:00 pm
Fred Lynn 2:30 pm
Kevin McHale 2:30 pm
SUNDAY, APRIL 30
Ray Bourque 11:00 am
James Lofton 12:00 pm
Joe Montana 12:15 pm
Dwight Clark 12:30 pm
Jimmy Hart 12:30 pm
Hulk Hogan 12:45 pm
Ricky Steamboat 1:15 pm
Mike Tyson 1:15 pm
Fred Biletnikoff 1:30 pm
Dennis Rodman 1:30 pm
Cliff Branch 1:45 pm
Artis Gilmore 2:00 pm

https://www.youtube.com/watch?v=ZChSzoYy8D8
https://www.youtube.com/watch?v=6KKzFA5INe0
https://www.youtube.com/watch?v=2Lq9oyjSD3o
If you simply want to attend, see or pick up authenticated memorabilia, you can get a single day ticket for $10, ages 5 & under are free. More info and List of Exhibitors.