Oakland's Cape & Cowl Celebrates Local Comic Shop Day Alongside One Year Anniversary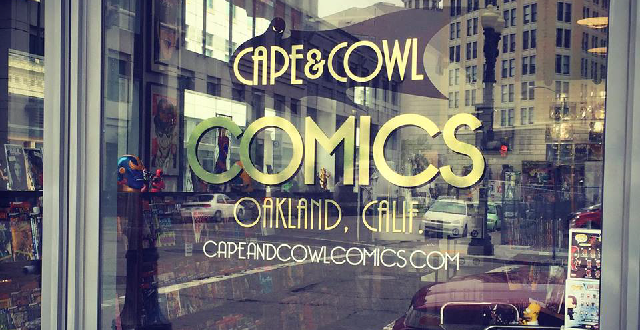 It's been almost a year since Eitan Manhoff opened Cape & Cowl Comics on an unassuming block of 16th Street, on the edge of Oakland's rapidly-changing Downtown Financial District.
Manhoff has been collecting action figures and comics for over twenty-five years. Alongside his father, who used to be a dabbling superhero buff, he's amassed thousands of dollars worth of memorabilia—a good chunk of which helped back his shop, located at 1601 Clay Street, which opened in November of last year.
This November 19th, Cape & Cowl will be celebrating it's one-year anniversary, which lines up with Local Comic Shop Day, where participating retailers receive limited-edition merchandise for their stores.
The shop will host meet-and-greet signings from a numbre of special guests, including Dave Dwonch, President of Action Lab Comics, Justin Greenwood, artist for Image Comics, Ramon Villalobos, artist of Nighthawk, and Logan Faeber, the artist of Oh, Killstrike!.

Cape & Cowl was just a glimmer in Manhoff's eye up until about four years ago. Coincidentally, it was around that time he left his job in construction to raise his first daughter, but his dream of opening a comic shop was always on the back burner.
"I don't know when I really started thinking of it, but I'd say like five or six years ago I was like, 'this is what I'm gonna do.' I'm gonna do this one $15 action figure at a time until I have the tens of thousands of dollars that it takes to start."
It wasn't necessarily chance that landed Manhoff here. Various stints at comic shops dotting the West Coast (in San Luis Obispo, Hayward, and notable Crush Comics in Castro Valley), as well as more decidedly "real jobs" in construction, prepared him with the business savvy to cash in on an investment he'd unknowingly made a long time back.
After slowly selling off the mounting stacks of comics and memorabilia that had inundated his parents' two-car garage over the years, he'd made close to $30,000.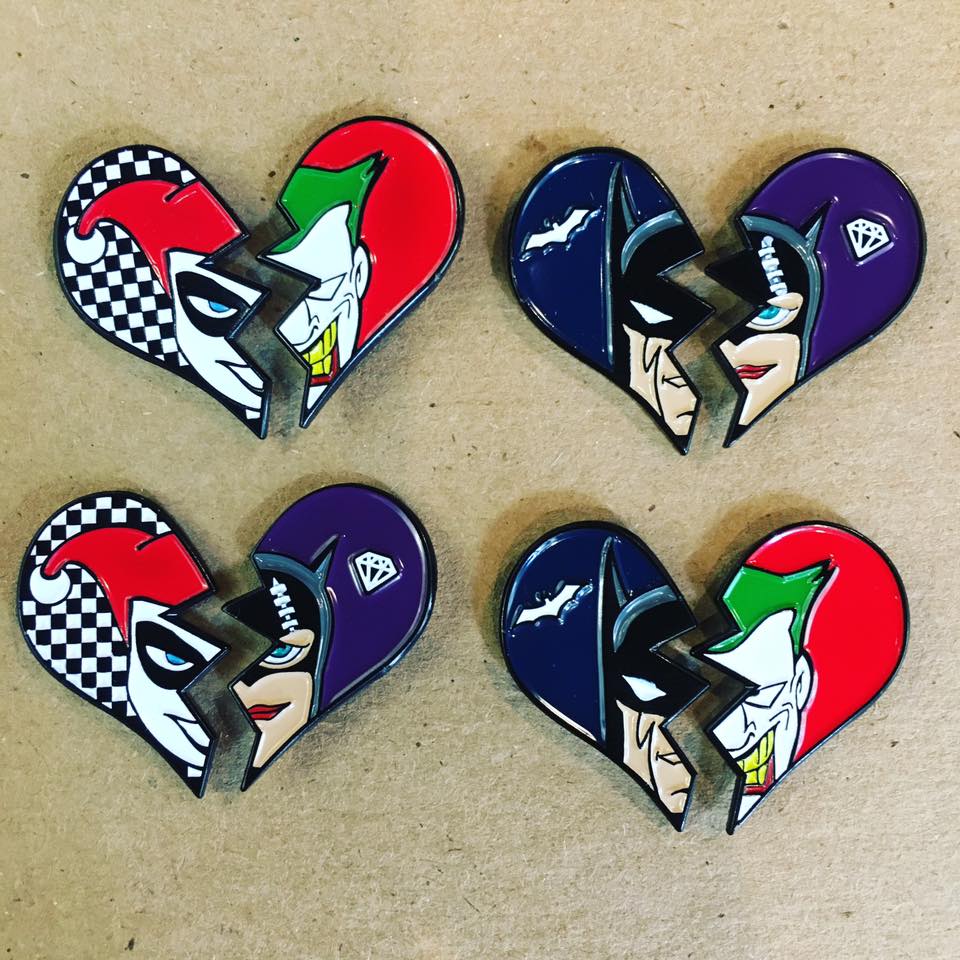 Anniversary exclusive for Local Comic Shop Day: Pin sets collab with No Harm No Fowl
"I knew I always sort of wanted it to be here in Oakland [the store]," Manhoff said. "I looked at a billion different places and neighborhoods and this was one of the first places that called me back when I told them I wanted it to be a comic book store."
Comic shops aren't exactly a retail cash cow, and Manhoff still has a somewhat wary laugh when it comes to talking about the success of the store. He recalls the first time he found himself at a comic retailers convention and ended up tagging along with Leef Smith, owner of Mission: Comics & Art in the city. "I didn't know what the hell I was doing there, so that was nice," he said.
Cape & Cowl isn't a huge space, but it makes considerable use of what it has to showcase. Thousands of used and new comics come in each week; many of which still hail from his home collection that lines the bottom section of its Eastern wall.
"Every comic book store kinda takes on the personality of the person running it," Manhoff said, "but I try to listen to people and what they're looking for."
Manhoff keeps his favorite stacks close to heart, with an ongoing potpourri of superhero-themed tattoos snaking down his right arm–one of which was done at local Sacred Rose Tattoo, a sponsor of the shop's First Free Comic Book Day this past Spring.
While still loyal to old-school comic heroes and titles from the DC and Marvel heyday, Cape & Cowl has a little something for everyone. New releases appeal to both exploratory kids, as well as meandering adults in search of more obscure, independent thrills.
True to the tune of his upbringing, Manhoff talks about some reads as if they were gateway "drugs" where that first comic only leads to another…until they've pulled you in and have you totally hooked.
Eitan Manhoff with his daughters at First Free Comic Book Day
"I'm a hardcore superhero guy—I love Batman and Superman," he said, "but I also like books like Saga, which are way more mature and probably more thematically interesting than Superman punching another guy…but I don't think I could ever give that up."
While it might seem facetious to ignore deliberate marketing attempts in this knowledge-based economy, a large part of Cape & Cowl's success relies on the relationship the staff has with customers. Manhoff drives a hard bargain in that department with humility and face-time (he's nearly always on the sales floor), always open to educating others about different comics.
"Events are a big part of it. You gotta build community…you can buy all this shit online, you know…so you gotta give people a reason to come and get it from you," he said. "You just kinda gotta hope that being nice to people and helping them find cool stuff is enough."
Mere months ago, Cape & Cowl's high-school intern and Oakland native, Kevin Betou, put out his first illustrated comic, Blackman. Suffice to say, the plot focuses on a superhero that's not from a middle-class, white background.
Former intern, Kevin Betou, hangs a poster advertising his first illustrated comic
Nowadays, movies are catching up to comics and sometimes even surpassing them. There's a Jessica Jones new release on the shelf, a popular pick among Netflix watchers. That story hearkens back to the early 2000's where Jones made her first debut in story line alongside Spiderman. And brand new porcelain Suicide Squad toy figurines line a section of one shelf bathed in light.
And while these movie-related products might seem like a sure bet now, Manhoff can never be fully certain if something he buys for the store or that someone brings in to sell will fly off the shelves. "These comics come out and coincide with the movie when they get in the store but I have to order them 6-8 months in advance, so it's a total crap-shoot..The whole business is a guessing game."
The Cape & Cowl crew at the shop on First Free Comic Book Day
Either way, Manhoff says he reads at least 100 comics on average per month—enough to keep up with trends and maybe even shock others. One of his current favorites is Ladykiller, a story that takes a sardonic twist on the Mad Men craze, where a 1950s housewife repeatedly washes her hands of multiple homicides.
Find out more about the upcoming events on Cape & Cowl's Facebook event page, or just stop by Cape & Cowl on any given day to get a fix for the nerdy comic-lover you never knew was in you.
Related Article: Celebrating Local Comic Shop Day with Mission Comics