While many artists are quickly producing a sketch a day to post on the ol' Instagram, Oakland kinetic sculptor Nemo Gould has taken the longer approach to crafting and sharing his work. Each of his sculptures are carefully crafted and may take months to years before leaving his West Oakland workshop. Each piece is a feat of engineering with many moving parts, lights and little secret components—rewarding tidbits for observant viewers who are also willing to take their time and go in for a careful look. Gould is now ready to share his latest collection in his upcoming solo show which will include several new and never before shown works.
Nemo Gould is considered a found object artist, salvaging unlikely "art supplies" from everywhere from aerospace scrapyards to estate sales and dumpsters. These parts are not merely assembled but rather rescued, resurrected and given new life. Fittingly, for this show Gould has teamed up with The On-Sight Project, a group who is no stanger to finding things —their specialty being finding and converting vacant commercial real estate into temporary space for the production and exhibition of contemporary art.
Gould is a founding member of Applied Kinetic Arts Collective and Lost & Foundry studios in Oakland, CA.  His work was recently featured on Discovery VR and is shown in galleries and museums throughout the U.S. and abroad. He is also a dad. And, among it all, he was kind enough to get down with a Q&A session.
What is your process for designing these pieces? Do you start with a concept first or are you primarily inspired by the objects you find?
I wouldn't really use the word "design" to describe my process. Each piece evolves through a very long chain of improvised connections between the many objects in my collection. The process really starts with the gathering and sorting of these found objects. I often describe what happens next like a jigsaw puzzle. I look for obvious connections between shapes and themes, and then gradually work through finer levels of detail and complexity until a piece feels finished. This can take anywhere from 2 weeks to 2 years.
Do you have any favorite piece in this show?
"Megalodon" was a real accomplishment for me. It manages to be both a monumental, aggressive object, as well as an immersive environment full of humble, intimate experiences. I suspect this piece will be on my favorites list for a while.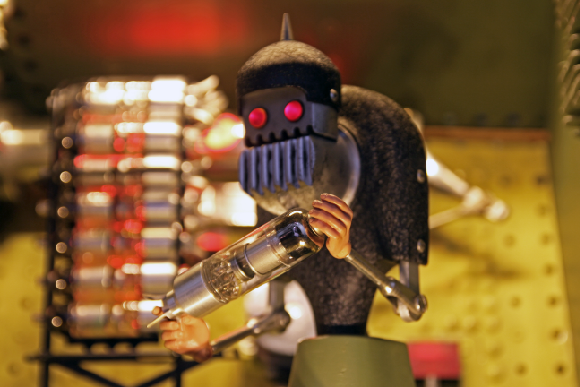 One of many close-up interior images of "Megaladon"
I saw your bio mentioned you grew up with "artists parents"—how has this upbringing shaped you?
I've had a lot of artist colleagues over the years who had to struggle to justify themselves. I've always felt I had an advantage because I got to develop in such a supportive environment. I've never had to have the "So what is it you do again?" conversation with my family.
And now, aren't you an "artist parent" yourself?
I am! My son is only two years old now, but I'm already enjoying sharing my world with him. He loves coming to the studio and fiddling with tools. It will be very satisfying to teach him how to use them when he's older.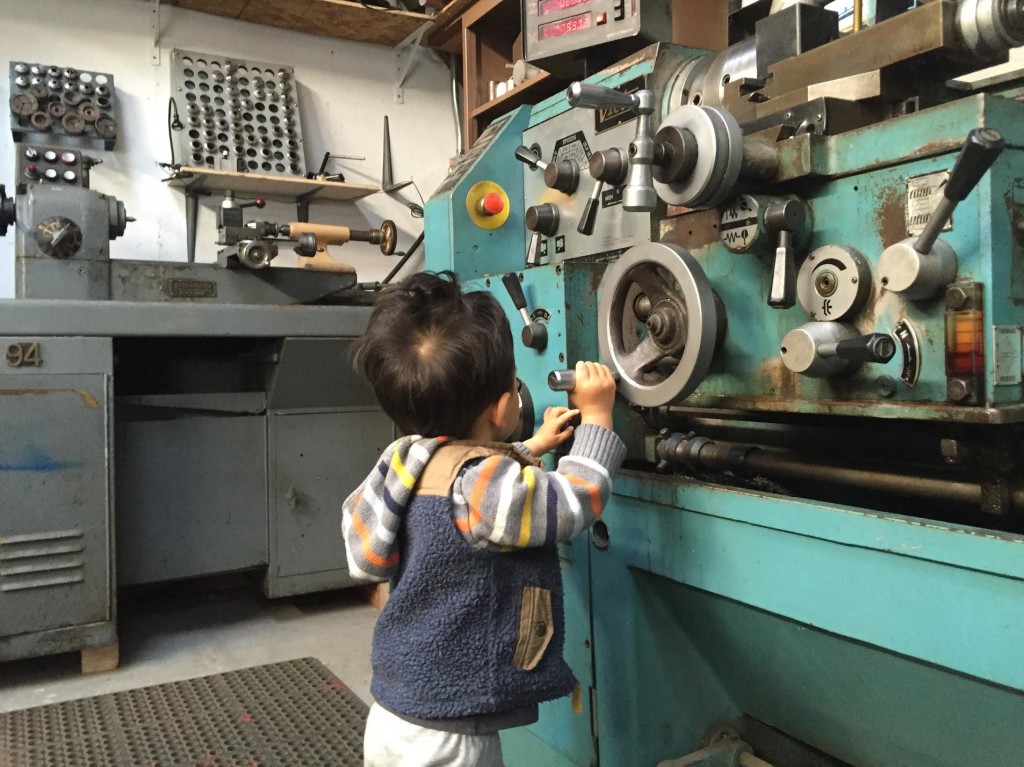 There's a common perception that creatives are less likely to pursue parenthood—what are your thought about being able to balance those two worlds?
It is definitely a challenge to balance the two worlds [of creating and being a parent], and I often feel like the game is a bit rigged against artists, or anyone who pursues goals other than strictly financial ones for that matter. In the end, I figure that it's my responsibility as a father to provide the example of how both pursuits are possible. That way, maybe in a few generations, more creatives won't have to struggle so much with that decision.
What's next on the horizon?
I've been working pretty hard to prepare for this show, so I'm looking forward to cleaning up my studio, setting up some new equipment, and starting a new body of work!
I heard "Megladon" the giant shark might be moving. Where is it going?
Megalodon has been purchased by Ripley's Believe It or Not. They have museums all over the world, and I honestly don't yet know which location they will install it in.
That's amazing! What is the title they are putting with the piece—was it like the biggest or strangest something or other?
I'm not certain, but it will probably be the unlikely list of materials that went into the piece. The main shape that forms Megalodon's body was the wing tip fuel tank from a bomber plane originally…like this image below.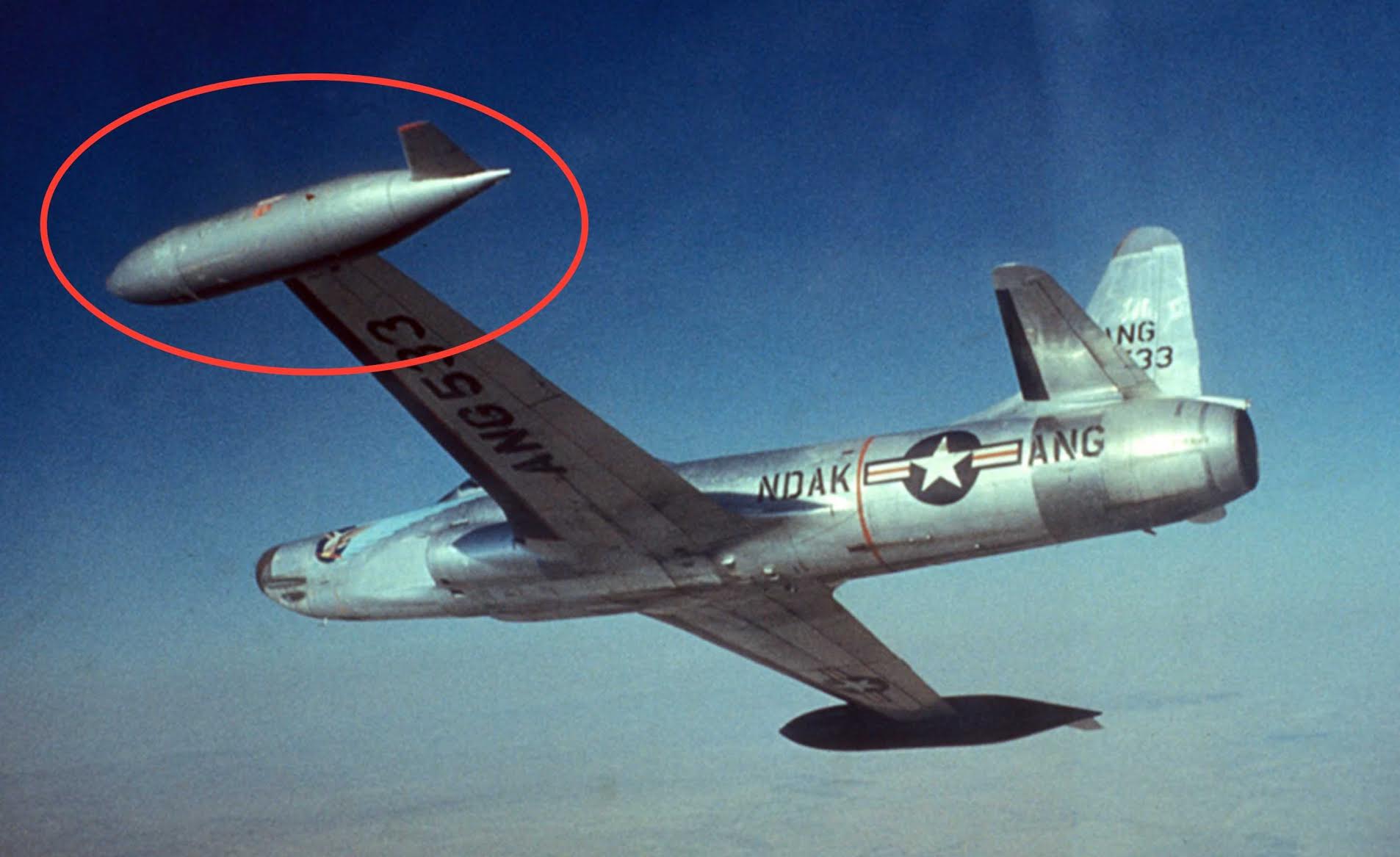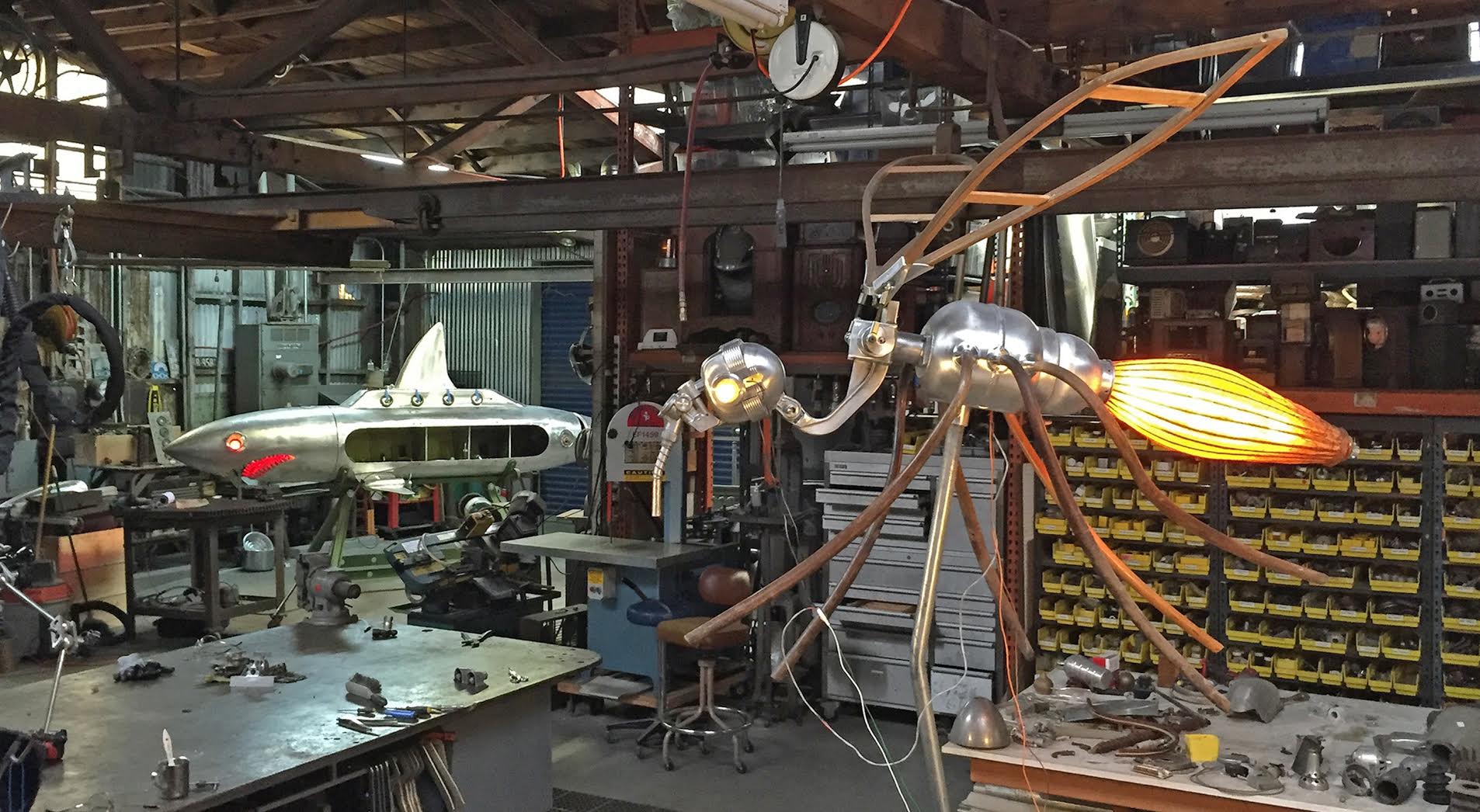 Nemo Gould's workshop overview
+++ Nemo Gould: Parts & Labor
Opening Reception, Saturday October 22, 6-9pm
On-Sight Project (temporary location) 471 9th Street, Oakland, CA
Curated by Anja Ulfeldt
Additional viewing hours available on Fridays & Saturdays, through November 12
Related Article: 'Perpetual Motion' Brings Automata Into Focus With Curator & Contemporary Artist Tom Haney