Bay Area be warned of the ghetto house and dark techno bass bombs set to detonate at Berkeley's UC Theatre this Thursday. MALAA and REZZ have joined forces for their Lunatic Tour and are on approach to bring some seriously sinister beats in time for the Halloween season.
By now the raucous MALAA has broken the underground levy and poured onto the greater international map. The gangster house music project began pulling a lot of attention in 2015 and was recently self-described as fit to "listen to in the club and then rob a bank after."
Thump, Vice's dance music outlet, speculated the identity of the ski-masked mystery to be Tchami, DJ Snake, or Mercer—or a collective effort from all three, as they seem to share the same management and Parisian stomping grounds as MALAA. Other music blogs have entertained the less likely possibility that MALAA is actually Skrillex. Though, the artist's tweet that spawned the idea is much more likely to be the real perp's troll on the hype-happy internet. With no official confirmation, however, the case file remains open.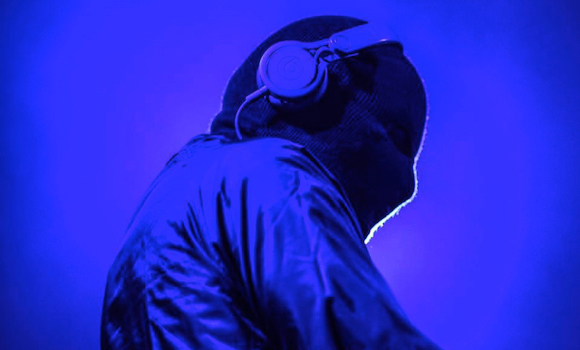 MALAA – Photo from artist Facebook page
Less secretive and even more hypnotic, though, is REZZ – MALAA's accomplice to the Lunatic Tour who just released her new EP Something Wrong Here via mau5trap this past Friday.
Born Isabelle Rezazadeh of Niagara Falls, REZZ was moved to teach herself how to produce music after watching a live stream of a deadmau5 set. The resulting dark, twisted techno caught the attention of Skrillex. It wasn't long before REZZ landed in the ears of the mau5, himself. Now signed to mau5trap – REZZ has taken a page from her idol's playbook to rock an artifice as persona-defining as the mau5head. She's been entrancing audiences with her unique sound and dynamic, glowing hypnosis glasses ever since.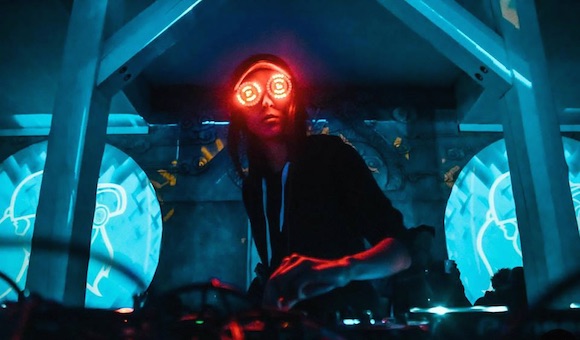 REZZ – Photo by William Selvis
Though the glasses do look ridiculously awesome from the dance pit, we were perplexed by REZZ's ability to perform such flawless sets with the LEDs flashing and swirling around her eyes. So we reached out to the young sorceress to find out what the party's like from the eyes of REZZ.
Here's the Soundcloud stream of Something Wrong Here. Show the play button some love and scroll down to see what REZZ had to say.
Congratulations on your new EP, Something Wrong Here. Where does that name come from? Are you speaking of something in particular?
My friend and I were looking at artwork on the internet and one had a similar name, and I got inspired.
I love the graphics! Who did the art work for this EP?
Luis Collindres. He is phenomenal.
Were the graphics your own artistic direction? What was the inspiration for the concept? Does the hand-and-eyeball symbolize something specific for you?
It was my initial idea, and he went above and beyond my expectations. The hand just symbolizes being outer worldly to me.
Did you experiment with any new techniques when producing the tracks on Something Wrong Here?
For sure. A more mellow, soft side came out of me with "Melancholy." Collaborating in general opens up my mind to new possibilities.
You worked with Laura Brehm on that one. How did the process of working with Laura play out? Did you share studio time or collaborate from a distance? Was that different a process than with past collaborators like Delaney Jane?
We went back and forth through the Internet the same way Delaney and I did. Collaborating from a distance works fine when you both enjoy each other's work. She sent me vocals first, and I went from there!
Your hypno-glasses add so much to the experience of your live sets. Do they take away from your vision? How did they come to be? Do you think they'll be an evolving attribute?
I don't see perfectly, but I've gotten used to it by now. I've played a ton of shows since the creation. I had the idea for years, and finally, it became real. I'm super inspired by hypnosis. They will definitely evolve.
You've been busy performing so many incredible festivals all over the world this past year. What was your favorite or craziest moment to share?
My favorite moment was Shambhala 2016 on the Pagoda Stage. [I've] Never felt so suitable to play a fest.
Are you looking forward to any one thing the most with your upcoming visit to the Bay Area? Will you get to spend any downtime in San Francisco?
I'm excited to see the fans! I don't have much spare time unfortunately though.
+++MALAA and REZZ kick off the Lunatic Tour from Berkeley's UC Theatre on Thursday, October 13th. Door time is 7pm and the party starts at 8pm to the tune of SF local, Grensta, the winner of Insomniac's Discovery Project: Beyond Wonderland in 2015. Grab your tickets here.