In the NOPA neighborhood, which used to be referred to as Western Addition, there's a small dimly lit bar that prescribes nostalgia of old San Francisco. It's a sanctuary for the locals to appease their fix of familiar faces, punk rock music and tasty beverages. These characters are so beloved and crucial to its existence, the bar even showcased an art installation honoring the bartenders and patrons with portraits painted by an artist from the neighborhood. The bar, which will remain anonymous, has been home to many since its opening in 2008, when 4505 Meats was still the questionable, and perhaps drug-ringed BBQ spot, The Pit, and Popeye's were the only place to get fried chicken on the block.
Through transformations of the neighborhood, this bar survives due to an indelible will to hold on to any last semblance of old San Francisco. The bar manager, who previously owned Annie's Social Club and Annie's Cocktail Lounge, is the perfect historical centerpiece, always sharing stories from the good old days, always inspiring, while the rest of the staff fight to keep a diminishing music scene from being swallowed by the jaws of techy stardom. There is a band, in particular, that this bar has incubated, called Blue Velvet, who are set to make an impression this Friday at the Bottom of the Hill for their 25th anniversary celebration, an occasion deserving much jubilation.
Blue Velvet is made up of two bartenders, a bar-back and a regular who bonded over their love of music, whiskey and David Lynch films. Almost an anomaly these days, the band were actually friends and co-workers first, forming a bond that carried over to their music. Two of the members, bassist Clayton Vorheis, and guitarist, Mikey Mank, have played in other bands while lead singer, Genevieve Coleman had no musical experience, referring to her elaborate background in theater to help her transition.
"Clay and I used to play and sing in his apartment. I had never done any band stuff ever in my life. I was like tell me what to do," admitted Genevieve. "We wanted to see if we could play music," added Clayton, "Mikey and I just got together for a jam session and ended up writing two songs in practice which we still play." The chemistry was immediate and indisputable. "We definitely have that classic unique chemistry that's hard to find as a band and we work so fucking well together," says Mikey. "We have probably two albums worth of material and keep writing songs."
While the band has been together for almost two years, they still carry that old school mentality. They hardly have any recorded music, seldom band photos, no social media pages and only played one show at Bottom of the Hill, but yet were invited back for a second, supporting local rockers Eyes on the Shore and Black Map– a prestigious and impressive gig for their second show. "From out of the box to unorthodox," Mikey says, explaining the mantra of the band so far. "We went from doing nothing to playing a big show, and we wanna keep going that route."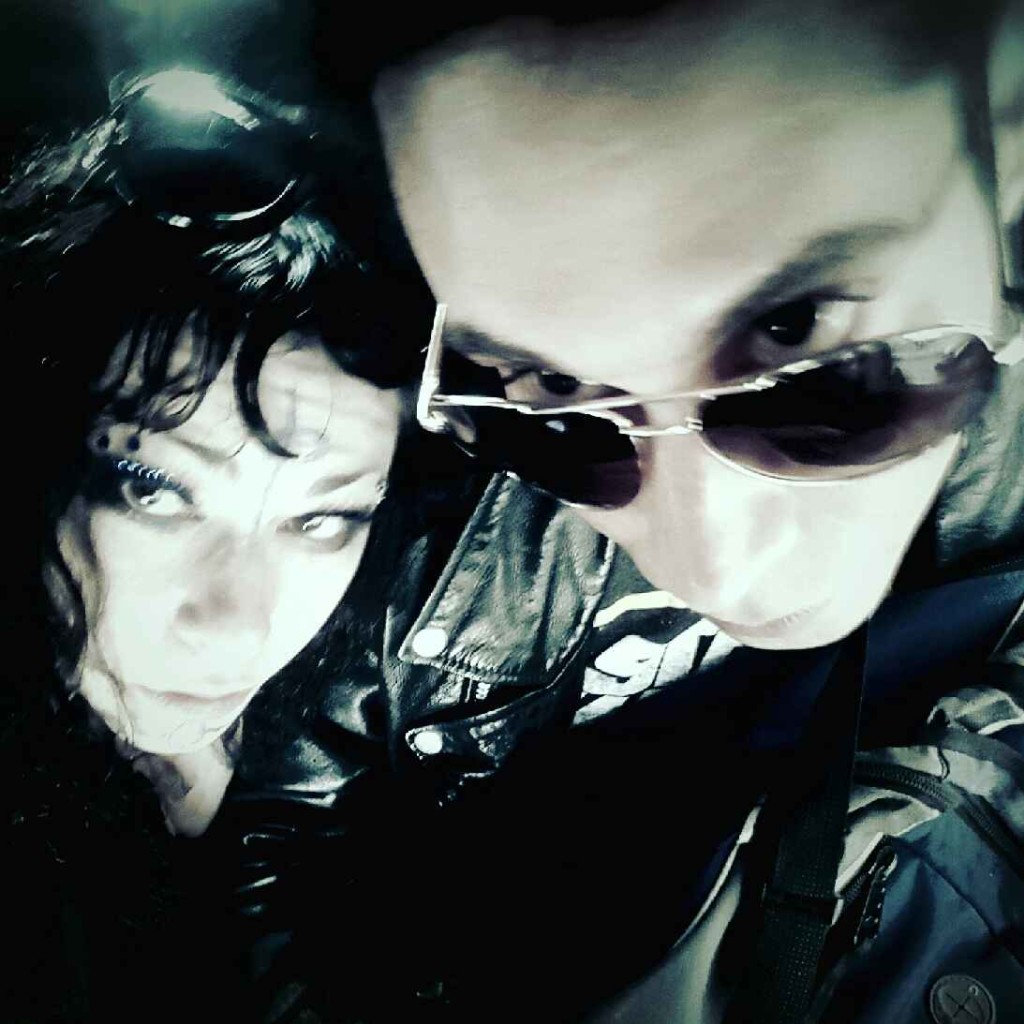 And they don't seem to be affected by the tech invasion that has forced a lot of musicians to move elsewhere…
"It's a weird time for music here," says Genevieve, "you have lots of opportunities where you didn't have at other times because a lot of artist have moved away."
This has given the band a more successful approach to old DIY tactics of promotion.  "We're not really lost in the pool of music because our genres have moved away," chimes in Clayton. "We had a lot of hype from people we gave flyers to. I think it harkens back to old school rock n' roll shows. We just showed people this shit is the real deal. We aren't fucking around. We just exceeded people's expectations and that's why we're getting another show at Bottom of the Hill."
This seems to support a theory that there's a population of people still yearning for punk rock shows, where bands impede their will and dare one to mosh, and cell phone recordings aren't ubiquitous and the music and experience is the main focus. "It's like people forgot what it's like to go see music," says Genevieve, "people at our last show were like 'I haven't been in a pit in forever.'" There's sometimes a forgotten sentiment that comes along with playing and seeing music that Blue Velvet aspires to remind people, in the words of Genevieve, it's pretty simple. "It's supposed to be fun" she says, "and this is the most fun that I've ever had."
There's no denying that San Francisco has had a culture change in the past few years, but almost every scene is fleeting and it often takes bravado and recognition to revive it. Blue Velvet isn't ready to give up. "There's hope because people still want it," says Clayton, who grew up in San Francisco and recalled moments when Slim's put up their infamous "no stage diving" sign and had to retrofit their sound system to appease neighbors. "People just want real music and if they see passionate people making it, it will rub off on them." Change is inevitable, but attitude doesn't have to fade, and when a band like Blue Velvet takes the stage it makes PBR and whiskey a little more meaningful.