Prototyping Festival Seeks to Make Market Street a More Vibrant & Connected Destination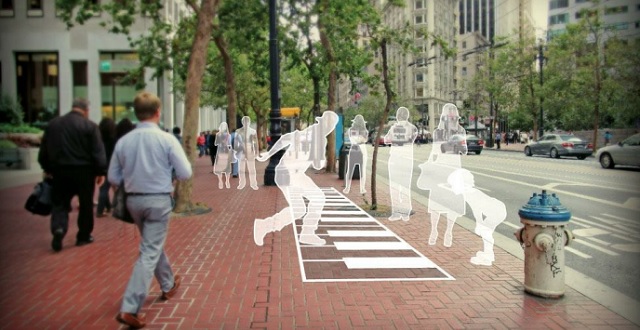 On October 6-8, Market Street will be transformed for the second consecutive year by more than 30 models, or "prototypes." The festival will display performance spaces, relaxation zones, educational spaces, green spaces, and interactive art installations.
The Market Street Prototyping Festival, an equal partnership between Yerba Buena Center for the Arts and the San Francisco Planning Department, was born out of a shared desire to make Market Street a place that brings together different people, communities, and neighborhoods. Each prototype was conceived and built by members of the community. Everyday citizens, artists, designers, urbanists, and architects—received mentorship from professional design expert partners and feedback from SF residents.
The event runs 11am to 7pm from Thursday, October 6 through Saturday, October 8. Visit the event website to see descriptions of all prototype projects. Check out the slideshow below and a descriptive list of some of the prototypes that will be on display.
"We believe in public spaces that are about the ideas and aspirations of the public themselves," said Neil Hrushowy from the SF Planning Department. "And not us telling them what they should be aspiring to." Deborah Cullinan, from Yerba Buena Center for the Arts, declared, "We cannot make things happen behind closed doors, with only a few people thinking about the problems that affect so many."
San Francisco's Better Market Street project, a five-year, multi-agency effort led by San Francisco Public Works, has gathered extensive community feedback to improve and enhance San Francisco's civic backbone. The overwhelming response has been that the public wants a more vibrant and positive experience on Market Street. SF has responded with a commitment to redesigned sidewalks and "Street Life Zones" that make public space more active and engaging. These zones will be re-imagined and activated during the festival.
Last year's festival engaged 590,000 people over three days and thousands more engaged online. There is an ongoing need for experimentation and prototyping. Initiatives like the Prototyping Festival allow all passionate city residents to engage in the civic process and to provide hands-on contributions. Collaboration and rapid experimentation can help solve San Francisco's biggest challenges.