Featured Artist Pacolli Talks Zines, Stickers and San Francisco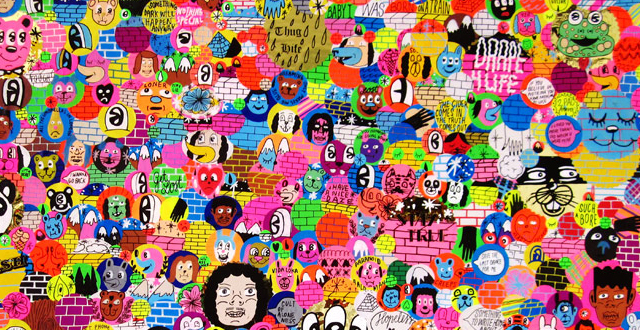 Our latest SF Station Featured Artist is Patricia Colli, who goes by the name Pacolli, for short. It started out as a prank by a friend who thought it was funny to mash her first and last name together when introducing her at parties, but it stuck with her for years. She often jokes that the name causes strangers to think she's a gay man from Italy.
Over the years, Pacolli has amassed a group of admirers, invigorated by her boisterous parties and inspired by the many doodles she sources from the mundanities of everyday.  Not surprisingly, Paccolli, who is originally from Brazil, was traveling there at the time but was kind enough to answer some of our questions anyway.
When did you start drawing and how did you become involved in the art scene doing what you're currently doing?
I started drawing in middle school. I went to a very strict, boring Italian Catholic school. It was important to focus on other things while I was there, so I focused on cute boys and drew them to pass the time. I always kept a sketchbook journal and one thing led to another. I posted my drawings on Fotolog [a social networking site mostly known for photo-sharing] and traded drawings with other people.
I got into screen printing, made some shirts, and people seemed to like it. I was a producer at MTV Brazil during the day and an insomniac printer at night. Got my first show in Antwerp (Belgium) and met really cool and inspiring artists that kept inviting me to other shows and gigs. Eventually, I quit my TV job and threw myself into making art all the time.
Tell me a little about your different projects and how you got involved with them?
When I started screen printing in 2006, I had no idea what to do with all those t-shirts. I knew if i sold them I could make more with the money I got, so I started throwing Bendgy [a completely fabricated slang word for "chill"], which was a party/concert/t-shirt sale in my apartment. I had a friend who threw a concert in his apartment in São Paulo and I thought that was cool, so I did it too. I invited my friend's bands to play and a lot of people showed up. It got bigger than my apartment could handle. I had to print more t-shirts and find bigger places to throw a Bendgy. This happened until 2010 when I moved to San Francisco and couldn't throw these kind of parties here, so my husband and I started our online shop High in the Bay. It was a way to bring a bit of Bendgy everywhere. My friend's send their zines from all over the world and we sell them online.
I've been selling my t-shirts and zines at Needles and Pens since 2007-2008, so when I moved to SF they really supported my work and invited me to curate a show. I ended up working there and met a lot of cool artists. They are amazing people and they love art. It's still one of my favorite places in SF! I learned a lot from them and love working together. Last year, they released my new all color zine in a project with Converse—it was rad!
Pictures on Walls is a magical place! In 2011 they invited me to do a print and flew me to London for a solo show. It was such a cool experience! They blew my mind with love and support and we ended up making 3 prints, a site specific installation and throwing a big party. The riots were exploding in London that week, so we spent a lot of time in the basement by the print table and at the pub up the street. Their team is great and they really make the best prints I've seen. There was a lot of original art from a bunch of amazing artists you don't see everywhere. I'm obsessed with POW!
What sparked the move to San Francisco and what was the decision like to come here after spending much of your life in Brazil?
I came to San Francisco for the first time because I was obsessed with that Crumb documentary. I was friends with Mildred and he lived here so we hung out, drew together, and years later we were dating and got married! So I moved here and we've been doing art together for a while now. I've learned so much from him!
I'm very influenced by my surroundings and we live in the Tenderloin, so you know… that vibe from the Crumb documentary, it's still here. I get to see John Waters doing something awesome a few times a year (he has an apartment in the city). And there's so many amazing things that could only happen here. It's like a psychedelic bubble of magical, trashy and beautiful weirdness!
Where do you draw inspiration from for your pieces?
[My art] comes from real life, books, friends, music…the world is a mess, but I'm still interested in the absurdity of it all. I try not to take things too seriously. I draw silly, stoned-looking characters and Sartre quotes.
There are a lot of animals and cartoon-like images in your work. Any reason for this?
I grew up watching old cartoons and they were mostly with animals acting. I never thought much about it. I know I had drawn people before and they had gotten upset about it, so maybe it's easier to just draw a dog and portray something very human in a phrase under it. This way nobody gets to think the drawing is about them.
In which aspects of your work do you find the most compulsion to create? 
I compulsively draw stickers. I had so many I started making art with hundreds of hand-drawn stickers mounted on wood. It's draining because once I started I couldn't stop. Doodling in my sketchbook is a routine and I keep a few of them going at a time. They become zines later.
Who are some of your favorite artists?
To name a few of my favorites, it would have to be Clayton Brothers, Daniel Clowes, John Waters, Michael Hsiung, Vanessa Davis, Stephan Doitschinoff, Travis Millard, Albert Reyes, Andy Warhol… the list goes on.
Where do you come up with the dialogue for the characters in your zines and what ideas do you like them to portray?
I have a notebook just to write down interesting things I've read or heard…sometimes in books (I love biographies), interviews and music. I think it comes out as notes to myself, like "leave yourself alone" and  sometimes it's an inside joke or a movie line. I'm also really into drawing a phrase of a song. I've done a few of The Magnetic Fields, The Afghan Whigs, Tim Maia and a bunch of others. I like to think it's an idea or concept worth sharing, mixed with some random thoughts.
What do you hope others gain from your work?
I don't ever think about what other people will think of my work as I'm doing it, but one time I got an email from teenage girls at an SF high school saying that their teacher showed them my zine and they related to it a lot. They thought it was a good way to overcome things like, in that case, a heartbreak. I was surprised and humbled by it!
Find more of Pacolli's sketches, zines and apparel designs on her Tumblr page here.
Are you a local artist? Do you want to be considered for our featured artist series? Click here.