When Outside Lands released their 2016 lineup there were rumblings of disappointment—moreso compared to years past, which included Sir Paul McCartney, Tom Petty, Kanye West, Black Keys, Red Hot Chili Peppers, Metallica, Neil Young, Foo Fighters, and Stevie Wonder—just to name a few. Radiohead just wasn't enough for some to justify attending the three-day festival, especially with rising prices. However, Outside Lands has become more than just a music festival. There's a sentiment to those who live in the Bay Area who get to see and hear some of their favorite groups right in the middle of Golden Gate Park. The event also brings together some of the city's best craft beers at Beer Lands and tasty bites at local foods stands including the doughnut burger at Straw.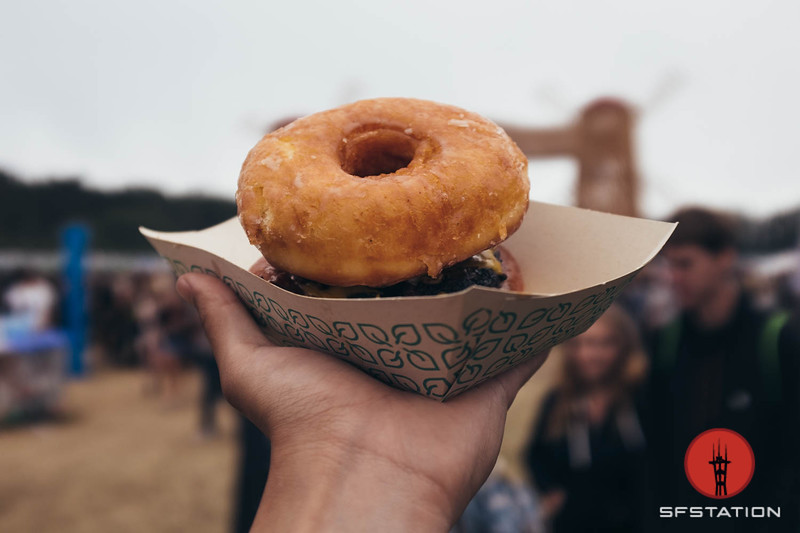 Any way you look at it, it's basically a giant party in the middle of San Francisco for three days. Every year there are more tents and pop-ups to stimulate the musical mind, and more people to appease. This year the Heineken Tent (The House) featured a pop-up performance by Bay Area rappers E-40 and Warren G, while Jack Garratt packed the Live Sessions tent for an intimate set before his performance at the Sutro stage. The Barbary Tent was the place to check out cameos by Fred Armisen and John Mulaney. Paypal also made their mark on the festival, resurrecting an arcade for video game fanatics and creating an easier way to pay with loadable wristbands that scan upon point-of-purchase. The wristbands were part of Outside Lands' continued efforts to find ways to make purchases more convenient and to expedite long lines—now if only they could somehow figure out the problematic bathroom situation.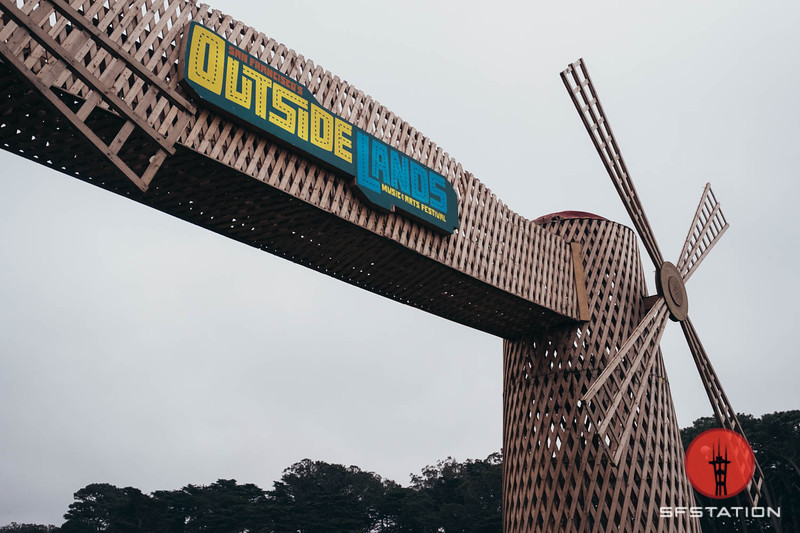 While OSL is usually pretty good about dispersing crowds with offsetting genres so there wasn't much conflict. except at certain times. Herds of people crammed into the Lands End stage during Third Eye Blind to get a good spot for Chance the Rapper and Major Lazer, while Ryan Adams delivered an amazing performance to a modest crowd at the Sutro Stage. There's usually a different theme every night, with Friday featuring electronic and 80's inspired groups, Saturday night a little more rock and hip-hop oriented, and Sunday catering to alt-rock, and then usually the event is capped by a musical icon (last year was Elton John, this year was Lionel Richie).
While this year was missing the sheer quantity of jaw-dropping names, the quality of some performances were through the roof while some fell flat. On Friday, local rockers Down and Outlaws set the tone for the day with a rocking performance that surprised nobody. The Claypool and Lennon Delirium pumped out a psychedelic and rocking experience at the Sutro Stage. Duran Duran came out blazing, dressed in white suits lined with blinking lights. Still going strong through three decades, they delivered hits like "Hungry Like A Wolf" and "Notorious" and ended their set with an epic rendition of "Rio," extending the song with a fierce horn section. It was hard to imagine another group rocking that stage harder that night.
At the other end of the festival, people crammed the Twin Peaks stage to see Grimes, who tried hard to make an impression with obscure stage dancers and arbitrary rants. Perhaps a throwback to 80's female pop stars Janet Jackson or Cyndi Lauper. Unfortunately, the sound was terrible and her vocals were barely amplified, but it was still visually entertaining.
Most of the crowd stuck around for J Cole while LCD Soundsystem closed out the Land's End stage with quite possibly one of the best performances of the weekend. A warfare of percussion, they set the tone with "Us vs Them" and followed with "Daft Punk is Playing at My House," and at times had up to four people banging on drums. Their set was eclectic, playing the throwback punk rock inspired song "Movement" from their 2005 debut album and their hometown ballad "New York, I Love You but You're Bringing Me Down" from 2007's Sound of Silver. They ended the night with "Dance Yrself Clean" and "All My Friends."
Saturday seemed to be overshadowed by the anticipation of Radiohead, and rightfully so. Like in years past, it exposed local artists early in the day with performances by the winner of last year's NPR Tiny Desk Concert, Fantastic Negrito, Oakland indie rockers Rogue Wave, and San Francisco funksters, Con Brio. Big Boi and Phantogram teamed up again to form Big Grams who seemed a little out of place at the Lands End stage. They were followed by French psychedelic space rockers, AIR, who are known for scoring soundtracks to The Virgin Suicides and Lost in Translation. They were the perfect opener for Radiohead. While on the Sutro stage The Last Shadow Puppets and Sufjan Stevens certainly deserved recognition, there was just no competing with a crowd who were willing to wait hours for a decent view of Radiohead. While those who didn't care for the English rockers were at Twin Peaks for Halsey and Zedd.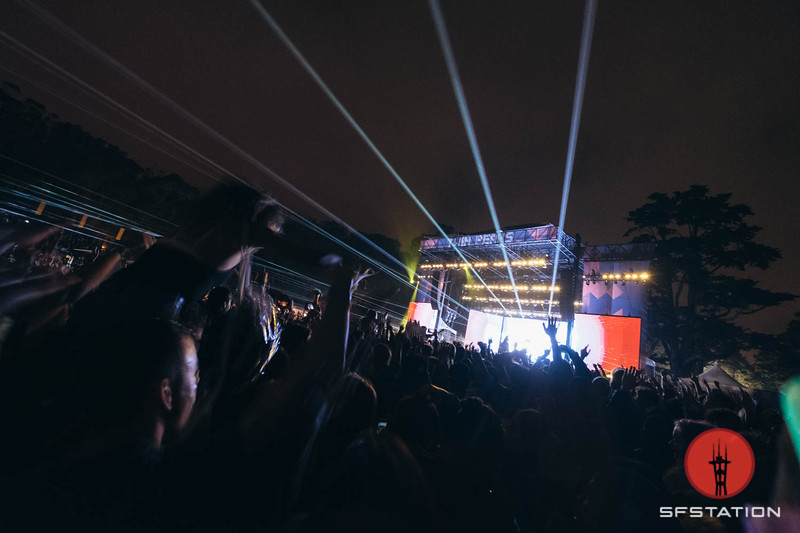 Those who waited to catch Radiohead got their money's worth. As only the second band to ever headline OSL twice, they redeemed themselves without any technical error and worked through early kinks to give a flawless performance. A slightly scruffy Thom Yorke took the stage rocking a manbun. His presence was powerful, like the Brad Pitt of the indie rock scene, but undefined by image. Radiohead established themselves as one of the premier bands of the world with impressive musicianship from brothers Jonny and Colin Greenwood. The rhythm section was especially strong as drummer Phil Selway was, at times, joined on stage by another drummer, incorporating jazz inspired structures and odd rhythm changes. Ed O'brien is the perfect compliment to Yorke, backing him up with vocal harmonies, guitars and obscure live sampling.
They opened with the first two tracks from their newest record A Moon Shaped Pool, playing "Burn the Witch" and "Daydreaming." The start of their set was a little slow but quickly gained momentum with the rocking title track "2+2=5" from Hail to the Thief. They kept that momentum going with "Bodysnatchers" from In Rainbows and slowed it down with "Climbing Up the Walls" and "Exit Music (for a Film)" from Ok Computer.  Thier set interweaved through tempos and emotions, emulating a modern day Pink Floyd. Yorke was exuberant, keeping the crowd engaged through playful banter while the whole band demonstrated their passion, dancing to various songs. Other highlights were "Pyramid Song" from Amnesiac, "The Numbers" which Yorke showed a bit of southern twang on the acoustic guitar, an upbeat version of "Everything In It's Right Place" from Kid A, and an encore that included "Let Down," "Paranoid Android" and the final song of the night "Karma Police" that materialized to Thom Yorke singing the chorus with the crowd and a single acoustic guitar.
Sunday started with a bang at the Lands End stage with Los Angeles saxophonist Kamasi Washington showing off his electric band. They ripped through a high-intensity set featuring solos from a keytar, his two drummers, and a duet with his father, Rickey Washington, on the clarinet. Dr. Teeth and the Electric Mayhem captivated the crowd with hilarious video of the Muppets navigating the city, dispersed with original songs and covers, like Edward Sharp and the Magnetic Zero's "Home." San Francisco's own Third Eye Blind had a surprisingly huge crowd while they played hits like "Never Let You Go," "Jumper" and "Semi Charmed Life." Singer Stephan Jenkins had a welcoming enthusiasm over their recent resurgence.
At the Sutro Stage Seattle songwriter, Brandi Carlile, represented the LGBT scene with a magnificent performance. Her vocals were booming and backed with perfect harmonies from the Hanseroth Twins. She was followed by a set by Jason Isbell, who kept the alternative country vibe going. Ryan Adams and the Shining closed out the Sutro Stage in dramatic fashion, decorating the stage with giant exaggerated Marshall amps connected to fully functional arcade games on each side, a giant cardboard cat and an American Flag stitched with a peace sign. Adams, always sarcastic in his banter, poked fun of the thunderous bass coming from Major Lazer, referring to them as "Major Blazer." He also singled out audience members and his own father who was in the crowd, and even played the improvisational song "Goodbye Two Balloons," a follow up to his original improv song "Three Fucking Balloons." Lost in the fold were 90's inspired psychedelic shoegaze rockers DIIV and the jam band Lettuce who played the Panhandle stage.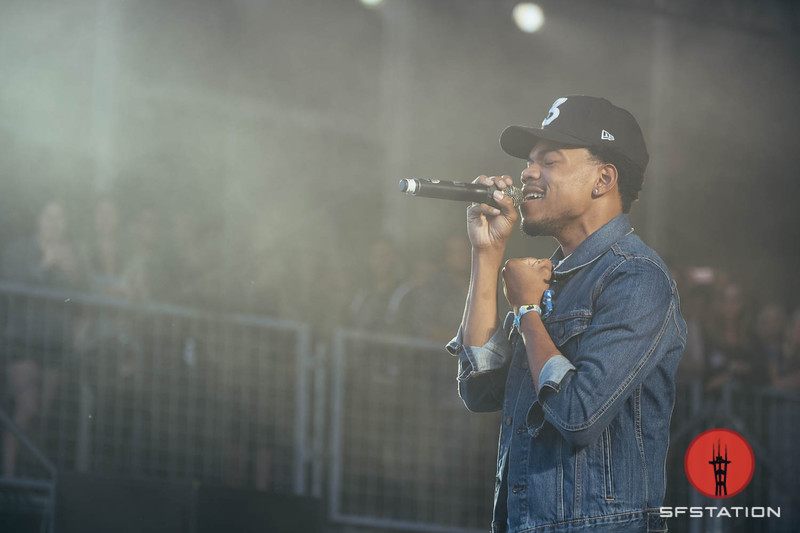 To close out the festival was Lionel Richie at the Lands End stage and Lana Del Rey at Twin Peaks. Lana's image and mystic brought a big crowd while Lionel Richie, who made his name with the Commodores, certainly didn't have the allure of Elton John, but he delivered an enthusiastic and engaging performance. His band was solid, and he was grateful for the opportunity to close the festival. He promised from the start to play all his hits and he certainly lived up to his word, playing "Brick House, "Three Times a Lady," "Sail On," a duet with the crowd for "Endless Love" (originally sang with Diana Ross), "We Are the World" (which he co-wrote with Michael Jackson), the anticipated ballad "Hello," and he closed out the night with the appropriate tune, "All Night Long."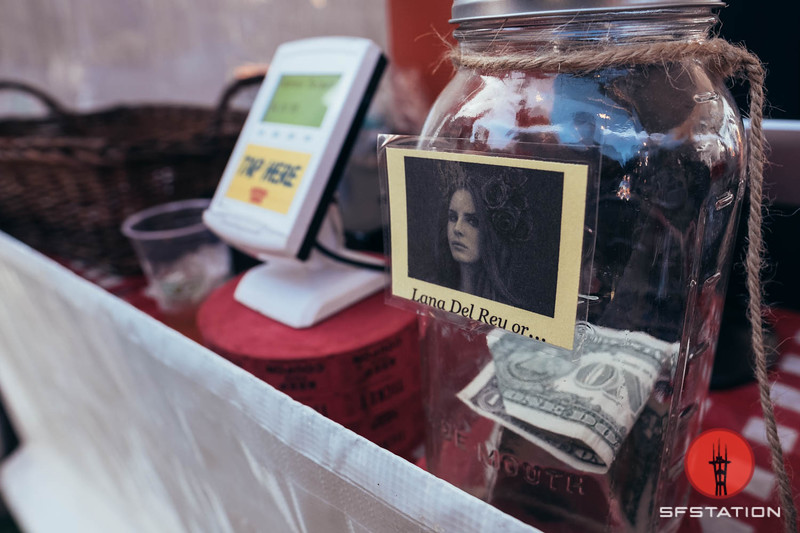 Catch more photos below!