On what seemed to be just another Tuesday night, the San Francisco's culinary circuit was buzzing. StarChefs, the restaurant industry magazine, was in San Francisco to present its 2016 San Francisco Rising Stars Awards, honoring up-and-coming chefs and hospitality professionals.
The awards ceremony took place at the stately Julia Morgan Ballroom and was followed by a tasting event in which the winners (by association) were the event attendees who had the rare opportunity to taste dishes from some of the city's most sought-after restaurants. Beverage pairings and cocktails by winning sommeliers and bartenders to boot.
Among the free-flowing drinks—red wine, white wine, bubbly, specialty cocktails, craft beer, and amidst the chaotic swirl of foodies, chefs, and industry heads–here are some standouts from the occasion that I won't soon forget.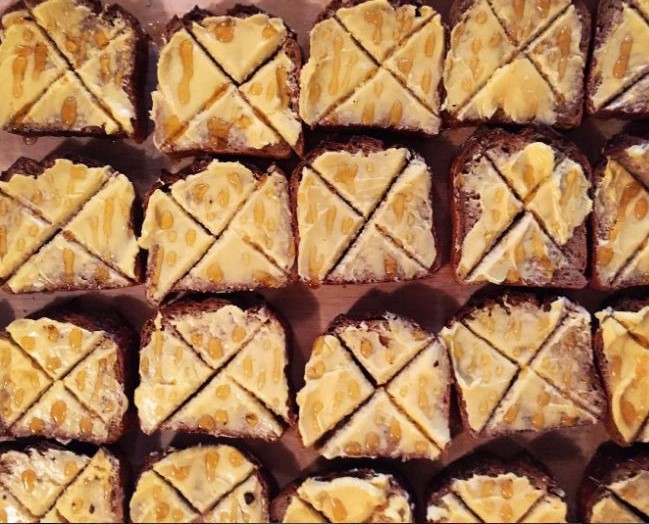 Image via @joseybakerbread
Upon entering the main tasting room there's a feeling of excitement, along with it, a bit of anxiousness—what should I try first, what exactly is that ingredient, how is it that everyone here makes using a fork, holding a tiny dish, and a wine glass look so darn easy? I feel like my hands are all thumbs, which is quite inconvenient as there was so much to eat, drink and photograph, all at the same time. Decisions, decisions.
I start at the most newb-friendly looking table to try Josey Baker Bread's Sprouted Quinoa and Malted Barley Bread with honey butter.  Slightly sweet, covered with butter, and boldly straightforward. A contrast among so many complex and decorated tiny dishes. I imagine that Josey Baker is that guy that can get away with wearing sneakers and striped socks to a fancy wedding and gets even more street cred among the suit and tie variety. I wonder if I might be warming up to the toast trend.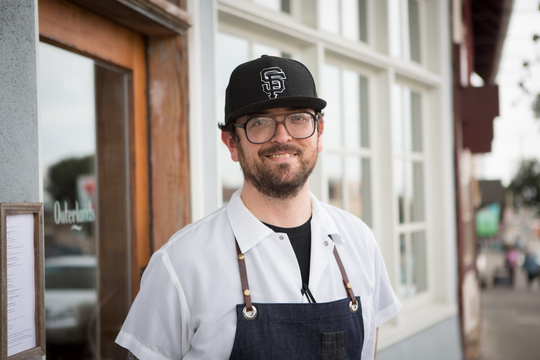 2016 San Francisco Rising Star Chef Yoni Levy of Outerlands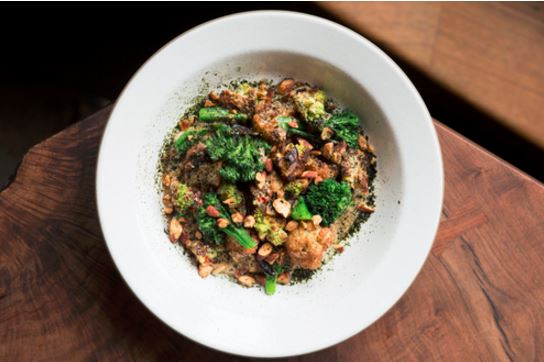 Yoni Levy of Outerlands, Photo via StarChefs
Second up, Chef Yoni Levy's (Outerlands) featured dish Brassicas, Bagna Càuda, Meyer Lemon, Almond, and Nori. This refreshing dish was vegetarian-friendly, brightly-flavored with a hint of citrus. Outerlands centers their mantra around locally sourced ingredients and organic fare, so perhaps fittingly, their dish offered a more guilt-free contender.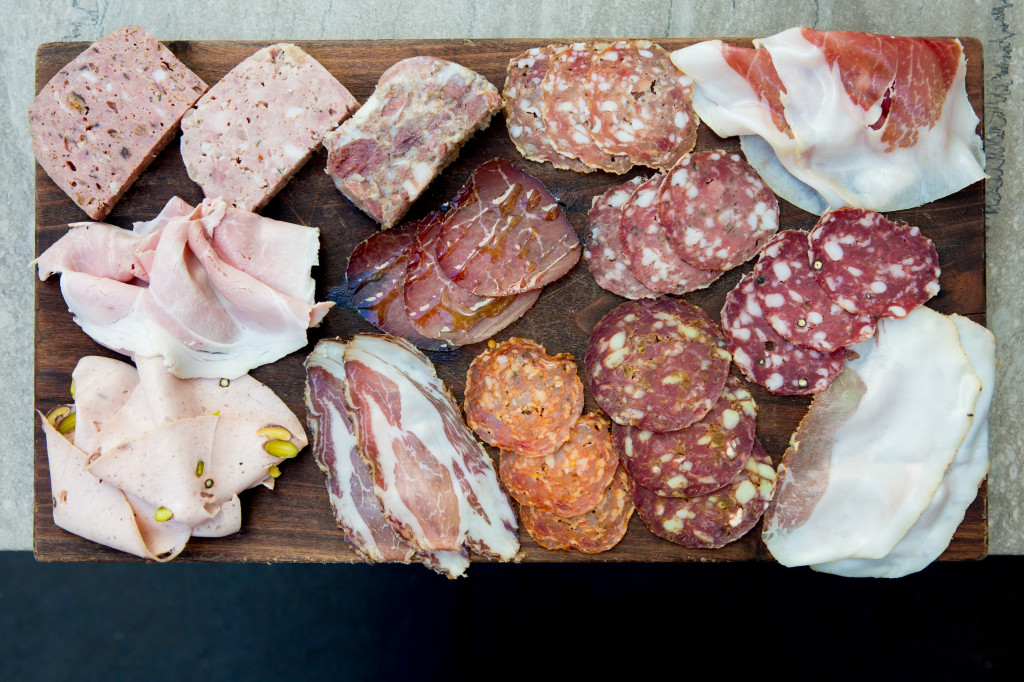 Chef Salvatore Cracco of Trou Normand, Photo via StarChefs
This was not going to be the night I finally switch to vegetarian. Chef Salvatore Cracco of Trou Normand came bearing charcuterie boards covering the full array–Duck Pate (Dried Plums, Sage); Pork Pate (Green Garlic, Thyme); Ciccioli; Chicken Salami (Buddha's Hand and Thyme); 21-month Prosciutto; Fresh Ham; Bresaola; Pork Salami (Serpolette Herb); Crespone; Mortadella (Pistachio, Peppercorns); Coppa; Rabbit Salami (Calabrian Chiles, Oregano); Lamb Salami (Vadouvan); and Lanza. Honestly, I'm not even sure what all these meats are, (I've added this for the real meat connessiurs), but what I do know is that, after my first step into the world of savory salami heaven, I started to understand why a vulturous group of repeat samplers were starting to circle around this station.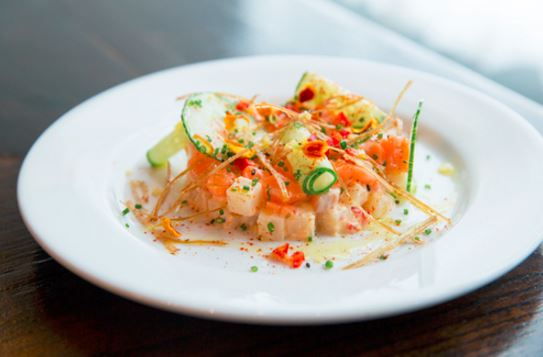 Hotel Chef Luke Knox of Burritt Room + Tavern at the Mystic Hotel, Photo via StarChefs
Luke Nox's (Burritt Room + Tavern at the Mystic Hotel) Cured Atlantic Sapphire Salmon, Potato, Horseradish, Togarashi, and Lemon Oil was to die for! I really wanted to take two of these and I'm pretty sure I'm going to get a craving for this down the road. Luckily, the recipes for most of these dishes are all on the StarChefs website (divided out under each chef profiles), so I might be giving this recipe a DIY try. In the meantime, Burritt Room + Tavern is definitely on my list of places to check out.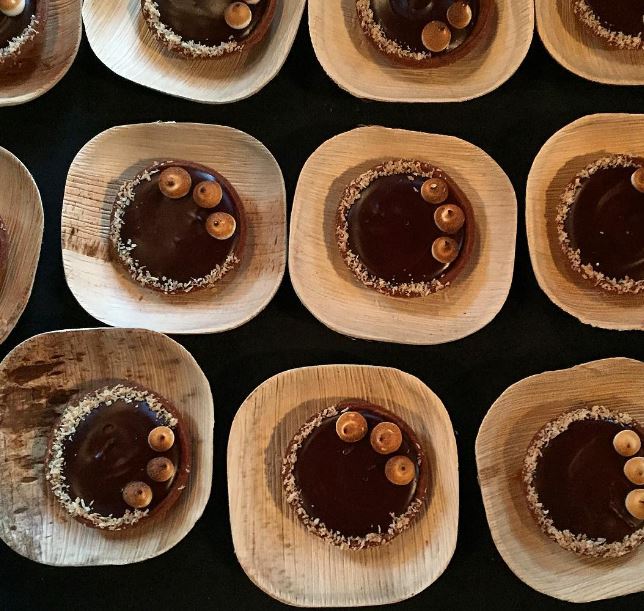 Lisa Vega's Passion Fruit Tart via @ciacalifornia
Pastry Chef Lisa Vega (Dandelion Chocolate) and her team were looking cool, calm and collected compared to the other tables. Their Passion Fruit Tarts with Angostura Rum-Coconut Caramel, and Toasted Meringue didn't involve much plating and, one bite into this complex-flavored dessert,  I too was ready to escape all the hubbub for a more island-style setting.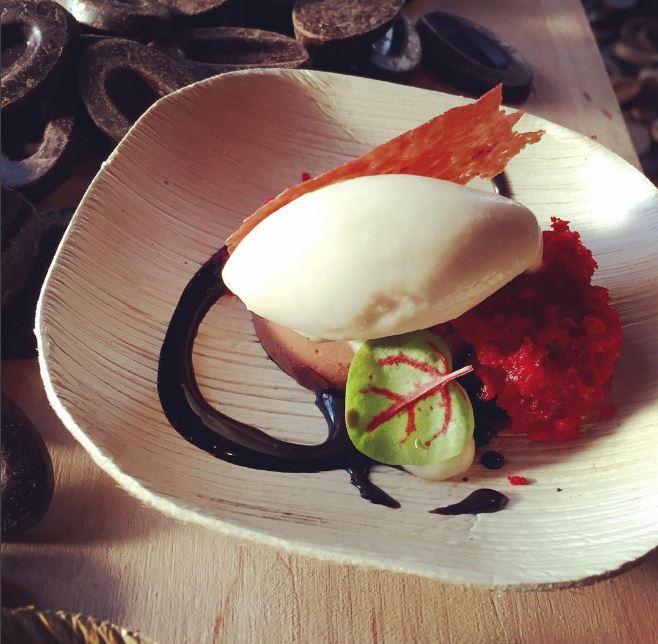 Photo via @CadenceSF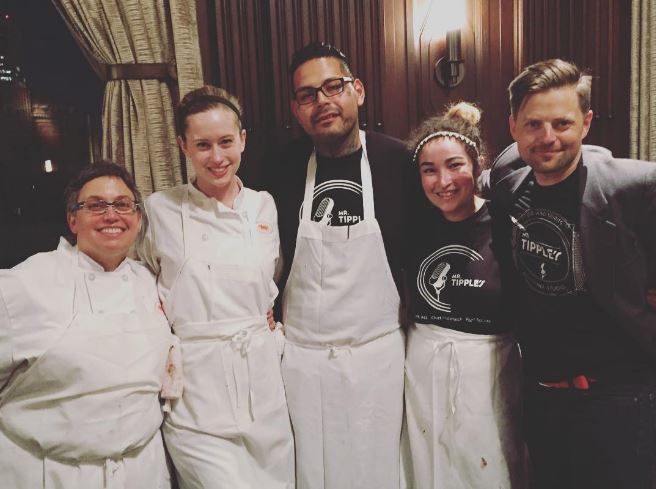 Photo of the Cadence crew via @shaynaface
Edward Martinez's (Cadence) also brought the brilliance with his beautiful Valrhona Chocolate Custard, Red Velvet, Red Miso, and Chocolate Wafer dessert. This dish was a somewhat risky choice…something that could melt, something that had to be crispy, and something that would be presented to a ballroom-full of high-level foodies types? But I suppose that's what sets these award-winning chefs apart from others. All guts, all glory! The Cadence crew was up to the challenge and their dish, executed to perfection.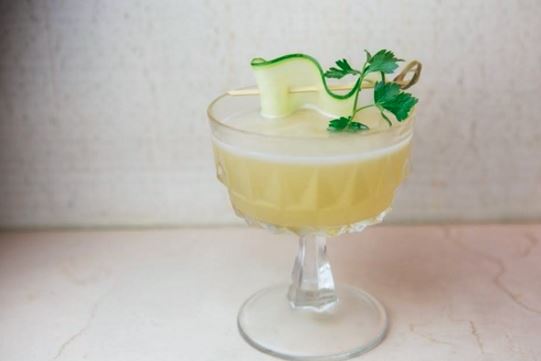 In a city full of mixologists and craft cocktail bars, all eyes were on Brian Felley and Mo Hodges of Benjamin Cooper who were selected as one of the few bartenders named as Rising Star award honorees. Their featured drink Ides of March consisted of Gin, Cocchi Americano, Cucumber, Fennel, Lime, and Parsley was delicious and kind of reminded me of an adult/way better version of one of those healthy green drinks everyone in FiDi seems to be on a kick about nowadays…but dream on post-gym green drinks, you will never be as sexy as the Ides of March cocktail.
Here is the Complete List of 2016 StarChefs San Francisco Rising Stars Award Winners:
Chefs
David Barzelay | Lazy Bear
Carrie and Rupert Blease | Lord Stanley
Val Cantu | Californios
Yoni Levy | Outerlands
Ian Palazzola | Mourad
Ryan Pollnow | Aatxe
Brandon Rice | Rich Table
Luke Knox | Burritt Room + Tavern at the Mystic Hotel
Evan Allumbaugh | flour + water
Pastry Chefs
Maya Erickson | Lazy Bear
Edward Martinez | Cadence
Mikiko Yui | State Bird Provisions
Lisa Vega | Dandelion Chocolate
Artisans
Kinani Ahmed | Sextant Coffee Roasters
Josey Baker | Josey Baker Bread
John Blevins | Clove & Hoof
Salvatore Cracco | Trou Normand
Jay Goodwin | The Rare Barrel
Bartenders
Brian Felley and Mo Hodges | Benjamin Cooper
Alicia Walton | The Sea Star
Sommeliers
David Castleberry | RN74
Tara Patrick | Mourad
Restaurateurs
Ryan Cole, Jason Halverson, Cyrick Hia, Jason Kirmse, and Tai Ricci | Hi Neighbor Hospitality Group
Concept
Presented by Kikkoman
Charles Bililies | Souvla
Guest Chefs
Helene Kennan | Guckenheimer Enterprises
Victor Scargle | Executive Chef of the Culinary Institute of America at Copia
David Hollands | San Francisco Marriott Marquis
Justin Koenig | Dirty Habit