In 2007, the California Academy of Sciences was anxiously waiting for construction on its current home in Golden Gate Park to finish. While occupying a temporary location downtown on Howard Street, staff had an idea to try to pilot an "after hours" type event to engage a younger audience. Being close to the financial district and with so many young professionals finishing work and eagerly looking for fun activities, they had the perfect opportunity.
What started as this monthly pilot evolved into a weekly series at the Academy's permanent home in February of 2009, simply dubbed "NightLife." Every Thursday night for just $15 (less than half the price of a standard adult ticket), visitors can experience the signature areas of the museum all while enjoying cocktails, food, and live music.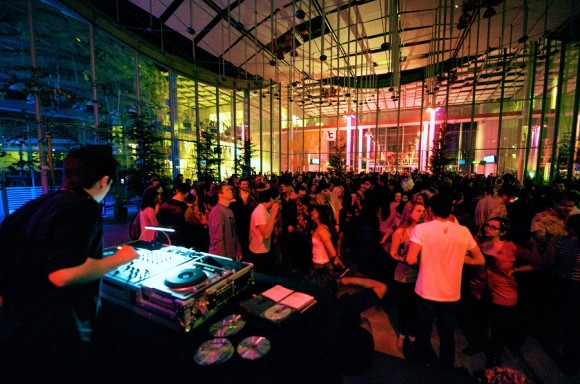 "It's a nice opportunity to engage a younger audience with the museum, our scientists, exhibits, and the research that we do here," says the Academy's Director of Communications, Kelly Mendez. "Because the ticket price is less than normal general admission, it gives an opportunity for people who are younger, earlier in their careers, and those who might not have as much disposable income, to come and have a really great museum experience."
On a weekly basis, anyone that comes to CAS NightLife will be able to see the best of what the museum has to offer. This includes the aquarium, which boasts a touch-friendly tide pool as well as a glass tunnel through an underwater habitat, about 38,000 live animals, the planetarium and its star-gazing shows, and a four-story indoor rain forest dome. Visitors can even walk up to the living roof and use the telescopes on clear nights. "With one ticket, a guest that comes to NightLife can experience everything. Cocktail bars, live music during each event – there's something to do at every turn," says Mendez.
Here are the top five NightLife evenings of 2015, as rated by their organizers:
1. Feb. 12: Feel the Chemistry 
Music by Go BANG! And The BeDazzlers 
NightLife is already a couple-friendly event. In fact some weeks you see so many people on dates it feels like you're in a secretly filmed RomCom. In celebration of Valentine's Day, NightLife had attraction-themed features like a racy talk from sociologist and author of numerous books on human sexuality Carol Queen, speed dating sessions, and an R-rated planetarium show. To give everyone some liquid courage, they debuted a beer they brewed in collaboration with Magnolia Brewing Company, using plants found on their living roof.
2. May 14: NightLife LIVE
Music by Machinedrum and B. Bravo; presented by DJ Dials
During the warm(ish) summer months, NightLife LIVE takes over the Academy's outdoor gardens. A special subset of the NightLife series, NightLife LIVE features live concerts from carefully selected musicians. On this night, Berlin-based American producer Machinedrum performed his well-received concept album, Vapor City, from start to finish. Meanwhile, developers-turned-producers of interactive museum installations Domestic Data Streamers used real-time audience responses to create a live art exhibition representing humans' experience in nature. Peep a light-filled video of it below:
3. June 25: Pride NightLife
Music by Hard French DJs and DJ Rapid Fire
Featuring a drag show with local queen Heklina and Hard French DJs bringing their grooviest funk, this NightLife celebrated all things queer in honor of SF Pride. Attendees could take vogue dance lessons, learn circus moves with the Topsy Turvey Queer Circus, or even discover the queer histories of certain constellations at a special planetarium presentation entitled "Stargayze." Truly a night that brought out the character(s) of the city.
4. October 1: Sharktoberfest NightLife
Music by Push the Feeling DJs.
Mixing a beer garden with sharks – what could go wrong? Cal Academy put Discovery Channel's Shark Week to shame with this celebration of one of nature's most feared creatures. An outdoor pop-up beer garden served up some of California breweries' tastiest offerings, while inside, shark conservationists discussed their work and presented live specimens.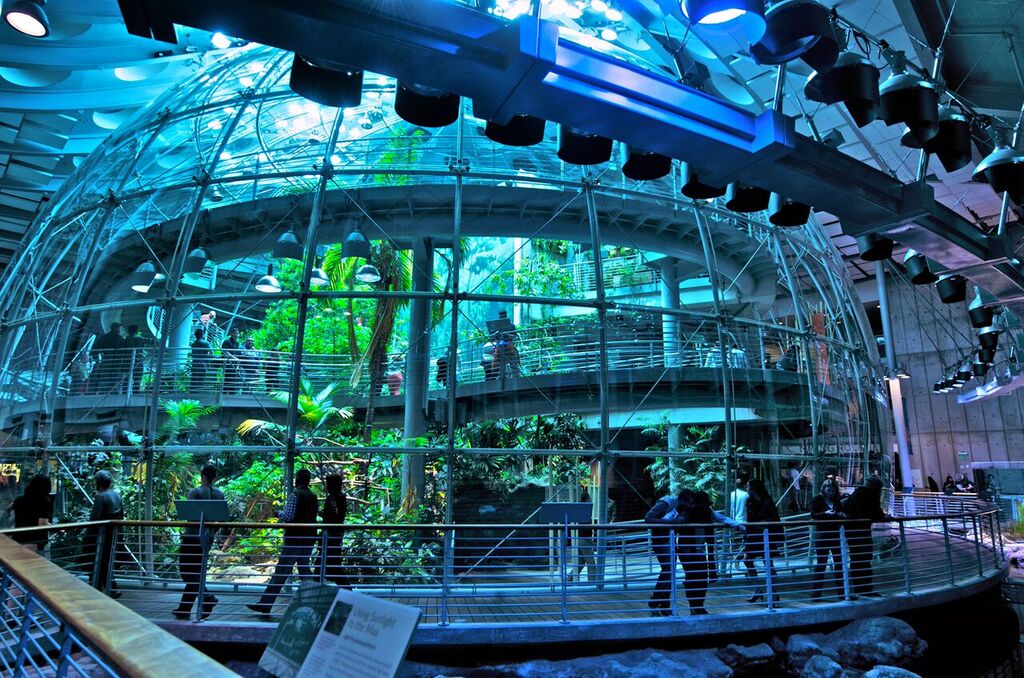 5. October 29: Creatures of the NightLife
Live drag performance by Peaches Christ; music by DJ Omar
Presented by Bay Area Science Festival
Creatures of the NightLife at the Academy has to be one of the coolest ways to celebrate Halloween. Everyone comes in costume, local celebrity Peaches Christ steals the show (and judges the costume contest), and the museum sets up an indoor haunted house with skulls and other creepy scientific curiosities. You can even dissect a squid and see a real human heart! This Nightlife is not for the squeamish but welcomes all for an evening of nerdy, scary scientific fun.
To pick the Top 5 of 2015 was not an easy task, as there's a different theme every week ranging from comedy to dance to astronomy – the NightLife team works hard to keep things interesting. In 2016, we can look forward to new themed nights, some centered around upcoming exhibits at the Academy. One will be themed around deep reefs to highlight much of the deep reef research their scientists have been doing, while another will celebrate the opening of a new planetarium show about asteroids and comets. NightLife showcases the fun of interactive, scientific discovery spiked with booze and dancing – a little pick-me-up to help make the museum-going experience fresh, engaging, and modern.
Check out the Academy's website for a list of upcoming NightLife events.
http://www.calacademy.org/nightlife