Día de los Muertos (or the Day of the Dead) has a history of inspiring San Franciscans to bust out their skeleton face paint and take advantage of tequila happy hour specials across the city. True to the spirit of this traditionally Mexican holiday, which calls for reflection and celebration of those who have passed, we've put together a short list of events to help conjure up the diverse culture of the city this year.
San Francisco Day of the Dead and Procession of Altars, Garfield Park (Monday, November 2nd)
Led by the Marigold Project, a Mission-based nonprofit that's been organizing the parade for twenty years, this event invites artists and the community to come together in Garfield Park (off of 25th and Harrison Street) from 4-11pm to "reflect on their inter-personal connection of death and the cycle of life". Alongside an elaborate display of handmade altars that pay tribute to the deceased, will be Mariachi Águilas de Michoacán, performing traditional live mariachi music from Michoacán, Mexico.
Each year, hundreds of personal altars fill Garfield Park. Catch the rituals starting at 6pm at 22nd and Bryant, and throughout the Mission. Expect to see traditional Aztec dancers, as well as notable activists like Francisco X. Alarcón, an award-winning poet and educator.
"Day of the Dead is a grass-roots celebration, something that people do because they love it, because they feel moved to do it, because they feel it's important… and it's a gift to the community," notes Starhawk, an author, activist and Day of the Dead participant, on the project's website.
This event is FREE and open to the public. Directions to the event can be found here.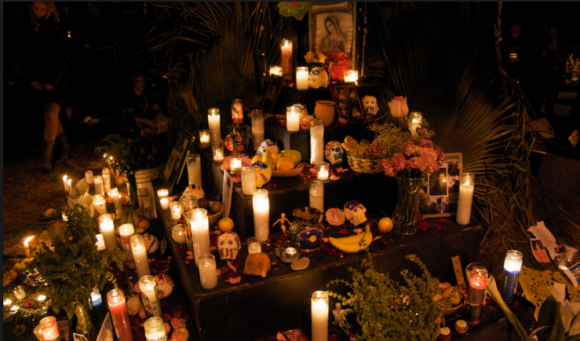 Photo of 2014 altar at Garfield Park (courtesy of Dia de los Muertos: Day of the Dead SF Facebook page)
Today is the Shadow of Tomorrow: Dia de los Muertos 2015, SOMArts (October 9th – November 7th)
SOMArts Cultural Center will debut its 16th annual Día de los Muertos exhibition featuring collaborative and independent work from over 80 artists. This year, the gallery will display over 25 colorful altars and wall installations with handmade crafts and photography that respond to this year's theme of institutional racism and violence.
Included in the show will be an altar constructed by staff members of El Tecolote, a local Latino community newspaper, to commemorate Mission icon, writer and activist Alfonso Texidor, originally from Puerto Rico.
During the month, the center will also hold its annual "Gathering of the Embers" celebration on October 23 from 7-9:30pm, which will include multi-disciplinary performances connecting past and present themes of race and culture through spoken word, music and visual media ($8 in advance & $10 at the door).
The closing event of the show will take place on November 7th from 6-9pm and will showcase live music and interactive installations ($7-$10 sliding scale admission).
Entrance to the gallery, at 934 Brannan St. (between 8th and 9th), is FREE. Tickets to either event can be purchased through the SOMArts site here.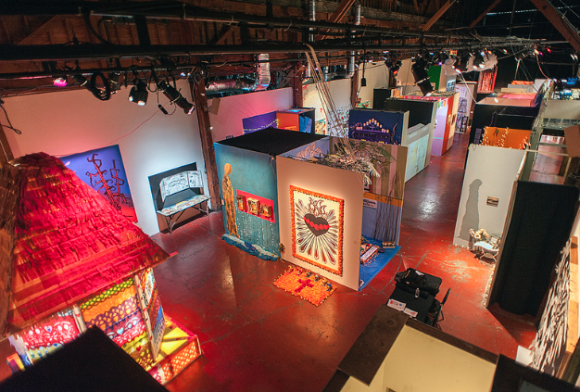 Photo by J. Astra Brinkmann. Overview of Today is the Shadow of Tomorrow: Día de los Muertos 2015 at SOMArts Cultural Center.
Día de los Muertos Community Concert, San Francisco Symphony Hall, November 7th (2pm and 8pm)
The San Francisco Symphony will once again host its Día de los Muertos concert to celebrate Latin-American music and culture. It will mark the debut of Mexican-American singer-songwriter Lila Downs, a multi Grammy Award-winning artist, who will perform selections from her album Balas y Chocolate, as well as feature performances from Eugenio Touissaint, Arturo Marquéz and Juventino Rosas.
Founded in 1911, the San Francisco Symphony is a hallmark of the city and has hosted a rich musical fabric of performers, as well as won over dozens of awards for its orchestral performances.
Festivities will begin an hour before show time and will include refreshments, live music and dancing, colorful altars and fun-for-all-ages traditional Mexican craft making.
Guests are invited to come one hour before each concert for the lobby festivities, which include a tequila tasting with Don Julio at the 8pm show!
Tickets range from $10-$90 depending on seat selection and can be purchased here.