Lights Down Low Founders Discuss Beginnings and Controversy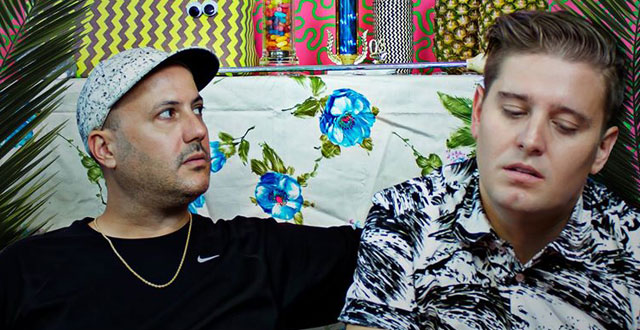 When Corey Sleazemore moved to San Francisco almost a decade ago, he was a young DJ from out of town. Hard pressed to find any gigs, he did what any motivated 22 year old would do; he started his own party. Teaming up with Richie Panic, the two created a weekly event at 222 Hyde dubbed "Lights Down Low" where they played an eclectic mix ranging from Chicago house to punk rock. The party was small (50 to 100 people) but became a haven for "freaks, bohemians, and weirdos" as it grew its following.
Lights Down Low moved to Triple Crown when 222 eventually shut down. Corey and Richie began booking headliners and guests and it slowly became the party it is today. As promoters, these two don't give off aloof vibes.  As Richie puts it, "We're fans first and foremost. We're only bringing in artists that we like or we think that other people would also be fans of here in SF. We are always just trying to find the best sound system with the weirdest vibes and the best artists."
Corey grew up in Jacksonville, Florida. "At 18 or 19 I was passing out flyers for clubs. I went to raves and fell in love with dance music. I wanted to be a DJ! It all went from there." He became fast friends in San Francisco with Richie who found that he, like Corey, "Came from a culture where being weird was difficult. It was difficult to find other people who were into dance music or whatever weird shit we were into." Finding another "weirdo ex-punk rock kid" was a sign and the two worked together to steer Lights Down Low to its current state.
Today Lights Down Low touts an impressive roster of "alumni" that have graced their events: Disclosure, Duke Dumont, Skream, Big Freedia, Bondax, Classixx, Tensnake, Cyril Hahn, and Araabmuzik, just to name a few. But they also stay loyal to their friends and local artists who they have supported like Split, Myles Cooper, Matrixxman, and more. They've thrown events at venues all over the city, but Richie likes to joke, "If your club starts with an 'M,' we'll probably do a party there: Monarch, Mezzanine, Mighty." Monarch seems to be their home away from home, and it's where they'll host their upcoming "Fuck Burning Man" party featuring Total Freedom in a few weeks.
This has been a profound genetic mutation in SF. But from adversity comes resilience.
A recent Vice Q&A with Corey and Richie stirred up some controversy through the tongue and cheek answers of the pair. They heavily criticized the tech community's take-over of burning man and the faux-enlightenment they attach to it. "We like to push people's buttons a little bit, but there's no real intense disdain for Burning Man we were just going with the flow there. With bringing in Total Freedom, we were thinking he's not your typical house music DJ so all the people who are left in SF will probably be stoked to get to see an artist like Total Freedom." When pressed on their real feelings towards the tech-boom, Richie notes, "This has been a profound genetic mutation in SF. But from adversity comes resilience." Corey agrees, commenting, "The sense of community within the scene has become more close knit."
LDL is on a roll with what they are calling the "non-bummer summer." Last night they hosted UK experimental hip-hop producer and Kanye West collaborator Evian Christ at Monarch for a night of cutting edge grime, ambient, and bass music.  Within the span of the next 35 days, they'll have Maxxi Soundsystem at Monarch, Total Freedom at the Fuck Burning Man party, and then a free Daniel Avery show at Monarch. This string of shows comes on the heels of a hiccup back in July when the two had booked Lithuanian producer Ten Walls for an event. After a disgustingly homophobic Facebook rant, the producer was dropped from every lineup he was booked for in the next year and had to apologize to have any chance of saving his career. Corey recalls, "I thought this was a joke. I was in shock that someone could say those things in a musical genre that has its roots in gay black Chicago. Do you even know where what you're doing comes from? Who in their right mind in 2015 in dance music would say something like that? It blew my mind." They quickly worked to find a replacement and decided upon Mykki Blanco, a talented rapper who identifies as transgender.  Richie summed it up succinctly: "Ten Walls is hate. Mykki Blanco is love. Let's increase the love." It was a testament to their reputation in the Bay Area to see so many people showing solidarity regarding the change on Facebook and in person.
These two are champions of the underground, late night renegades, and ultimately fans with the initiative to give back to the scene here in SF. They love taqueria Cancun, but not cilantro. Richie asserts, "Cilantro tastes like dirt. Like as if I made you all this good food with tender meat and sour cream and everything, and then I was like, hold on one second. Then I went to a tree at 16th and mission and scooped some dirt that a homeless guy had just pissed on and then put it on your taco, and then was like, there you go dude, dig in!" Corey's dream is to book a Smiths reunion with Morrissey, but in reality he'll settle for booking people he believes in. Lights Down Low is coming up on its 10 year anniversary party, and the pair are in talks with some artists that would make Richie's inner child fantasies come true. Details TBA.
Genuine admiration and excitement are at the heart and soul of what drives Lights Down Low's booking. And thousands of San Francisco bohemians reap the benefits.
Get tickets to Lights Down Low events and find out more at www.lightsdownlow.net