DJ Dials Premiers Mixtape, Discusses San Francisco's Shifting Landscape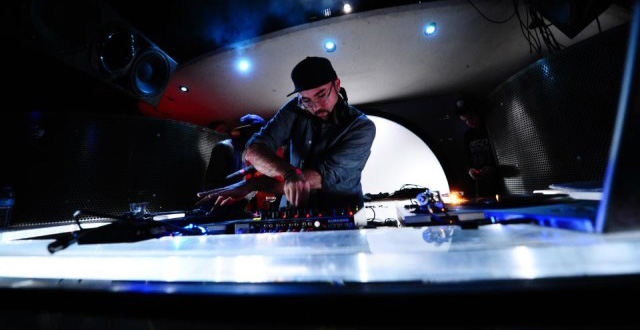 At a glance, Noah Cunningham seems like a veteran San Francisco soul griping about the days of old. But scratch the surface, and there are layers of complexity, yearning, nostalgia, and curiosity lurking. Noah has been DJing under the name DJ Dials for almost 20 years now. He grew up in Spokane, Washington, mowing lawns for a summer to buy his first set of turntables. Scratching became more than a hobby as he traveled around for competitions like DMC and ScratchCON and threw house parties throughout his high school days. After moving to SF for college, DJing became an undeniable force in his life. Thus begins the story of one of San Francisco's most dedicated, honest, and influential DJs/promoters.
Premiere of new mixtape "Summertime Watermelon Mix" by DJ Dials
Back in Cunningham's early days in San Francisco, the scene was much different. "We were all younger so we did illegal parties in Dolores Park. We would do warehouse parties and house parties; I remember rocking a different house party every weekend. It wasn't like there was a big scene for DJs at venues like Mezzanine. I think a lot of the electronic that was being played at the clubs was corny trance music or big room – catered to a certain audience."
Noah's musical tastes have varied. Back in the aughts, he was listening to IDM and experimental electronic but fell in love with dubstep in its earliest days.
"It wasn't staccato with a million little things going on; it was literally like a kick, a bassline and a snare. It was dark, it was evil and it was interesting. We would do these cool dubstep parties and these cool grime parties and the community was sweet. But every year it would get a little bigger and soon we realized it was over."
These days, he laments its demise and finds himself lost in the sea of new electronic music. The resurgence of deep house in mainstream EDM tickles him. "What I think is funny is that today with deep house, the kids love it now but they don't know anything about it. The new deep house sounds like the same shit that's been played for 30 years."
The bottom line is that there's not enough scene and there's too much out of town music.
The 31 year old never intended for his love of music to lead him into the business of promoting. It just happened. No one was booking the artists he wanted to hear, so he took it upon himself to make it happen. Yet today, he finds it difficult to exist in that space as someone who's trying to foster local talent. "The bottom line is that there's not enough scene and there's too much out of town music. There're not a lot of locals and local DJs and people interested in local DJs/bands/producers."
With contemplative contempt, he can't help but point out how the scene has changed from the San Francisco he knew, as so many veterans of this city do. "When I first moved here, everyone was an artist, everyone had fashion and everyone had style. No one had money but everyone looked gorgeous – broke and beautiful, but not in a tragic way so much as a proud way. Now, this is what we're looking at (gestures to look around the coffee shop). White dudes with J-Crew on staring at their lines of code."
Cunningham has worked with all venues in SF over his career and has booked some of the best new acts on the scene like Mount Kimbie, Madlib, Low End Theory, Just Blaze, Araab Muzik, Hudson Mohawke, Gold Panda, Sbtrkt, and RJD2, just to name a few. When asked about his current favorite venue, he brings up Grey Area, a local nonprofit currently working to restore the Grand Theater in the Mission. Grey Area supports the media-arts community with classes, public events and grants to cultivate and revitalize the artistic community here in the Bay Area. They seem to fit in with Cunningham's desire for present day residents to express themselves earnestly and give back. He reflects that nowadays, "There's so many of the same kind of people that it's really easy for everyone to just assimilate and do what the next person is doing. Back in the old San Francisco, everyone was an individual. There were a lot of weirdos, a lot of people that had really strange sexual identities or really strange ideas of who they were – and they wanted to share that. That free spiritedness is slowly going and that's what I'm worried about."
I care about San Francisco, and I care about the people here whether someone's been here for two months or ten years.
His remedy isn't a revolutionary one. It involves building a community and motivating people, old and new, to care about the environment they live in. He realizes bitching for bitching's sake isn't productive, noting "I'm tired of people like me complaining about how it's changed and not doing anything. I'm tired of people instead of investing in SF when things like this happen, moving away to Berlin, LA and New York. I chose to stay and invest because I care about San Francisco, and I care about the people here whether someone's been here for two months or ten years. It's important to have a community and you can't build community if you're always talking shit on it when it changes. You gotta be welcoming."
His advice: "Everyone's gotta get loose. I just don't see people getting loose like they used to so I encourage you if you've been in SF for two months, don't just pick up a blog post and do the top 10 whatever. It's become a parody of itself. Work to find your own little neighborhood spot and support that shop! I think that the influx of new people is great when they take chances and they don't just become followers."
There's quite a bit on the horizon for the Bay Area diehard. He's working on a music video for Warp Records artist Oneohtrix Point Never. He's trying to bring some of the best talent out here to SF: "Number one artist I want to book here in SF is Ta-ku. I've been waiting for four years to bring him here. I want to book Clams Casino again as well as Motor City Drum Ensemble. I want Flying Lotus to come back every year, all the time. Whatever really sounds new and different."
Why does it always have to be about me? Why can't it be about us?
Cunningham is also working on putting together a music festival and some big shows at 1015 and Grey Area Gallery. Today he's premiering a new mixtape here on SF Station with a bevy of hand-picked R&B tunes. It's one of his first in a while as he has neglected his social media accounts (he doesn't have an artist facebook). He claims he's trying to get away from the self-centered, like-centered, ego trip that frames many modern producers' releases. His continuous gigs are a testament to the appreciation and respect he has garnered from the Bay Area community over the years. And his priorities have not been lost along the way: "When people come to see me DJ, I'm making them dance. I'm not a poser; I know what I'm doing and this is one of the few things I do well." In reference to his music and his mixtapes, he wonders, "Why does it always have to be about me? Why can't it be about us?" A humble man, he has an appreciation for the collective, and wants the scene to flourish much more than he cares about his own career.
DJ Dials just opened for Jamie XX this past Monday and you'll probably see his name on most flyers posted around the city. He is fervently trying to keep a certain spirit alive in San Francisco. But Batman said it best: you either die a hero or you live long enough to see yourself become the villain.